Manchester United vs Arsenal: We had Gunners' amazing players 'under complete control', says Jose Mourinho
The 53-year-old hailed his team's attempt to nullify Arsenal in spite of their failed attempt to hold onto a slender lead and end their three game winless run at Old Trafford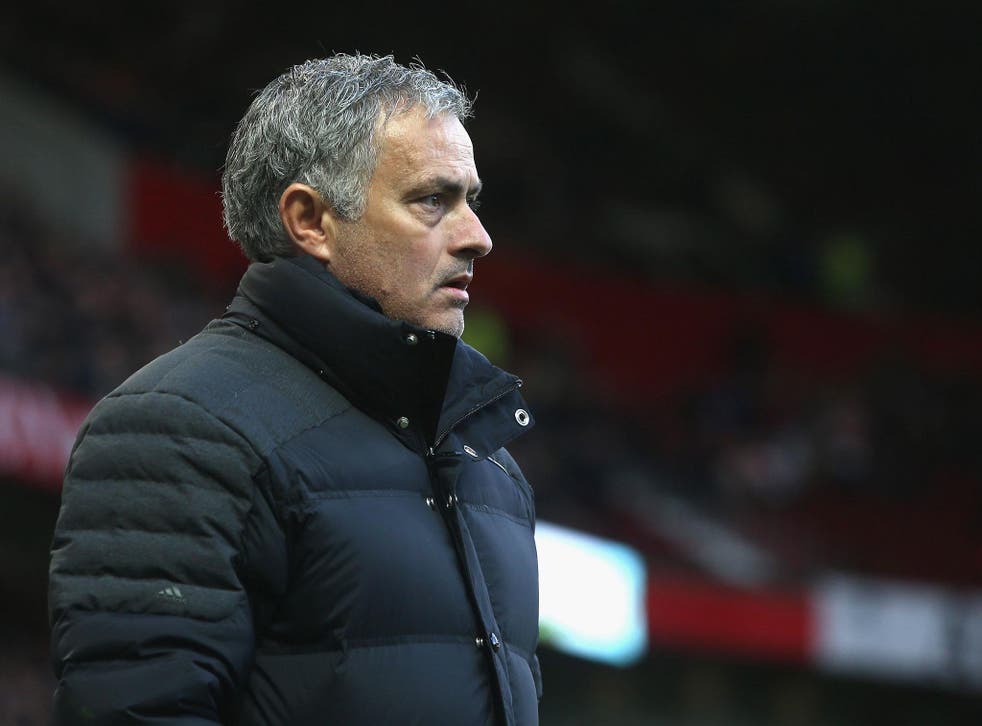 Manchester United manager Jose Mourinho said that his team had rendered Arsenal's "amazing players" invisible in a game in which the opposition's late equaliser left him feeling like a defeated man.
Mourinho's parting words as left his post-match press conference were: "So finally I lost against Arsenal!" – a joke he repeated three times. But he felt that Arsene Wenger's side had been placed under total "control" by his own. "We didn't see amazing [Arsenal] players," he said. "We didn't see them. [They were] so completely under control."
United were undone by poor defending at the death, with Alex Oxlade-Chamberlain's run down the right unchecked by Marcus Rashford and Olivier Giroud's resulting header unchallenged by Phil Jones. The manager admitted his side had lacked central defensive strength in that critical moment, even though he defended Rashford.
"We don't have very strong people in the air to cope with the cross," he said. "[But] it is normal [with Rashford.] He is a young kid that I put for the last minute on the left side because I know he has the pace to deal with the pressure of a left back. Marcus was caught in a left back position." Oxlade-Chamberlain, a substitute, was understandably less tired than Rashford, Mourinho added.
Despite the encouraging signs in the performance – including excellent displays from Juan Mata, Marcus Rashford and Antonio Valencia, as well as a more positive contribution from Paul Pogba – the 1-1 draw leaves United with only two wins out of nine in the Premier League and six points behind their North London opponents. Mourinho – a self-publicist, always inclined to accentuate the positive – seemed to hint at an awareness that questions are being asked about the time it is taking to turn his side around.
He said: "We know we are the unlucky team in the Premier League. [Against] Burnley, Stoke and Arsenal [we deserved] nine points easily. With those [nine points] we would be near the top of the league.
Manchester United vs Arsenal player ratings

Show all 22
"How long [has] Mr Wenger [had] with his team? How long is Maurice [Mauricio Pochettino] with his team at Tottenham? How long is Klopp with his team? Chelsea and Liverpool don't play in Europe. If you remember what Brendan Rodgers did with Liverpool two years ago when they didn't have to play in Europe. The level of experience of Man City… We are in a very difficult Premier League. I know the players know, the board know, the owners know, the public and the Man United fans know. We are very, very happy with our work."
Wenger admitted that his side had lacked intensity in the match. "Maybe it's a mental block here because for a while it didn't go well for us here," he said. "Was it fatigue a mental switch on after the international break? I don't know. I don't think that's an explanation. Offensively we've played better and we did not have our usual style going forward. We were not sharp enough."
Wenger joked that it would be "pretentious" to suggest that the equaliser - created and finished by his substitutes – had been planned but said his team had defended well and then cashed in when United "dropped off and left us the ball." He said: "There is something remarkable [about my team], great resilience and never-give-up attitude."
Mourinho said his side deserved a penalty when Nacho Monreal reached across the excellent Valencia in the area in the first half but refused to criticise referee Andre Marriner, whom he said was "balanced" a an official. Wenger felt it was not a penalty.
Wenger admitted that Giroud – who has now scored more goals than any other Arsenal player as a substitute – had been frustrated by being on the side-lines. "I consider him a regular player," he said. "He had a long holiday [after the European Championships] and after that he came back injured. The last few games he is frustrated. He is ready to go again. [Alexis] Sanchez at the start of the season worked well. Sanchez can play on the flank. Olivier can only play through the middle. I can marry the two together."
Join our new commenting forum
Join thought-provoking conversations, follow other Independent readers and see their replies