Does Jesse Lingard's future lie with Manchester United or West Ham?
After a first England call-up in nearly two years, the question must be asked: Should the midfielder stay put in east London?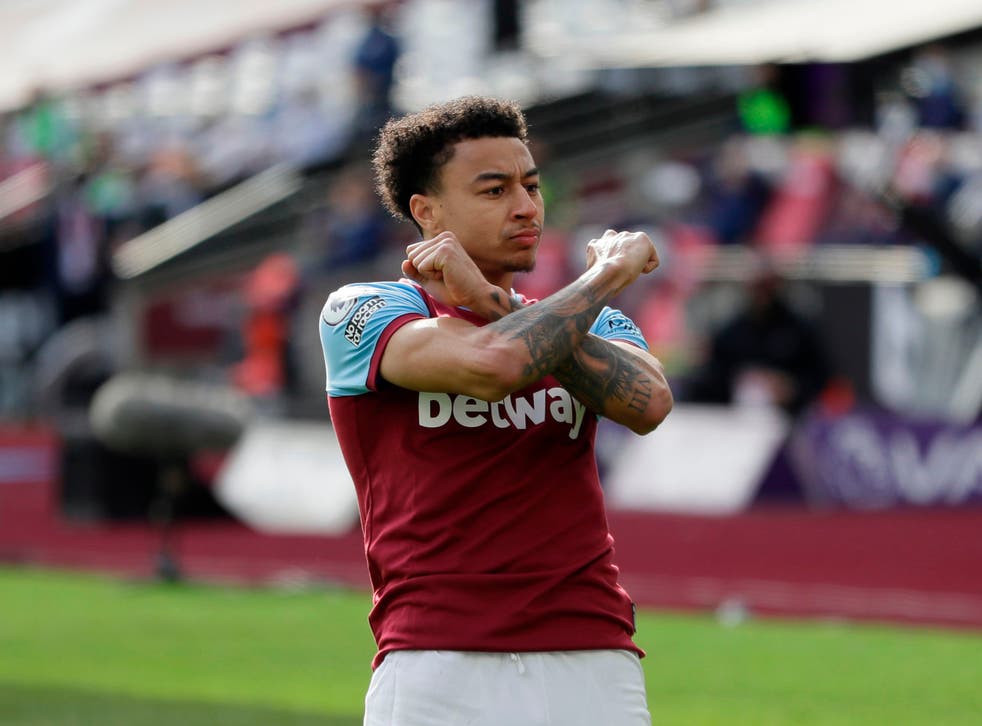 For the first time in a long time, Jesse Lingard is enjoying his football. For the first time in a long time, the midfielder is actually playing football.
Having effectively been exiled at Manchester United earlier this season, the former England international is all of a sudden an England international once more, having been called up for the first time in nearly two years after finding himself a haven in east London in January.
Twenty-one matchdays had passed the 28-year-old by before his loan switch to West Ham. Six of those absences were injury-enforced, while four saw him watching on from the bench and the remaining 11 saw him overlooked by Ole Gunnar Solskjaer entirely.
Whether those more brutal exclusions were down to a perceived lack of quality or a lack of trust from Solskjaer, Lingard's career was stalling before David Moyes – a former coach of the midfielder at Old Trafford – provided the player with enough trust that his quality could shine through once more.
That is exactly what has happened since Lingard's arrival at West Ham.
Read more:
The 28-year-old celebrated his debut by scoring a brace against Aston Villa in a 3-1 Hammers away win, with the following game – a 0-0 draw at Fulham – marking his only barren outing for his new side so far. Since then, the midfielder's record reads: assist against Sheffield United, goal against Tottenham, assist against Man City, goal against Leeds, goal and assist against Arsenal. Five goals and three assists in seven matches.
Before Sunday's thrilling draw with the Gunners, Lingard missed West Ham's narrow defeat by his parent club for contractual reasons, of course, though he would no doubt have been eager to twist the knife of his freshly-sharpened blade into Solskjaer's side – if only in good nature, to make a point to the Red Devils' coaching staff about his abilities. While we live in an age in which many are too quick to read into the smallest of signals on social media, Lingard's Twitter bio has read 'Manchester United & England Footballer......' even since his move to the Hammers, with his cover photo still a graphic of him adorning United colours – something his new team-mates have joked about.
Naturally, there is nothing at all wrong with Lingard identifying as a United player, and the point is simply to note that it suggests a desire in him to return to Old Trafford at the end of the season. However, the veracity of the words 'England Footballer' was very much up for debate until Gareth Southgate named Lingard in his Three Lions squad for the upcoming World Cup qualifiers against San Marino, Albania and Poland this month – with one of those games likely to present Lingard with his first England cap since the Nations League victory over Switzerland in June 2019.
This long-awaited call-up, for a player who started five of England's seven fixtures at the 2018 World Cup, is the result of the midfielder's dynamic and consistent performances in claret and blue, and it points to the crux of the matter – a familiar matter for players thriving on loan: Is the best choice really to return to a parent club in hopes of carrying over current form, or should the player remain in an environment that is so clearly benefiting them?
At Man United, Lingard felt like a spare part. He was never likely to be the first choice as a creative midfielder in a team with Bruno Fernandes, Paul Pogba and Donny Van de Beek at their disposal (as oddly as the latter's time in Manchester has played out so far). He was unlikely to be deployed wide ahead of Marcus Rashford or Anthony Martial, while Dan James represents long-term potential in that position and Mason Greenwood is another younger player who can operate on the wing when needed.
At West Ham, Lingard's role is more defined – both positionally and in terms of his importance in the squad. Ironically, Moyes and his players did not seem to need Lingard this season; the club was enjoying one of its most successful spells in recent times before the midfielder's arrival, which took pressure off the signing and meant any fine performances would simply be a bonus for a side already in good form and high spirits. It is therefore a testament to just how well Lingard has performed that he now feels like a vital member of the Hammers' first team.
And, as alluded to above, there is greater definition to his specific role in each game. Yes, he has played out wide on the odd occasion since joining West Ham, but for the most part he has been utilised as a No 10 or one of two attacking midfielders behind the striker, and he is surrounded by a convenient blend of abilities. Jarrod Bowen and Michail Antonio provide plenty of pace, while the latter also offers power and tenacity, with Tomas Soucek and Declan Rice providing a strong physical presence and defensive diligence. Elsewhere, Said Benrahma, Manuel Lanzini and Pablo Fornals have the technical abilities to combine well with Lingard in attacking moves, and there is no doubting that the loanee has brought out the best of those players – his quality and energy immediately clear upon his arrival at the club.
And, no matter which connotations one might choose to discern from Lingard's Twitter profile, he is clearly happy on the pitch. Admittedly, no one should read into a cover photo or bio any more than they should read into an 'Irons' celebration when a player scores for West Ham – such symbols do not represent an unwavering, long-term commitment to a club and that much has always been clear.
That said, now is a good time to be at West Ham, even if a Champions League place – or European football altogether – eludes Moyes' side this season – and Lingard is a good fit for the Hammers.
The club has no pre-existing option or obligation to buy Lingard outright, and he certainly has no obligation to stay.
But the option is there on his end, and the England footballer might just wish to entertain it.
Join our new commenting forum
Join thought-provoking conversations, follow other Independent readers and see their replies