As it happened
ended
1485021242
Premier League live: Wayne Rooney's record goal saves Manchester United as West Ham beat Middlesbrough
Follow the latest from today's 3pm Premier League fixtures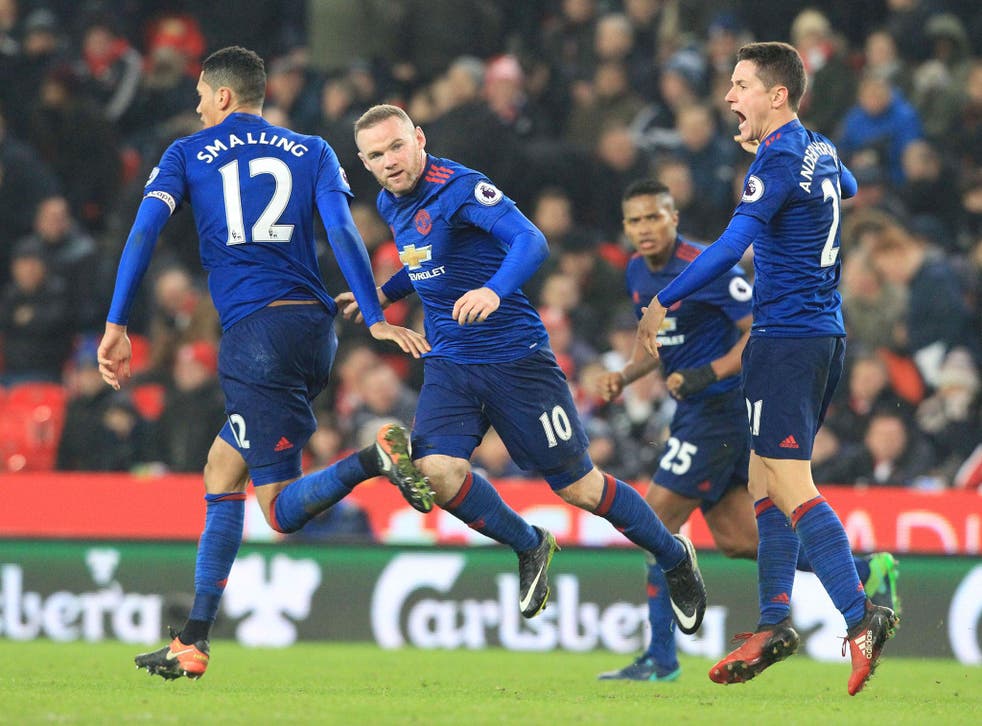 Manchester United needed a record-breaking last-minute equaliser from Wayne Rooney to extend their unbeaten run to 17 matches after a 1-1 draw with Stoke City, with the striker breaking Sir Bobby Charlton's goalscoring record for the club in the process. Crystal Palace suffered defeat by Everton, West Ham won at Middlesbrough and Bournemouth needed a late equaliser against Watford, while West Brom added to Sunderland's misery. Re-live the action here.
Today's Premier League fixtures:
Liverpool 2-3 Swansea City
Bourneouth 2-2 Watford
Crystal Palace 0-1 Everton
Middlesbrough 1-3 West Ham United
Stoke City 1-1 Manchester United
West Bromwich Albion 2-0 Sunderland​
Follow the live action below...
Please allow a moment for the blog to load...
This weekend's Premier League fixtures:
Saturday
Liverpool vs Swansea City – 12:30
Bournemouth vs Watford – 15:00
Crystal Palace vs Everton – 15:00
Middlesbrough vs West Ham United – 15:00
Stoke City vs Manchester United – 15:00
West Bromwich Albion vs Sunderland – 15:00
Manchester City vs Tottenham – 17:30
Sunday
Southampton vs Leicester City – 12:00
Arsenal vs Burnley – 14:15
Chelsea vs Hull City – 16:30
1485002377
Welcome to The Independent's live coverage of today's 3pm Premier League kick-offs, where Manchester United take centre stage as they look to continue their 16-match unbeaten run against Stoke City, with Mark Hughes looking to claim victory against the side he used to play for.
Bournemouth welcome a Watford side that has not won any of their last six Premier League games to the Vitality Stadium, while Crystal Palace continue to search for their first league victory under Sam Allardyce with in-form Everton travelling south to Selhurst Park, fresh off the back of their 4-0 thumping of Manchester City.
Middlesbrough welcome West Ham to the Riverside, with Slaven Bilic hoping his side can build on last weekend's 3-0 victory over Palace even though Dimitri Payet remains a well-publicised absentee, and West Brom entertain Sunderland at the The Hawthorns with the chance to move out of the relegation zone.
Follow the latest action here, with team news set to land at 2pm.
Jack de Menezes
21 January 2017 12:39
1485007405
Stoke vs Manchester United
Jack Austin
21 January 2017 14:03
1485007449
Crystal Palace vs Everton:
Jack de Menezes
21 January 2017 14:04
1485007524
Middlesbrough vs West Ham:
Jack de Menezes
21 January 2017 14:05
1485010038
There's just under 15 minutes until kick-off now. Stay tuned for updates of all the action and goals, as they happen. 
Joe Miles
21 January 2017 14:47
1485010613
Schlupp and Remy both make their first Premier League starts for Palace, meanwhile Everton remain unchanged following their victory against Manchester City. Mind due, I do not blame them for that - if it's not broke, don't fix it. 
Joe Miles
21 January 2017 14:56
1485011017
The visitors have the first chance of the game within just two minutes, with Antonio just missing the chance from close range. Middlesbrough look slow from the off.
Joe Miles
21 January 2017 15:03
Join our new commenting forum
Join thought-provoking conversations, follow other Independent readers and see their replies