'Very tired' Tottenham punished by 'modern penalty' decision, says Jose Mourinho
Spurs were outclassed in a 3-0 defeat against Manchester City
Karl Matchett
Saturday 13 February 2021 20:13 Comments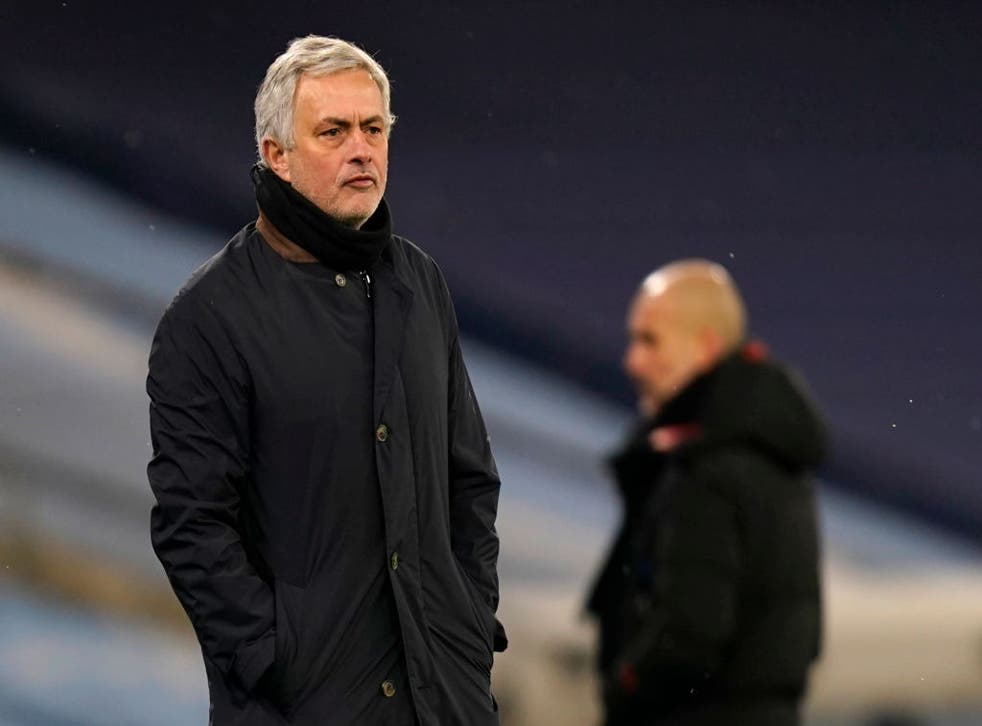 Tottenham manager Jose Mourinho felt his side gave everything they had against Manchester City, with small margins seeing the game run away from them in an eventual loss by three goals.
Harry Kane's free-kick struck the woodwork early on with the game goalless, but from that point on Spurs were firmly second best and created very little, while City themselves struck the woodwork through Gabriel Jesus and netted twice in open play courtesy of the in-form Ilkay Gundogan.
Before the German's brace, though, a foul from Pierre-Emile Hojbjerg on Gundogan saw the home team awarded a penalty, which Rodri netted to put his side in front and establish a lead which never looked like being relinquished.
Mourinho clearly felt the spot-kick was barely worthy of a foul in his cryptic post-match comments, which appeared to suggest some sides are favoured more than others in debatable instances inside the box.
"[This was] a fresh team against a very tired team. We started very controlled, hit the post that could give us the fuel you need when you're especially tired, then one more of these 'modern penalties' to put us in a difficult situation," he told Sky Sports.
"A modern penalty is even if you touch with the [finger]nail inside the box, it can be a penalty.
"Of course it depends on the opponent, but for some, if you touch them with a nail it's a penalty. Sometimes with the toe, sometimes with the nail, sometimes with the nose, you cannot deny there was contact and that's what I call the modern penalty."
In terms of his side's overall performance, Mourinho claimed he was happy with the showing from a collection of players who went into extra time in midweek in the FA Cup defeat to Everton.
"Very, very happy with the players' attitude. I have guys on the pitch that played two hours a couple of days ago, they gave everything.
"Of course we had players with difficulties but brave attitude, great dignity. Guys like Harry [Kane], Pierre [Emile Hojbjerg], Ben [Davies] were giving everything so I have nothing to say against my players."
Spurs are left eighth in the table after the defeat, which is their fourth in the last five league games.
Register for free to continue reading
Registration is a free and easy way to support our truly independent journalism
By registering, you will also enjoy limited access to Premium articles, exclusive newsletters, commenting, and virtual events with our leading journalists
Already have an account? sign in
Join our new commenting forum
Join thought-provoking conversations, follow other Independent readers and see their replies