Jamie Redknapp and Roy Keane fiercely debate Tottenham squad quality and top-four chances
An argument quickly escalated between the pair over the quality available in the Spurs squad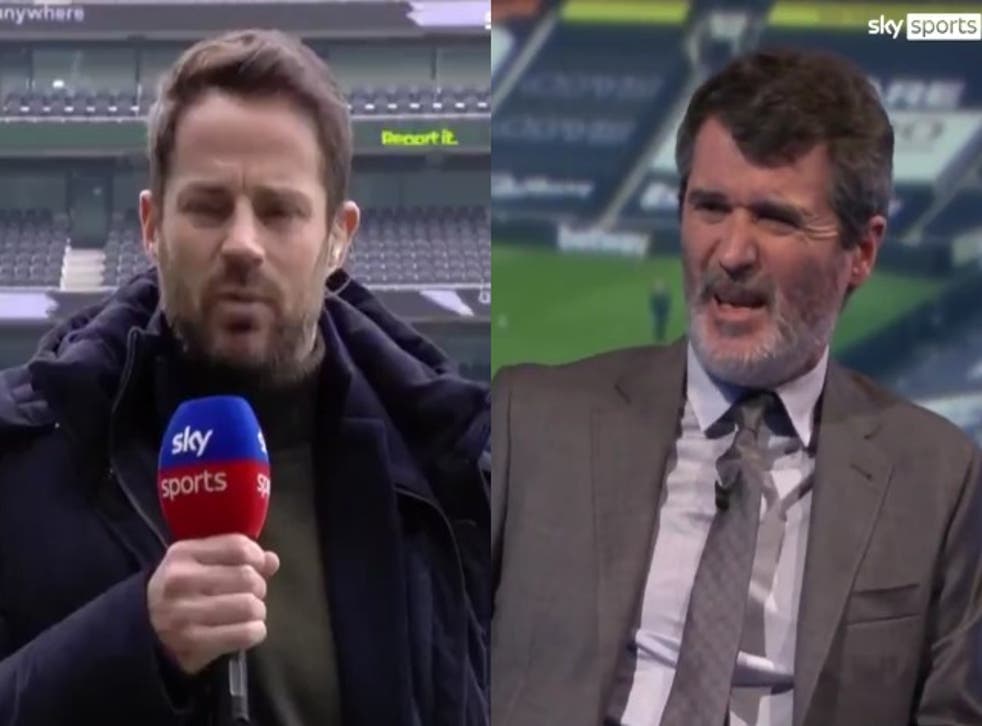 Tottenham Hotspur have divided opinion for much of this season over just how good the squad is, how much of the poor results at times are down to Jose Mourinho's methods and what they should realistically be aiming to achieve this season.
Rarely, though, has the discussion over the currently mid-table side drawn such heat live on television as when Jamie Redknapp and Roy Keane began a back-and-forth difference of opinion over the ability of certain players within the Spurs ranks.
Ahead of the match against Burnley, Redknapp suggested pitchside that there was "a lot of quality" available but manager Mourinho still didn't "know his best team", noting that several international-level players were available - a point that Keane, in the studio, rejected as being irrelevant, saying "being an international doesn't make you a good player."
READ MORE: Spurs' bad results are not Mourinho's fault - Jose said so
The pair quickly rose the intensity of the discussion, with the former Manchester United captain increasingly indignant at the suggestion that the Spurs players were good enough to take a spot in any of the teams in or around the Champions League places.
"[Toby Alderweireld] is not bad. But would he get in any of the top teams? This Spurs team, they were better two or three years ago with Trippier, Eriksen, when Alli had the hunger," Keane said. "Jamie makes the point that they have internationals - if you trap the ball now you play for your country. Everybody plays for your country."
Directly asked which Spurs players would get into the Liverpool, Man City and Chelsea teams, Redknapp, who used to play for the Reds as well as Tottenham, noted at least four players he felt were of that level and was particularly fierce in dismissing Keane's claim that Real Madrid selling Sergio Reguilon had any bearing on his actual ability - probably a fair response, given Los Blancos have also recently opted to offload fellow full-backs Theo Hernandez and Achraf Hakimi, both of whom are considered among the finest around Europe.
"The front three, Son [Heung-min] and [Harry] Kane? [Pierre-Emile] Hojbjerg? Alderweireld would get in United's team as a centre-back. I don't trust [Serge] Aurier and [Matt] Doherty but Reguilon is as good a left-back as there is in the country so you've got that one wrong.
"Does that matter that Real Madrid let him go? That doesn't make him a good player, like being an international doesn't?"
READ MORE: The Jose Mourinho decision Daniel Levy doesn't want to have to make
The debate continued with both talking over each other regarding the fees paid for Reguilon and Doherty and whether they were good enough players to bridge the gap to the top four, with Redknapp offering an impassioned defence of the overall quality which Keane continued to deride.
Fellow studio pundit and former Chelsea striker Jimmy Floyd Hasselbaink made the point that Spurs were "under-achieving big time", with Keane tempering that notion by saying there was no chance of them "automatically being in the top four" due to players who were past their peak, including World Cup-winning goalkeeper and Spurs captain Hugo Lloris.
"We're sick of talking about Dele Alli, what do you think has happened with this kid? Look at his stats from two or three years ago - he's lost the hunger, he's lost the eye of the tiger. He's not going to get Tottenham back to the top four.
"[Lloris] is part of a brilliant international team, that doesn't mean to say he's brilliant. They have about three right-backs and you wouldn't touch any of them [for the] top four.
"This idea that Spurs automatically should be top four because Mourinho's a brilliant coach...he knows the game better than all of us."
The discussion clearly could have gone on for a while longer, but Sky Sports had to interrupt it for the small matter of Tottenham actually getting ready to kick-off their game with Burnley - with three first-half goals boosting their chances of getting back in the running for that coveted top-four finish.
Join our new commenting forum
Join thought-provoking conversations, follow other Independent readers and see their replies