Tottenham vs Manchester United LIVE: Premier League result, final score and reaction tonight
All the latest updates from Tottenham Hotspur Stadium
Jamie Braidwood
Saturday 30 October 2021 19:52 Comments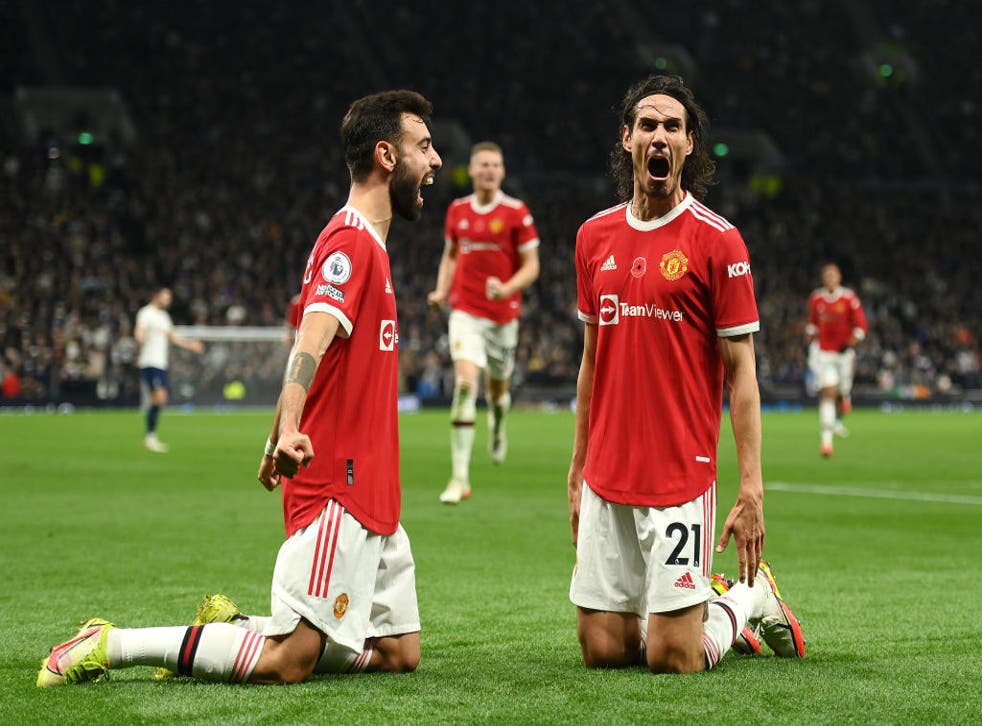 Goals by Cristiano Ronaldo, Edinson Cavani and Marcus Rashford were the inevitable difference between two dysfunctional teams who had both been in crisis, but with one spending an awful lot more than the other.
That is what has again spared Ole Gunnar Solskjaer immediate pressure, as he once more got a win just when all seemed lost. That will see all focus now go on Nuno Espirito Santo - and, judging by this crowd, Daniel Levy - after an utterly dismal 3-0 defeat.
That was what was really predictable.
It was not just that Solskjaer got the win he always tends to in such situations. It was that the predictability of Spurs' tepid approach made it a certainty. United could willingly look on White Hart Lane and be glad they don't have those problems.
While the travelling supporters offered their usual show of support to Solskjaer regardless of circumstances, that really wasn't the case from the home fans.
The boos just got louder as the game went on, to the point they became deafening, and culminating in shouts that the manager didn't know what he was doing and that Daniel Levy should follow him out of the club.
1635618506
Cristiano Ronaldo inspires Manchester United to vital win over Tottenham
Spurs were the perfect opponents for Manchester United when Solskjaer needed three points, writes Miguel Delaney from the Tottenham Hotspur stadium.
You can read Miguel's report, here:
Tottenham 0-3 Man United: Ronaldo scores one and assists another to give his manager some much-needed breathing space
Jamie Braidwood
30 October 2021 19:28
1635619942
Full time: Tottenham 0-3 Man United
Ole Gunnar Solskjaer, speaking to BBC Sport after his side secured an important away win.
"We've built this performance on hard work, discipline and keeping the ball away from our goal. Spaces will open up especially if you get the first goal. The first one is the major one. What a pass from Bruno [Fernandes] and Cristiano [Ronaldo] is the best.
"We've got a hard week again. Champions League game then City. We've got to digest this one and be ready for Tuesday."
"[The Liverpool result] is always going to be in the history books - one of the darkest days. A dark spot on our CV. But football becomes history so quickly.
"The experience of Edinson Cavani and Cristiano is massive. We need it. We can't hide. The week has been difficult for all the players. They really stuck at it. Experience counts in situations like this."
Jamie Braidwood
30 October 2021 19:52
1635619483
Full time: Tottenham 0-3 Man United
Nuno Espirito Santo, speaking to Sky Sports after his side were thrashed by Manchester United:
"Poor performance. We didn't play good. United were stronger than us. We conceded in poor ways, lost balls, allowed counter-attacks. We couldn't break them. They were organised.
"The last pass was never there, the finish was never there. Bad performance.
"We are not on the right track. This season is part of football. The fans suffer when you're not performing well. They have showed they're not happy. We keep on trying."
Jamie Braidwood
30 October 2021 19:44
1635619374
Full time: Tottenham 0-3 Man United
Marcus Rashford, speaking to Sky Sports: "It's obviously been a difficult week. We've responded the only way we know how.
"Playing for Man Utd there's always pressure, you have to learn to enjoy it. Part of playing for this club is to come out of difficult moments. this club has always bounced back.
"I think we prepared for the team we're playing against. We all have to buy into what the manager tells us to do. Today that helped us come away with the three points.
"There's more to come. As long as we keep improving, keep picking up points, we'll see where we are come the end of the season."
Jamie Braidwood
30 October 2021 19:42
1635618824
FULL TIME: Tottenham 0-3 Man United
Spurs finished without a shot on target today, the first time they've done that in a home match since 2013.
"It was a perfect day for Man United," says Roy Keane on Sky Sports. "Back in my day we used to say, 'Lads, it's Spurs'. They were abysmal."
"Spurs were toothless," adds Graeme Souness. "Kane, Son, Lucas - they look a shadow of their former selves. They were very, very average today."
"You just want to see your team have a go," says former Spurs striker Jermain Defoe. "They're boring," adds Keane.
Jamie Braidwood
30 October 2021 19:33
1635618373
FULL TIME: Tottenham 0-3 Man United
United move up to fifth, just three points behind Manchester City - and ahead of the derby next weekend! Could you imagine if United beat City next weekend to go level? There would surely not be anything more Solskjaer than that.
In all seriousness, there were plenty of positives from Solskjaer's side today. There's also a gameplan now for how to approach that clash against Guardiola's side next Saturday.
Jamie Braidwood
30 October 2021 19:26
1635618062
FULL TIME: Tottenham 0-3 Man United
Solskjaer gets another result when he needed it most, while there are boos from the beleaguered home fans at what was another woeful display from Spurs. They were awful today, as the pressure swings towards Nuno Espirito Santo.
Jamie Braidwood
30 October 2021 19:21
1635618051
Tottenham 0-3 Man United
90+1 mins: Even though they've barely been troubled, United have been solid defensively today. The return of Varane has helped and the back three has seen them return to basics. It looks set to earn them a rare clean sheet.
Jamie Braidwood
30 October 2021 19:20
1635617890
Tottenham 0-3 Man United
90 mins: The Tottenham Hotspur stadium is emptying. Those who remain are still yet to see an effort on target.
This is an ugly, ugly day for Spurs and Nuno. There will be three added minutes, and the only positive for Nuno is that there won't be a full stadium to boo his team at full time.
Jamie Braidwood
30 October 2021 19:18
1635617654
GOAL! Tottenham 0-3 Man United (RASHFORD 86')
Nightmare for Spurs, salvation for Solskjaer. Matic and McTominay are able to knock the ball around midfield under no pressure, before Matic slips in Rashford, who is being played onside by Davies. Rashford opens his body before tucking the ball past Lloris to wrap up three points.
"We want Levy out," chant the Spurs fans.
Jamie Braidwood
30 October 2021 19:14
Register for free to continue reading
Registration is a free and easy way to support our truly independent journalism
By registering, you will also enjoy limited access to Premium articles, exclusive newsletters, commenting, and virtual events with our leading journalists
Already have an account? sign in
Join our new commenting forum
Join thought-provoking conversations, follow other Independent readers and see their replies