Transfer news: Mohamed Salah in play as Chelsea gazump Liverpool with rapid move for Basel's £15m winger
Liverpool had been close to agreeing a deal before Chelsea stole in
Sam Wallace
,
Ian Herbert
Friday 24 January 2014 01:59 Comments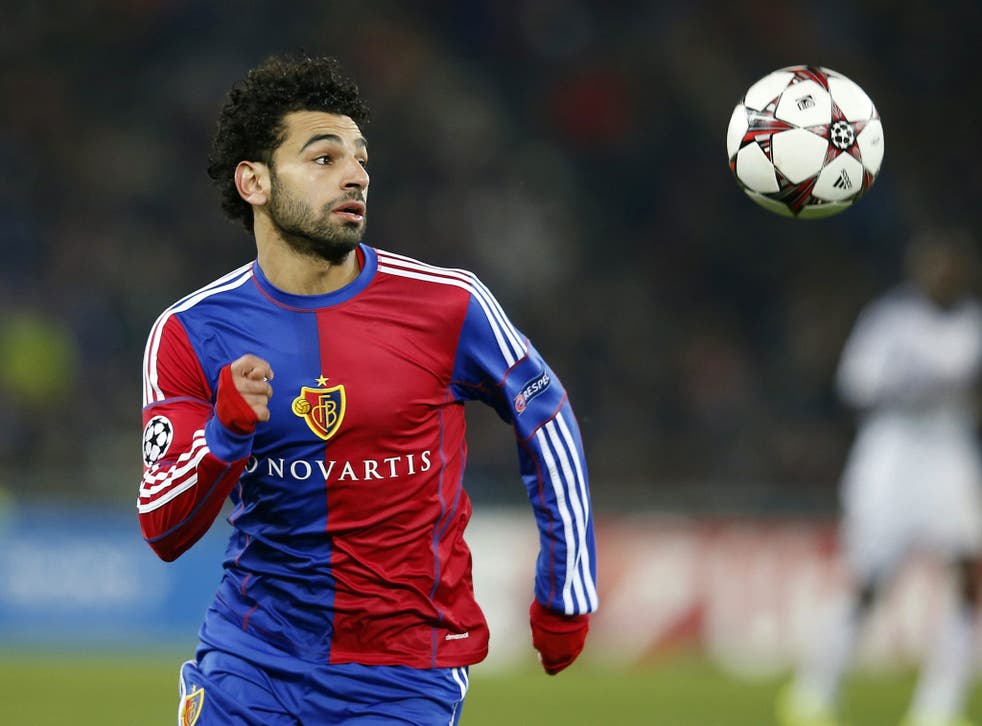 Chelsea outbid Liverpool for the Basel winger Mohamed Salah with a bigger down payment for the player on Thursday after their Premier League rivals offered a deal worth well over £15m including add-ons.
The west London side tied up the purchase of Basel's 21-year-old midfielder rapidly and were able to announce him as their own before Manchester United could even complete a medical on Juan Mata. The Spaniard remained in London on Thursday night, though United's players have been told they will have to sacrifice their day off today and train at Carrington to help Mata integrate.
Chelsea have secured assurances from Salah that he did not make anti-Israeli remarks, having avoided a pre-match handshake before a game against the Israeli club Maccabi Tel Aviv, six months ago.
Chelsea have checked with the player and his representatives as to the veracity of quotes attributed to him. He denies saying the remarks. With the club owned by Roman Abramovich, who is Jewish, and a supporter of the state of Israel, there is considerable sensitivity around the issue.
Liverpool are understood to have offered a total of £15m for the player – when add-ons are included – and Chelsea have gone higher to wrest away a player who they wanted in a hurry and whom they could have purchased far more cheaply this summer, when he would have been out of contract. The club were keen to quell any unrest among fans about the sale of Mata and may also try adding Internazionale's Colombian midfielder Fredy Guarin to their ranks.
Related stories...
Inter have harboured hopes that Guarin – who plays right or central midfield – might be sold to United, with Javier Hernandez heading to Italy as part of the same deal. But Chelsea see potential to move opportunistically for an £8m player whom they feel they would be getting on the cheap.
Guarin's swap deal with Mirko Vucinic from Juventus has fallen through and Inter have instructed the 27-year-old's agent to find a club for the player as they need the money. Chelsea view that as an opportunity to sign Guarin at a discount price. Their income from the Mata deal gives them the potential to go into the transfer market without jeopardising their hopes of complying with Uefa's Financial Fair Play rules.
There is no realistic chance of Chelsea securing the services of Everton's highly regarded midfielder Ross Barkley – the player firmly in their sights as a potential successor to Mata – until the summer. Everton are determined to keep hold of their most promising player as they launch a push to qualify for Champions League football next season. If they finish in the top four this season and reach the top table of European football it could revolutionise the finances of the club.
Mata is expected in Manchester today, with United relaxed last night about the delay to the deal. They were unable to secure permission from Chelsea for Mata's medical until a deal had been agreed.
Who else might be on their way to Chelsea this month?
Chelsea - January transfer targets

Show all 18
Register for free to continue reading
Registration is a free and easy way to support our truly independent journalism
By registering, you will also enjoy limited access to Premium articles, exclusive newsletters, commenting, and virtual events with our leading journalists
Already have an account? sign in
Join our new commenting forum
Join thought-provoking conversations, follow other Independent readers and see their replies