Who is Arturo Vidal? An analysis of Manchester United's £48m target
Manchester United and Liverpool are chasing the Juventus star - but what type of player would they be getting for their money?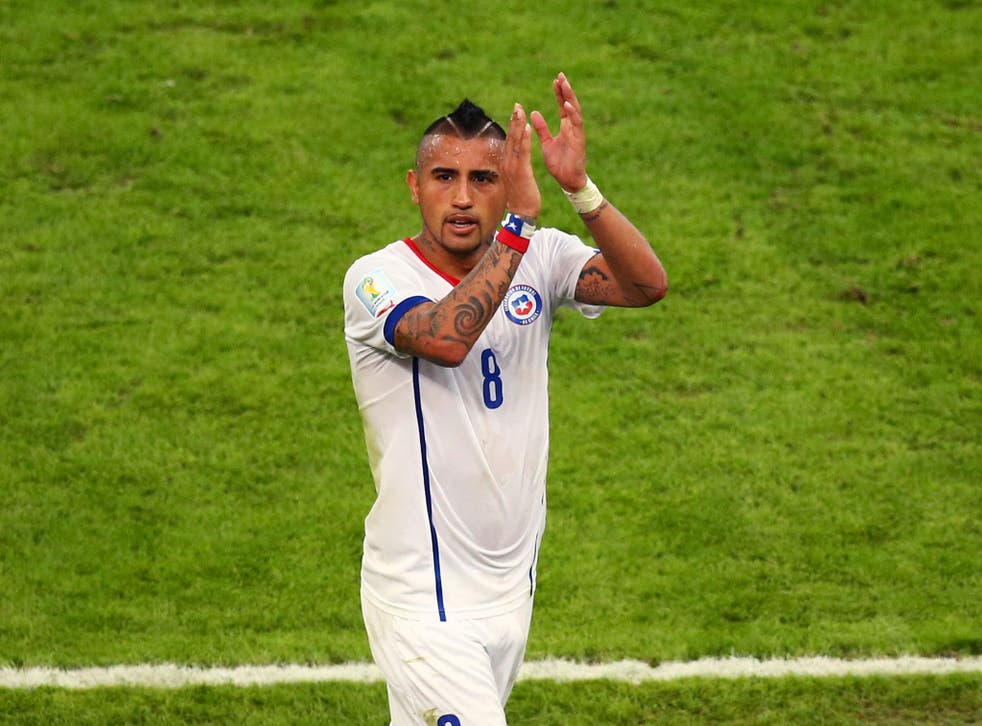 Arturo Vidal is a man in high demand, caught between the overtures of two bitter rivals in Manchester United and Liverpool. United are preparing a monster £48m offer and are ready to double the midfielder's wages, according to reports in Italy. But despite Louis van Gaal's status as clear favourite to land the Chilean star, Brendan Rodgers retains an interest in acquiring his services.
In the face of such excitement, it seems only pertinent to ask what kind of qualities a club will receive in return for their inevitably huge monetary outlay.
The answer is unclear – though not necessarily in the negative sense of the word. Vidal is a hybrid, a player capable of both creativity and destruction, sometimes in the same movement. For Manchester United fans, the risky yet unavoidable comparison is with Roy Keane – Vidal was nicknamed "The Warrior" by the Italian press because of his relentlessly aggressive style of play.
Van Gaal may see him through Dutch-tinted spectacles as more in the mould of Edgar Davids – a tireless presence in the very centre of midfield, breaking forward with alacrity to provide a goalscoring threat whilst biting into tackles and breaking up play.
Manchester United: Potential summer transfer targets

Show all 10
In other words, purchasing Vidal will provide a club with two players for the price of one supremely athletic body. The Chilean international is something of a throwback to the days when a midfielder could and indeed was expected to perform multiple roles on the pitch depending on the match situation.
Vidal's career progression displays a similarly old-fashioned steadiness. After starting his career at the Santiago-based Colo-Colo he made the expected move to Europe in 2007, spending four years with the German industrial giants Bayer Leverkusen. In 2011 he moved on again in the direction of Turin for €10.5m – a fee that Juventus now stand to recoup around six times over.
For Juventus Vidal shouldered a heavy goalscoring burden, notching 39 in 107 appearances in his three years so far with the "Old Lady". That total included five strikes during the Italian side's ill-fated 2013/14 Champions League campaign, including a hat-trick against FC Copenhagen last November.
He brings more than the admittedly crucial currency of goals, however. In addition to Vidal's 18 goals for Juventus last season came five assists and an average of four tackles per Serie A game.
That triptych suggests a player with outstanding stamina, as well as a priceless ability to read the game.
Vidal's sole weakness is, ironically, his greatest strength. His versatility means he is good rather than exceptional across a wide range of disciplines – potentially a problem given the purported size of his transfer fee.
Vidal works best when paired with a cultured passer – at Juventus he has flourished in front of Andrea Pirlo, whose languid style the Chilean complements ideally. He is a fine passer but will struggle if asked to fulfil anything akin to the role of regista.
Of course, with the bite that Vidal brings to a team's midfield is the accompanying risk of disciplinary action. He picked up eleven yellow cards for Juventus last season – though his last dismissal came in 2011/12, and was one of only two during his professional career. Tough tacklers must constantly tread the line between tenacity and over-aggression – and Vidal seems to have found the right balance.
At 27, Vidal is entering the prime of his career. If he is to get his serious-money move it must be now, because the market for all-action midfielders declines sharply as they reach their late twenties. United's offer is not significant simply in monetary terms – its size reflects the club's wish that Vidal become the cornerstone of their oft-troubled midfield.
If any player not named Messi, Ronaldo or Rodriguez can justify those lofty expectations, it is the Chilean. There is nothing flashy about Vidal – but three years of brute Serie A effectiveness speak for themselves. "The Warrior" is the real deal.
Register for free to continue reading
Registration is a free and easy way to support our truly independent journalism
By registering, you will also enjoy limited access to Premium articles, exclusive newsletters, commenting, and virtual events with our leading journalists
Already have an account? sign in
Register for free to continue reading
Registration is a free and easy way to support our truly independent journalism
By registering, you will also enjoy limited access to Premium articles, exclusive newsletters, commenting, and virtual events with our leading journalists
Already have an account? sign in
Join our new commenting forum
Join thought-provoking conversations, follow other Independent readers and see their replies