Birmingham Diamond League LIVE: Latest updates and results as Dina Asher-Smith and Laura Muir win
Relive all the action as the world's best descended on the Alexander Stadium, which reopened ahead of this summer's Commonwealth Games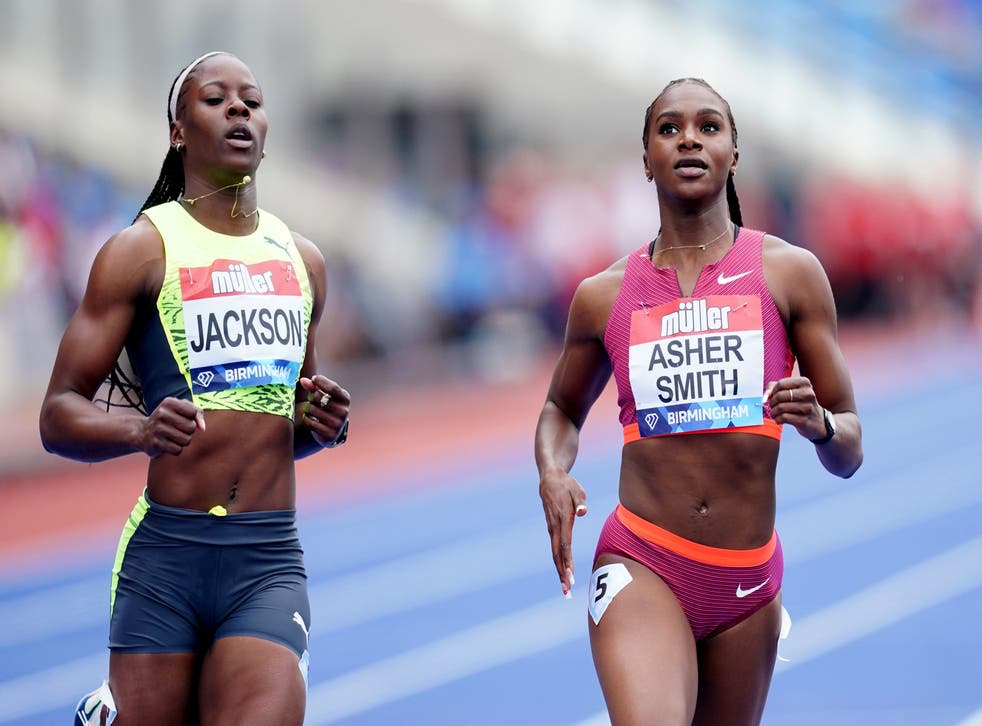 Canada's Aaron Brown won the first men's 100 metre race of the Diamond League season with an underwhelming show in Birmingham on Saturday, after two false starts saw top contender Trayvon Bromell and local favourite Zharnel Hughes disqualified.
Brown clocked in at 10.13 seconds, a minor improvement from his 'B' race earlier when he managed 10.23 behind Jeremiah Azu, as the marquee event of the meet came to an anti-climactic finish when Bromell and Hughes jumped the gun.
"I'm glad I won this one and not the first one, if I had to choose," Brown said. "I felt good. My plan was to get a training day in. I have another race to run in the relay, so three runs in one Diamond League is a record but I love it.
"I'm trying to get the work in and get ready for the world championships."
Former world champion Yohan Blake of Jamaica finished second at 10.18 seconds while Canada's Jerome Blake took bronze with an effort of 10.20 seconds. His fellow Canadian Andre De Grasse was fourth after a disappointing run.
Britain's 200m world champion Dina Asher-Smith finished strongly to seal a tight women's 100m race at 11.11 seconds, edging out Jamaica's Shericka Jackson by a hundredth of a second. Briton Daryll Neita took bronze with 11.14.
Olympic champion Elaine Thompson-Herah had pulled out of the meet earlier this week after the Jamaican experienced discomfort in training, denying the Birmingham crowd of a showdown between the last two women's 100m Diamond League champions.
Tokyo Games 1,500m silver medallist Laura Muir marked her first race of the season following a back problem with a solid show to claim gold in the women's event, ahead of Australia's Jessica Hull and Kenya's Winny Chebet.
Roared on by the crowd at the Alexander Stadium, which has been redeveloped for this year's Commonwealth Games starting on July 28, the 29-year-old Briton turned on the after-burners towards the end to cross the line at 4:02.81.
"To come here and win in my first race of the season, I'm really happy. The win was more important than the time in my first race especially as it was quite windy out there," Muir said. "It was solid and running from the front too."
1653144726
Women's 800m: Keely Hodgkinson wins with dominant performance
Here's Keely Hodgkinson, they hit the bell at 59.04.
Hodgkinson leading Goule at the bell, but Hurta coming on strong.
It's 1:58.64 for Hodgkinson, superb, she led from the front and stormed home. Nobody had anything in response.
Lamote is second in 1:59.53 and Goule third, with Hurta fourth.
Jack Rathborn
21 May 2022 15:52
1653144681
Michael Johnson criticises Zharnel Hughes for latest false start
Michael Johnson: "Zharnel Hughes has false started every race I've seen him entered over the last year. At this point he's taking a lane that should go to someone who's going to finish the race."
Jack Rathborn
21 May 2022 15:51
1653143604
Men's 1,500m: Kipsang wins, Kerr in fifth
The favourite Kipsang takes the win in 3:35.15 with Katir in second and Hoare third.
Katir hugging the rail, and Hoare swung out, but Kipsang would not be denied and underlines his newfound status as perhaps the man to beat.
Ingebrigtsen and Cheruiyot still right there, but this event is really hotting up.
Kerr settles for fifth with 3:35.92, and young Matthew Stonier in eighth with 3:37.25 on debut in the Diamond League.
Jack Rathborn
21 May 2022 15:33
1653143140
Men's high jump: Django Lovett upsets Gianmarco Tamberi
Django Lovett took the win in the men's high jump with 2.28m - a season's best - beating out Olympic champion Gianmarco Tamberi.
The Croatian said: "I am definitely content with that - to pick up the scalp of Gianmarco (Tamberi) is a great start to the season for me. To come away with the win at a Diamond League doesn't happen too often but I still think I could jump higher. I am not denying it is special to beat him as I know what he is capable of but I know my abilities and I am confident coming into the competition especially after third last week."It is going to be a long season so I am pleased with 2.28m I am not going to sit on it. My plan now is to go home and get in shape for the prepare for the world champs but the Diamond Leagues are vey important to me as there is always a great field. At any champs my aim is to get on the podium and that will be the case at the Worlds and I am pushing towards that."
While Tamberi said: "It wasn't the best competition, but not the worst. After Doha, I just tried to restart today. I fixed some things, the technical aspect, but we still have to work a lot because when I try to jump higher to push more I do more mistakes so it is not a good condition to compete at the moment but competition helps."The conditions are totally different compared to Doha, going from 35 degrees to 17 today, but I'm just going to keep working and I'm going to be back competing again next weekend."
Jack Rathborn
21 May 2022 15:25
1653141175
Women's 100m: Dina Asher-Smith wins ahead of Shericka Jackson and Daryll Neita
Dina Asher-Smith rebounded impressively to win the women's 100m in front of a home crowd at the Birmingham Diamond League.
The world 200m champion came home in 11.10 in a nail-biter at the newly-renovated Alexander Stadium.
Jamaica's Shericka Jackson finished second and Great Britain's Olympic 100m finalist Daryll Neita finished third.
Jack Rathborn
21 May 2022 14:52
1653140502
Men's 800m: Arop wins, Wightman fourth
A long kick home for Arop, impressive, 1:45.41.
Robert second, Hoppel second and Wightman fourth in 1:46.39, a season's best.
Jack Rathborn
21 May 2022 14:41
1653139940
Men's 100m: Brown wins after Bromell and Hughes disqualified
Bromell is disqualified for a false start! Drama here as we have a second DQ!
It looks like Zharnell Hughes was first to go this time... Yes, it's Hughes.
It's third time lucky, we're away, Brown from Canada 10.13 seconds for the Canadian.
Jamaica's Blake second in 10.18 and Blake from Canada third in 10.20. De Grasse fourth.
Jack Rathborn
21 May 2022 14:32
1653139126
Women's 1,500m: Laura Muir beats out Jessica Hull for the win
Laura Muir, Jemma Reekie and Katie Snowden in action for Great Britain.
Ellie Sandford pacing here and they're right on the lights as we approach 700m.
Jessica Hull and Laura Muir still with Sandford, then a gap to third.
The pacer steps off and it's Muir just ahead of Hull at the bell, 2:58...
It's Muir for the win in 4:02.82, Hull second and then a gap to Winny Chebet in third.
Reekie came fifth in 4:07.01, with Snowden eighth in 4:08.33.
Jack Rathborn
21 May 2022 14:18
1653138942
Women's Discus Throw: Valarie Allman wins
Valarie Allman wins the women's discus in 67.85, she beats out Croatian Sandra Perkovic, who is second with 67.26 - a season's best.
Laulaga Tausaga is a way back in third with 60.80.
Jack Rathborn
21 May 2022 14:15
1653138378
Women's 400m Hurdles
Dalilah Muhammad takes the victory in the women's 400mH in 54.55.
The Ukrainians, Tkachuk and Ryzhykova, come home in second and third.
Great Britain's Lina Nielsen is fourth in 55.40.
Jack Rathborn
21 May 2022 14:06
Register for free to continue reading
Registration is a free and easy way to support our truly independent journalism
By registering, you will also enjoy limited access to Premium articles, exclusive newsletters, commenting, and virtual events with our leading journalists
Already have an account? sign in
Register for free to continue reading
Registration is a free and easy way to support our truly independent journalism
By registering, you will also enjoy limited access to Premium articles, exclusive newsletters, commenting, and virtual events with our leading journalists
Already have an account? sign in
Join our new commenting forum
Join thought-provoking conversations, follow other Independent readers and see their replies