Wade Barrett promises to 'settle the score' with Wayne Rooney as he discusses his dream opponents, face turns and life on the road
Barrett hit the headlines this week after he was floored by a 'slap' from Manchester United and England football Wayne Rooney during Raw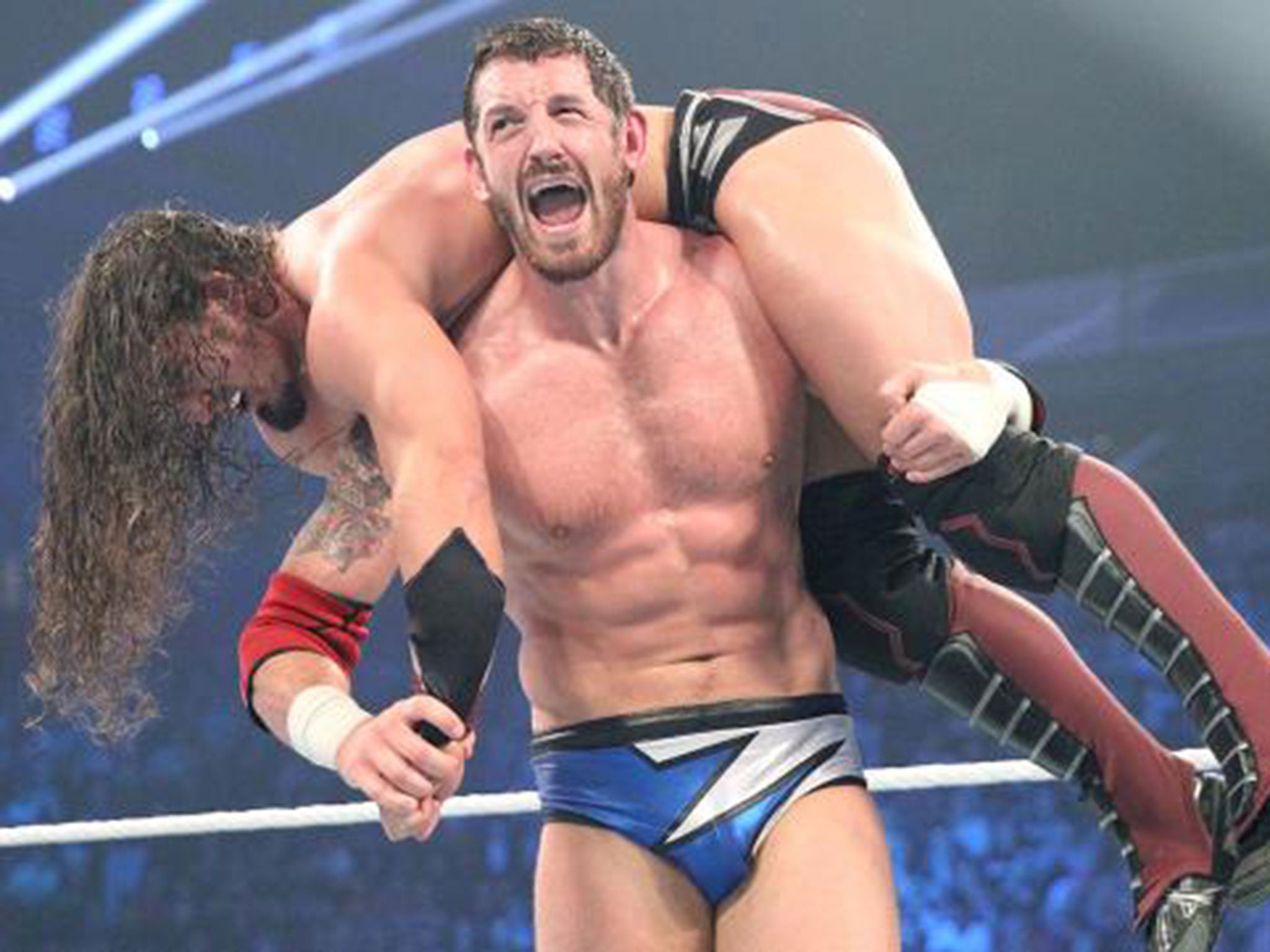 One of Britain's most successful professional wrestlers, WWE's King Barrett created worldwide headlines this week after his mock-rivalry with Wayne Rooney turned physical on Monday Night Raw.
Barrett is a five-time WWE Intercontinental Champion and the current King of the Ring, but was slapped and dropped by the Manchester United and England star in front of a sellout crowd at the Manchester Arena.
Still reeling from that traumatic incident, the 35-year-old spoke to The Independent to vent his rage on Rooney, and to discuss his life in wrestling.
We are now four days on from Rooneygate and you have never been more famous in this country. How does that make you feel?
It's increased my profile in the worst way possible! I've been wrestling for 13 years, I've won numerous championships and competed with all the top names but now I'm more famous than ever for being the victim of a slapping from Wayne Rooney.
I'm not sure how great it is but I suppose all publicity is good publicity. Fingers crossed I'll catch up with Wayne very soon and settle the score to let everyone know who the real tough man is.
You can be honest with us, just how hard was the slap?
Well I believe Wayne has broken his fingers from slapping me which is why he's not going to be in the England team for the foreseeable future. I was fine, I get hit in the face every night, you just have to take a look at my nose to see it's all bent out of all recognisable shape. It's not the worst slap I've ever received, but believe me when I catch up with him I'll be hitting him a lot harder than he hit me!
Will you be able to put aside personal rivalry and still cheer for Wayne in an England shirt?
I'm a very passionate England fan and I love watching them in the World Cup and European Championships, so my plan is to get to Wayne as soon as I can, cause some damage, maybe break a few bones, but then I want to make sure he's healthy for Euro 2016 next summer because I want us to win that competition.
How are you enjoying your wrestling career at the moment? You've recently been filming a movie and you changed your twitter handle to your real name. Are you still as heavily invested in the business as you have been in the past?
I'm still as passionate about wrestling as I ever was, but I think it's inevitable that at some point in your career you've got to start looking for things outside of wrestling. I'm not going to wrestle forever, though I certainly feel that I've got a lot of time left in me if I want to. Maybe at some point I'll be taking a career break, I'm not sure.
I've done some movie work lately and that's an area I really enjoyed and would be looking to explore. Certainly in terms of acting and doing things outside of wrestling, that's something I'll be looking to do more of in the not-too-distant future.
With the exception of when you perform in Britain, you've portrayed a 'heel' character throughout your entire WWE career. Have you ever had ambitions to establish a more likeable persona on screen?
For the most part I excel as being the bad guy, and that's definitely a strong point for me. There was a period about a year ago when I was performing as Bad News Barrett that I felt that the company should have turned me into the good guy kind of role because I think the fans were wanting that at that time.
I suggested it, but the powers that be made the decision that they didn't want me to do that, instead they wanted me to continue as the bad guy. That decision was made at the time, but I feel that at the moment it's not the right time for me to be a fan favourite because I'm universally hated. Maybe one day it will change, but I'm currently quite happy being the bad guy.
WWE 2K16 has just been released, and you are a character in the game. Does it still feel strange to be featured in a video game?
Yeah it's pretty amazing. I used to play all the time when I was a kid on the MegaDrive and the games these days just blow my mind, it's almost like watching a video of us. The graphics are so amazing and the gameplay is so good that it's very surreal to be able to pick up a copy of it and be able to play as myself. Fans also get the chance to immerse themselves into the WWE world by picking up a copy.
You're known as a huge Manic Street Preachers fan and have begun to dip your toe into the Hollywood world. I think you'd make a great Nicky Wire if a film about the Manics ever came into fruition, but can you think of another wrestler or actor who could play the rest of the band?
The issue we have with the Manic Street Preachers is that in their early days especially they were all very skinny and all the WWE guys are big, muscled beefcakes. I can't really see the Big Show playing James Dean Bradfield, it might look a little odd.
What about Colin Farrell, does he have the James Dean Bradfield intensity?
Yeah I can see that, I did a movie with him in 2012 and he's a great guy who I really liked. He's got a bit of the James Dean Bradfield about him. I'd love to play Nicky Wire though, I'd definitely like to put my hat into the ring for that one.
The Manics have recently announced a big stadium show for next year to celebrate the 20th anniversary of Everything Must Go. Would you like to be in attendance for that?
One of the problems with being a WWE Superstar is that I literally get zero time off unless I'm injured, and usually when I'm injured I'm sat on the couch unable to move because I've just had a surgery. I've missed out on a lot of things like seeing Preston North End in the Play-Off final last season when we won 4-0, and the Stone Roses reunion in 2013.
It's pretty much impossible to do anything when you're in WWE because you're so busy constantly. I probably only spend 50 nights a year in my own bed, the rest of the time I'm on tour in various hotel rooms. The one downside of being in WWE is that you miss out on things like that.
If that's the worst aspect of being a successful wrestler, what's the best?
The best thing about WWE without doubt is being able to step out in front of the incredible fans that we've got. We packed out arenas for this entire UK tour, and the second the music hits and you burst through the curtain and see all the faces booing or cheering, it gives you a feeling that just can't be replicated.
Finally, you've competed against many of the greatest wrestlers of all time, but is there anybody you've yet to feud against who you would like to?
I'd say Bray Wyatt. He's someone I've known for a long time and I'm actually pretty good friends with him. I've known him since 2008 when he first started out and I'm a huge fan of what he does. I think he's the most unique and naturally talented Superstar we've had in WWE for a long time.
He's somebody I'd like to lock horns with but the issue is he gets booed out every building like I do, so I don't think too many people would want to see that until one of us turns into the good guy! It's definitely not going to be me, so it's up to Bray to change and then we can square off at some point.
WWE 2K16 is available now on PlayStation 3, PlayStation 4, Xbox 360, and Xbox One
Join our commenting forum
Join thought-provoking conversations, follow other Independent readers and see their replies