US Open: Rory McIlroy knows the importance of making a fast start at Erin Hills
The Irishman is looking to overcome an injury-hit campaign and win a fifth major title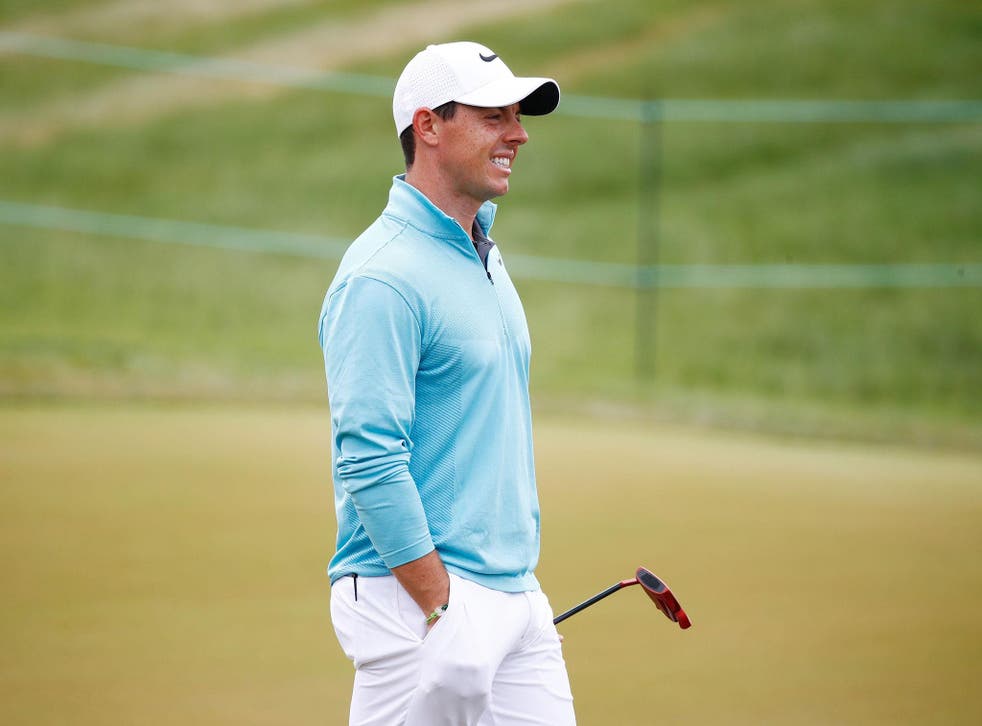 Rory McIlroy believes it is "imperative" that he gets off to a flying start in the US Open as he looks to overcome an injury-hit campaign and win a fifth major title at Erin Hills.
McIlroy's season has been thrown into disarray by the rib injury suffered during extensive club testing over the winter, which initially kept him sidelined for six weeks after losing a play-off in the South African Open.
The world number two finished seventh, fourth and seventh in his first three strokeplay events on his return, but a recurrence of the problem during the Players Championship saw him withdraw from the BMW PGA Championship and Memorial Tournament.
That means the 28-year-old has played just six events heading into the year's second major championship, an event he won in record-breaking style in 2011 but one in which he has since missed the cut twice and recorded a solitary top-10 finish.
"If you look at how I've started the majors that I've won, I've sort of led from the front," said McIlroy, who has either led or been one shot off the lead after the first round in each of his four major victories to date.
"So it is imperative for me to get off to a good start and I haven't been able to do that. I've had a lot of time to think over the last few weeks and sort of figure out what I need to do to get back to winning majors and being in contention.
"I think it's a lot to do with preparation. I feel like if you prepare 100 per cent the right way, mentally that puts you in a great frame of mind to go out there and attack the golf course.
"At Congressional in 2011 I maybe just wasn't putting the pressure on myself as much. The expectations were still high, but I still went out there and sort of freewheeled it where sometimes over the past couple of years I've been a little bit tight and a little bit tentative.
"I need to get away from that because that's not how I play my best golf. That's why I like this golf course, it allows you to be aggressive and swing freely and get after it."
McIlroy was dismayed to learn in his pre-tournament press conference that some of the thickest fescue grass on the course was being cut down as he spoke, with the USGA seemingly responding to complaints from players.
"This is one of those tournaments that if you let it get into your head I feel like you're already defeated before you tee off," added McIlroy, who is using a new putter this week.
"And there have been a couple of times where I have let it get in my head. In 2015 at Chambers Bay, even though I made a bit of a run at it, I was a little bit disillusioned along with some other guys with the way the course was and everything. But if you let it get into your head you really have no chance.
"That's not the way you want to start off. You want to start off with positivity and a positive frame of mind, and that's the way I'm trying to approach it this week."
McIlroy has not played competitively for a month and admits that might be an issue if he finds himself in contention on Sunday, but the Northern Irishman believes he can adapt to a different practice regime following his injury.
"I don't feel like I need a run of events to get back into it," added McIlroy, who has added the Scottish Open to his schedule in between the Irish Open - which his foundation hosts - and the Open at Royal Birkdale. "I feel like I can pick up confidence pretty quickly.
"Preparation-wise, instead of hitting five bags of balls I'll hit two. If you hit 100 drivers a day and you swing at 120mph, it's going to take its toll a little bit. So it's just a matter of managing that.
"And it means I can concentrate on the other areas of the game. I don't feel like I have to hit balls all day to be a great player. I feel like I can go out and play and shoot scores and play with my friends and get confidence that way."
Meanwhile, Sergio Garcia hopes he can rely on memories of his Masters triumph as he looks to win back-to-back major titles at Erin Hills.
Garcia finally won his first major at the 74th attempt in April, defeating Ryder Cup team-mate Justin Rose in a play-off at Augusta National.
And the 37-year-old will now try to become only the seventh player - after Craig Wood, Ben Hogan (twice), Arnold Palmer, Jack Nicklaus, Tiger Woods and Jordan Spieth - to win the Masters and US Open in the same year.
"That's the goal and that's where we want to go," Garcia said before taking his first look at the course following a morning thunderstorm. "I definitely hope that I can keep playing well and win many, many more, now that we have our first one.
"The only thing I can do is keep putting myself in that situation as many times as possible and now I can maybe rely on what I felt on Sunday at Augusta and hopefully it gives me a little bit of an edge when it comes down to that situation.
"At the end of the day I think that obviously we've achieved something that we've been trying for for so long and it's easy to kind of take a deep breath and relax.
"But I'm still working out hard, I'm still working on my game as much as I can and as hard as possible. I've always said it. Wins are important but to me consistency is the most important thing.
"I've been fortunate to be consistent throughout my whole career. I want to keep being consistent, keep playing well, keep giving myself chances at winning majors and being in Ryder Cups and all those things.
"So to me that's the best motivation possible, to keep that consistency going. And if I want to do that I have to keep working hard. I'm sure that some lows will come, but hopefully they'll be short ones and we can get over them as quickly as possible."
Join our new commenting forum
Join thought-provoking conversations, follow other Independent readers and see their replies