As it happened
ended
1579860396
Rugby League World Cup draw: England to face Samoa first up as Prince Harry hosts event at Buckingham Palace
The Duke of Sussex will be the face of a mental awareness campaign throughout the tournament in England
Jack Rathborn
Thursday 16 January 2020 13:38 Comments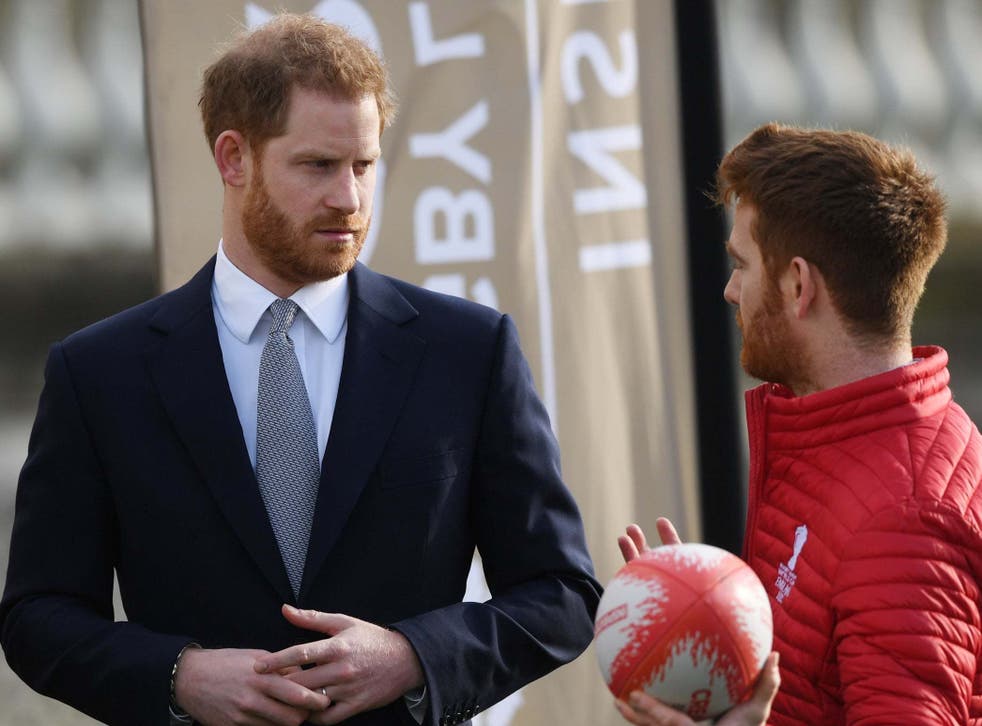 England will face Samoa in the opening match of the Rugby League World Cup with France and Greece also in Group A after the draw at Buckingham Palace. Prince Harry, making his first public appearance since announcing plans to step back from royal family duties, hosted the draw as the face of the mental fitness charter launched by the sport to run throughout the tournament.
Reigning champions Australia are in Group B with Fiji, Scotland and Italy. New Zealand, Lebanon, Jamaica and Ireland are in Group C, while rising force Tonga join Papua New Guinea, Wales and Cook Islands in Group D. England's opening match against France will be held at St James' Park, Newcastle, is on 23 October and kicks off the tournament.
The Duke of Sussex outlined his motivation for taking part in the initiative to boost the mental health of those involved in the sport. "Rugby League isn't just a sport, it's a community," Harry said ahead of the launch. "For many years, it has been at the forefront of promoting and supporting good mental fitness, working hard to build a positive mindset for everyone involved in the sport. So, I am proud to support the Rugby League World Cup 2021 Mental Fitness Charter. This Charter will build on the brilliant work already happening in rugby league by committing to training and educating all those involved in the tournament and the wider rugby league family, not only in how they can look after their own mental fitness but also support others to do the same."
Please allow a moment for updates to load
1579174031
England, Scotland, Wales and Ireland will all discover their opponents when the draw for the 2021 Rugby League World Cup is made at Buckingham Palace on Thursday.
The Duke of Sussex, who is patron of the Rugby Football League, will conduct the draw alongside dual-code international Jason Robinson and the chair of UK Sport, former Olympic rowing champion Dame Katherine Grainger.
The hosts, along with holders Australia, 2008 champions New Zealand and the fourth-ranked nation Tonga have been pre-allocated to their groups and the remaining teams will be drawn from three pools of four.
It will be an open draw, with the exception of Pool A where England cannot be paired with Lebanon after it was decided each group must have a Pacific region team to ensure an even geographical spread. That means England's opening match will be against Samoa, Fiji or Papua New Guinea.
Jack Rathborn
16 January 2020 11:27
1579174608
Prince Harry has arrived at Buckingham Palace with Rugby League World Cup chief executive Jon Dutton and Stuart Cain.
Jack Rathborn
16 January 2020 11:36
1579175193
We'll bring you live updates from the draw shortly.
Australia, as defending champions, are favourites to win again on English soil at 2/7. 
The hosts are third favourites at 10/1 behind New Zealand at 6/1, while in-form Tonga are 12/1.
Jack Rathborn
16 January 2020 11:46
1579175246
England's Jake Connor has been speaking ahead of the draw on the three-game series against Australia.
"It's exciting, they're a top team, to beat them is a massive achievement," said the Hull man.
"You want to know where you're at going into the World Cup, there's no better way than three games against them."
Jack Rathborn
16 January 2020 11:47
1579175306
Prince Harry has discussed his role as RFL Patron and the Mental Fitness Charter launched as part of the Rugby League World Cup.
Jack Rathborn
16 January 2020 11:48
1579175464
A reminder of why Australia are favourites... 
Jack Rathborn
16 January 2020 11:51
1579175663
Not long now until things get underway.
Jack Rathborn
16 January 2020 11:54
1579175737
How the draw works 
Hosts England are in Group A, reigning champions Australia are in Group B, New Zealand go to Group C and Tonga are in Group D.
The remaining 12 teams will be drawn from three different pots:
Pot 1 - Fiji, Lebanon, Papua New Guinea and Samoa
Pot 2 – France, Jamaica, Scotland and Wales 
Pot 3 – Cook Islands, Greece, Ireland and Italy
Jack Rathborn
16 January 2020 11:55
1579176276
England will face Australia in a three-match Ashes-type series.
The first match is on 31 October at the University of Bolton Stadium, the second is a week later on 7 November at Elland Road and then the final match takes place on 14 November at Tottenham Hotspur Stadium.
Jack Rathborn
16 January 2020 12:04
1579176587
Prince Harry on mental health charter:
I'm proud to help support the Rugby League World Cup mental fitness charter, it's the first time focusing on the mental health of players, coaches and fans.

We'll focus on educating the wider Rugby League family, mental fitness work shops to 8,000 young players and their families.

The perception of rugby league is that you have to be tough and you should grit and bare it, we need to get rid of the stigma, it's not just about being physically fit but being mentally strong.
Jack Rathborn
16 January 2020 12:09
Register for free to continue reading
Registration is a free and easy way to support our truly independent journalism
By registering, you will also enjoy limited access to Premium articles, exclusive newsletters, commenting, and virtual events with our leading journalists
Already have an account? sign in
Join our new commenting forum
Join thought-provoking conversations, follow other Independent readers and see their replies