Extreme E final result: Rosberg XR beat Hamilton's X44 and Andretti to Desert X Prix win
The Rosberg XR team of World Rallycross champion Johan Kristoffersson and Australian rally champion Molly Taylor impressed across the weekend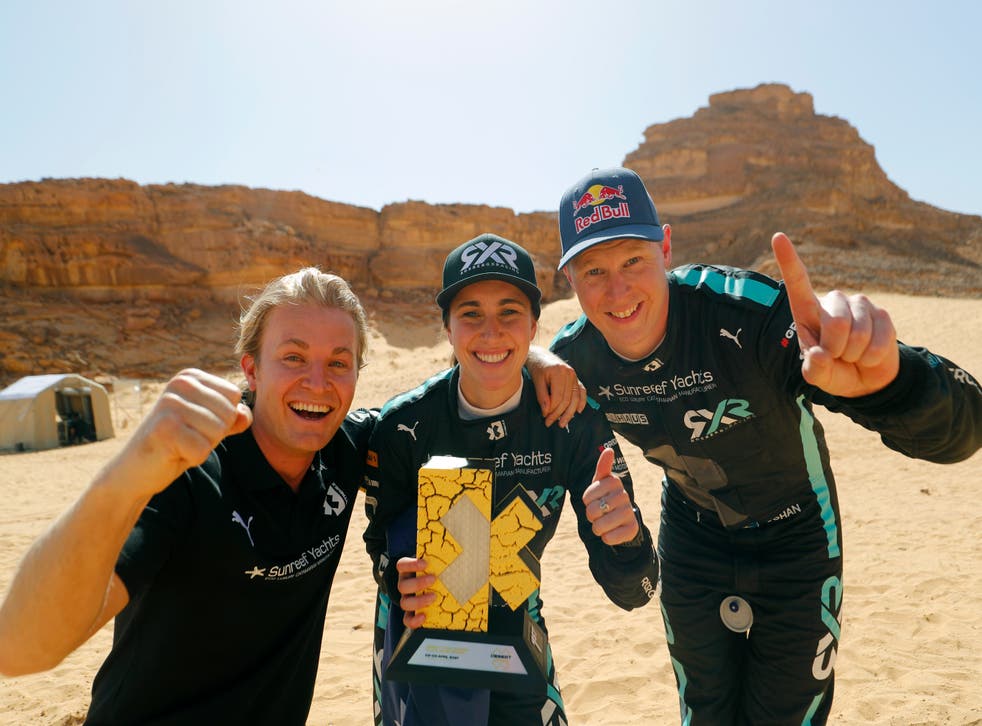 Nico Rosberg's XR team won the inaugural Extreme E race in the Saudi Arabia desert, beating Lewis Hamilton's X44 and Andretti United in the final.
Rosberg's team of reigning World Rallycross champion Johan Kristoffersson and Australian rally champion Molly Taylor proved strong across the weekend, having been the fastest duo in Saturday's qualifying only to be hit by a time penalty. But they came back strongly on Sunday, winning the morning's semi-final and repeating the trick in the final, where Kristoffersson was first in to turn 2 and he never looked back, handing over to Taylor with a 30 second lead ahead of her 9km lap, and Taylor brought home the victory.
"Aside from a penalty we've been the fastest team in every heat, semi, and final," said Taylor. "The team have done an incredible amount of work behind the scenes, and the opportunity to be here is just a dream come true." Watching on from the command centre trackside, Rosberg said the weekend had been "insane", adding: "I'm so thankful, everything has come together so far. Johan and Molly have just been amazing. It was stressful, but I was so proud."
The new five-race series, where electric SUVs battle in remote locations from the Amazon rainforest to the Arctic ice, aims to put on a show while raising awareness of the climate crisis, and it has certainly made an entertaining debut on the sands of AlUla. A 9km circuit carved its way through giant outcrops of sandstone rock to make an epic backdrop, while sand spurting up from the desert floor created a chaotic element for drivers trying to find a way past their rival.
Extreme E Desert X Prix

Show all 20
Overtaking had proved difficult over Sunday's wheel-to-wheel semi-finals, and so it was all the more impressive when Kristoffersson hit back at Andretti's fellow Swede Timmy Hansen, who grabbed the early lead in the final. Kristofferson took the first corner wide before under-cutting Hansen and deployed his boost button at just the right moment to power clear into the all important second corner.
From there he built a commanding lead before arriving into the 'switch' zone, where the male-female pairings have 45 seconds to swap places for the second and final lap. Taylor drove a more considered lap that her impressive and aggressive qualifying performance, ensuring she reached the end of a treacherous circuit featuring a 100m drop at a 45-degree angle and peppered with rolling sand dunes which had claimed several victims over the weekend.
Read more:
British rally driver Catie Munnings clinched second for Andretti and her teammate Hansen, while X44's much-fancied duo Sebastien Loeb and Cristina Gutierrez never quite got into the final, finishing third.
The result means Rosberg XR take a lead in the standings into the second race, on the coast of Senegal in six weeks' time, and the target will be on their back, but a welcome one. "There's pressure in every event," said Taylor. "That's what we deal with and that's where we thrive."
Championship standings after Desert X Prix
Taylor/Kristoffersson (Rosberg XR) 35 points
Loeb/Gutierrez (X44) 30
Munnings/Hansen (Andretti) 28
Sainz/Sanz (Sainz) 26
Giampaoli Zonca/Bennett ( Hispano Suiza) 20
Ahlin-Kottulinsky/Button (JBXE) 17
Hurtgen/Ekstrom (ABT Cupra) 13
Leduc/Price (Ganassi) 12
Chadwick/Sarrazin (Veloce) 8
Register for free to continue reading
Registration is a free and easy way to support our truly independent journalism
By registering, you will also enjoy limited access to Premium articles, exclusive newsletters, commenting, and virtual events with our leading journalists
Already have an account? sign in