Formula One: Bernie Ecclestone will try to force teams back to V8 engines
Ecclestone warns Red Bull he will see them in court if they pull out 
Christian Sylt
,
Kate Hewitt
Tuesday 20 October 2015 00:04 Comments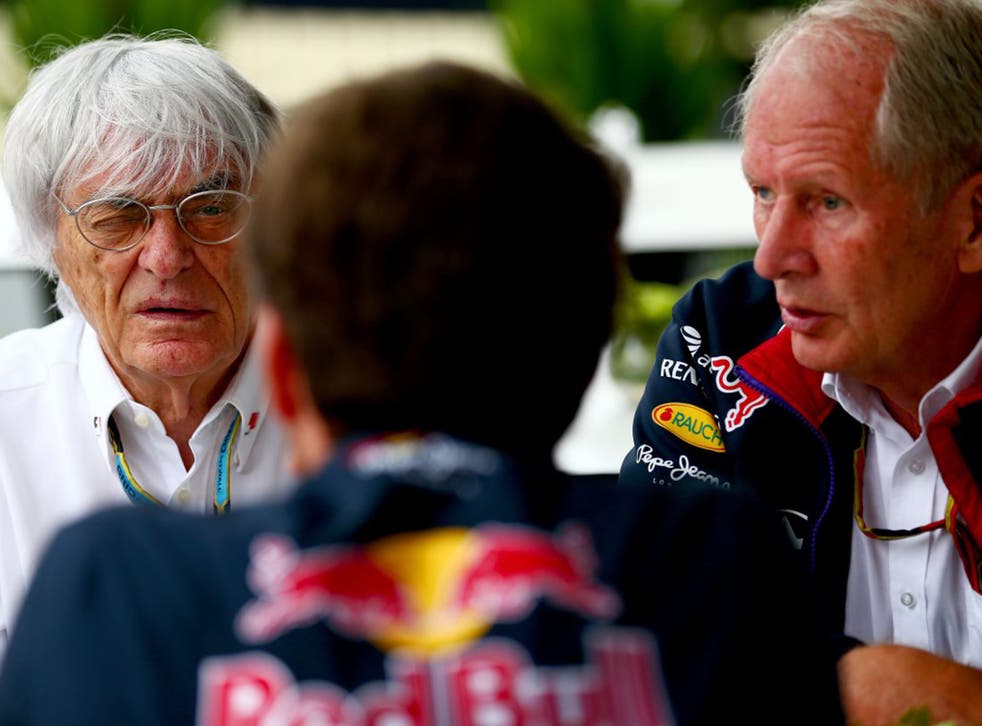 Bernie Ecclestone will try to force Formula One's teams to return to using V8 engines in 2016 even though they were only dropped last year in favour of V6 engines.
The new "greener" engines do not consume as much fuel as previous models but they have been heavily criticised by Formula One diehards for lacking the high-pitched scream of their predecessors and they have also led to one team, Mercedes, dominating the season.
Switching back to the V8s would come at a huge cost as the sport's manufacturers have invested hundreds of millions of pounds in developing the new engines.
The teams would need to give consent to such a significant change as the engine regulations are fixed until the end of 2020. However, Formula One chief executive Ecclestone told The Independent: "I don't think we should get consent from the teams. I think we should just do it and say to them, 'If you don't like it you can go to arbitration'. We could get the V8s back next year. People can build them in no time so we ought to do it."
With Lewis Hamilton cruising to victory for the second successive season – going into this weekend's United States Grand Prix, his nearest rival, Sebastian Vettel, is 66 points behind – there are accusations that the sport has become more processional and less competitive.
In The Independent two weeks ago, the managing director of Silverstone, Patrick Allen, said that fans would stop coming to races because they "don't want to see a procession" and that Formula One is a "shit product" that is becoming more and more difficult to sell.
The V8 engines would level the playing field because the teams spent eight years working with them so know how to get the most out of them whereas some are still getting to grips with the cutting-edge V6.
"This engine shouldn't have been that complicated, to be honest with you," Ecclestone said. "It was only when the engineers got hold of it that it became complicated. The product is not fit for the purpose."
Ecclestone also warned Red Bull that they would be in breach of contract if the team end their partnership with engine manufacturers Renault and are forced to pull out of next season's competition – something Red Bull have threatened to do.
Red Bull have struggled this season – a stark contrast to the success they enjoyed in the V8 era when they won four titles with engines supplied by Renault.
If Red Bull breach their contract it could lead to a complex legal case, which Ecclestone shed light on.
The ten best Formula One season finales

Show all 10
"Red Bull would stand up in court and say: 'Yes, we have a commitment, we do, but we haven't got an engine'," Ecclestone suggested. "My argument would be: 'You signed the contract to compete. You should have made sure when you signed the contract that you had an engine. Your team was supposed to do this.'"
Red Bull have been critical of Renault for the engine's lack of power and pace. Mercedes and Ferrari are reportedly unwilling to help such a strong rival, and Formula One's other engine manufacturer, Honda, is performing worse than Renault so is not a likely alternative. It means Red Bull face the prospect of having to exit the sport despite signing a contract to compete until the end of 2020.
Their reserve plan was understood to be doing a deal with VW brand Audi but this deal collapsed when the German manufacturer became embroiled in the emissions scandal.
Ecclestone added that Formula One needed an independent emergency engine partner to prevent this situation happening again.
"If Ferrari only agreed to supply one customer engine, Mercedes only agreed to supply one, nobody would have any engines. That's exactly what the situation is. We need an independent engine supplier. I've been on about this now for a year and a half," he said.
Register for free to continue reading
Registration is a free and easy way to support our truly independent journalism
By registering, you will also enjoy limited access to Premium articles, exclusive newsletters, commenting, and virtual events with our leading journalists
Already have an account? sign in
Join our new commenting forum
Join thought-provoking conversations, follow other Independent readers and see their replies