Future of British F1 in good hands, even without Lewis Hamilton
The seven-time world champion is nearing the end of his illustrious career but there is a strong British contingent waiting to seize his place at the very top of the sport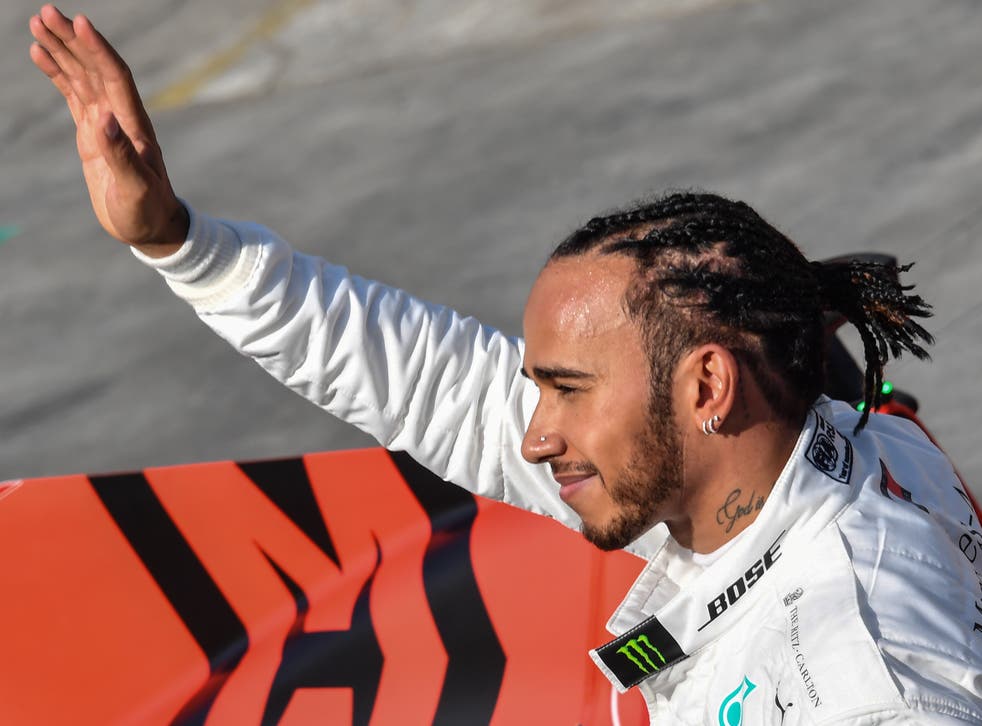 When it comes to Formula 1, Lewis Hamilton stands clear at the top.
The 36-year-old had a remarkable 2020, surpassing and equaling Michael Schumacher's records for most Grand Prix wins and World Championships respectively.
Hamilton was also named BBC Sports Personality of the Year, had the Silverstone pit straight named after him and was knighted due to his accomplishments both on and off the track.
Despite his incredible success, Hamilton appears to be nearing the end of his illustrious career – and there is certainly enough talent waiting to step up to the mantle and represent Britain on the track.
Britain has a hugely successful history within the sport and have provided 10 different World Champions, ranging from Graham Hill and Sir Jackie Stewart to Jenson Button and Hamilton.
Read more
While 2020 was arguably Hamilton's most dominant yet, the domestic racing scene has seen the likes of George Russell and Lando Norris leave their mark in F1.
Russell's stock rose immensely last season as he was thrown in at the deep end when he was drafted in to replace Hamilton at Mercedes for the Sakhir Grand Prix – the penultimate race of the season.
Despite his impressive drives for Williams, Russell had never been in a position where wins – or even points – were on the table.
The 22-year-old starred on his debut with the all-conquering German manufacturer, and was in the mix for the win before his night took a heart-breaking turn after a botched pit-stop and puncture.
Russell is tipped to replace Hamilton when the living legend retires from the sport, and such a move would ensure that Britain remain in the mix at the top of the grid.
Alongside Russell, the rise of McLaren in recent years has dramatically coincided with the impressive arrival of Lando Norris.
The 21-year-old grew up in Somerset and now resides in Woking, which means his career with nearby McLaren makes perfect sense.
Norris got his 2020 season off to the best start possible back in July, earning his first podium in Formula 1 after a dramatic final few laps.
The driver is now entering his third season in the pinnacle of motorsport, and he believes that both he and Russell can lead the sport when Hamilton moves on.
Norris told Sky F1: "I don't often believe in myself but I want to believe that in the future years we can lead the way, not just within Formula 1 but for the UK.  
"Lewis is a great guy for both myself and George to look up to."
Norris also said that he put work into improving his racecraft after his debut campaign with the goal of extracting more from the car after impressing in qualifying but falling ultimately short in races during the 2019 season.
His effort appears to have paid off, as he finished in ninth – just a single point behind Ferrari's Charles Leclerc – and clinched that maiden podium in Austria to help his team finish third in the constructor's standings.
While Russell and Norris have impressed and are eyeing a route to the top of the sport, there are other Brits waiting in the wings. One driver catching the eye is Callum Ilott.  
The 22-year-old from Cambridge was set to make his Formula 1 debut in FP3 at the Eifel Grand Prix for Haas but poor weather led to a cancelled session. 
Ilott was linked with moves to either the American manufacturer or Alfa Romeo before being announced as the test driver for Ferrari in 2021 – and he believes the success of Russell and Norris shows the strength of British racing.
"I think British racing, all the way from cars through single seaters, is very strong.
"We've definitely got a strong pedigree and we all grew up racing each other. The amount of times it was all of us fighting for the top spots in the European karting races and then carrying into cars – it's very special to see.
"I grew up racing with George and Lando so to see them go in and do such a good job is helpful for the future and helpful in how we're viewed. I'd love to join them, so hopefully next year I can say the same."
He is certainly on pace for a future in Formula 1, particularly after taking the fight for the F2 championship down to the final race as he took three wins and five podiums throughout the campaign.
While Ilott found success in F2 last season, it proved to be a difficult campaign for Jack Aitken. However, the 25-year-old made his Formula 1 bow in Bahrain for Williams where he pushed teammate Nicholas Latifi hard and even outqualified Kimi Raikkonen to finish 16th.  
While he has missed out on a seat in 2021, Aitken is confident in his ability to secure his future and he has been named as the Williams reserve driver for the upcoming season.
The grim nature of 2020 proved that it is difficult to predict what will happen in the future, but one thing is for sure – with so much impressive domestic talent, Britain looks set to remain at the top of Formula 1 for the foreseeable future.
Join our new commenting forum
Join thought-provoking conversations, follow other Independent readers and see their replies