Exclusive Interview
Adam Peaty: I've got to become a god at Paris Olympics
The three-time Olympic champion is back in love with swimming after a break to work on his mental health and, as Jack Rathborn finds, is determined to create history at Paris 2024
Friday 06 October 2023 16:17 BST
Comments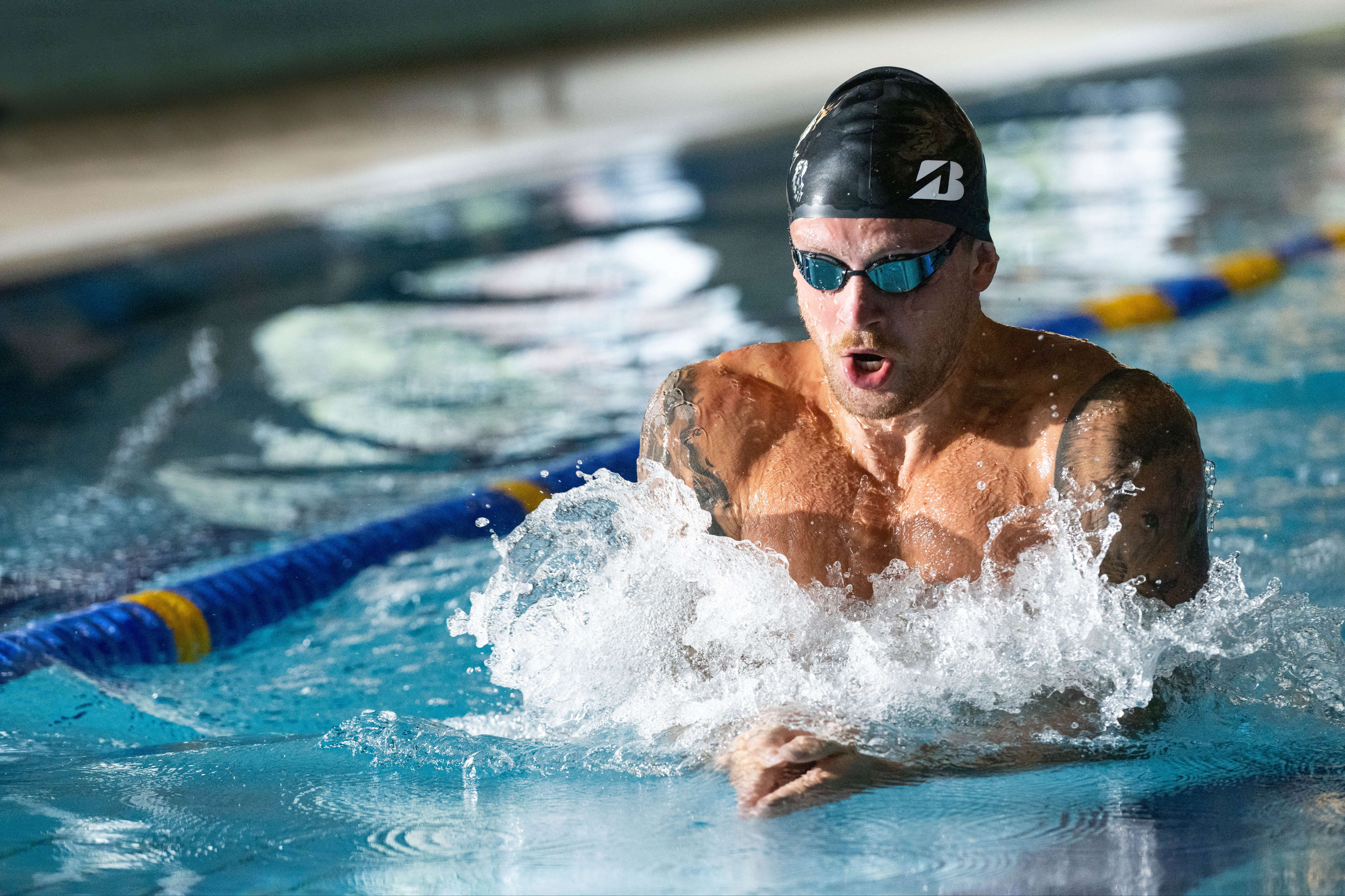 "This is my arena," Adam Peaty says defiantly, glancing back towards the swimming pool at Loughborough University. The three-time Olympic champion envisions a gruelling, 11-month journey to the Paris Olympics from here, having firmly committed to defending his 100m breaststroke title for a second time. Peaty then recites a famous Mike Tyson quote with an unwavering stare: "'The closer I get to the ring, the more confident I get. Once I'm in the ring I'm a god…,' That's what we have to do at the Olympics. The closer I get to it, I've got to become a god."
There is a conviction in Peaty, who fittingly sports a tattoo of Poseidon, the god of the sea, on his left forearm. Until last year, Peaty was untouchable after an eight-year unbeaten streak. The three-time Olympic champion reimagined what was possible in the breaststroke discipline and dominated the 50m and 100m, in particular, where he still holds world records at 25.95 and 56.88 seconds.
But a rushed return to the pool last year, after suffering a broken foot, saw his run end, finishing fourth in the 100m at the Commonwealth Games. A "horrendous" 48 hours followed, only for Peaty to activate a "survival instinct" rally and win gold over 50m in Birmingham. But, despite displaying admirable resilience, Peaty still felt the effects after years of extreme commitment to his sport. He tells The Independent he has never hit snooze on an alarm, a mentality that elevated him to unprecedented heights, though it eventually came at a cost. The 28-year-old withdrew from this year's British Championships due to mental health reasons. The unrelenting and, at times, destructive path to greatness eventually taught him the value of "balance". And after a lengthy break, Peaty is back.
"I pretty much hated it. But now I'm enjoying it so much again," Peaty, a Bridgestone ambassador, says in a wide-ranging interview. He has just returned from a walk with Ada, his beloved Dobermann, breaking up a regimented training plan fuelled by up to 7,500 calories per day. "I'm the happiest I've ever been and the most calculated and balanced too.
"Paris is obviously 11 months away now, it's a great challenge and I thrive when given a great challenge. I'm looking for my final form, in terms of everything: my life and my relationships with people too. How I operate at the centre and performance side: Swim, gym, recovery, nutrition and psychology.
"I'll go to Paris, obviously I need to qualify first, so let's keep it grounded. But when I get there, hopefully, I give my best performance. No stone left unturned, that's my goal. No regrets."
After glory in Rio and Tokyo over 100m, Peaty has the rare opportunity to join the immortals in the Olympic pool by winning three consecutive gold medals in an individual event. Michael Phelps is the only man to do so, in two events no less, including a fourth successive gold in the 200m individual medley. Katie Ledecky (800m freestyle), Krisztina Egerszegi (200m backstroke) and Dawn Fraser (100m freestyle) have also managed three straight titles.
Perhaps the biggest threat to this is Qin Haiyang, who won all three breaststroke events at this year's World Championships in Fukuoka, where Peaty kept a watchful eye poolside. However, the Chinese swimmer's winning 100m time, an Asian record at 57.69 seconds, remains 0.81 seconds off Peaty's world record.
"I've never met the guy, but I accept the challenge," Peaty says with a sparkle in his eyes. "It'll be a good race. That's what sport needs. If one person dominates all the time, it becomes, 'Shall I tune in or not?' I embrace that, it's how greats are made."
Part of that challenge will be to avoid distractions with the increased attention that comes as one of the faces of Team GB, having made headlines last week after a "minor altercation" with teammate Luke Greenbank.
"I'm challenging myself to be effective but balanced," Peaty adds. "I think it'll give me a good performance. How not to get lost in the noise, obviously, as you said, there's a lot of noise around you, that may not be true, it may be true. The noise is the same. The most important thing for me is that the performance is protected."
Quite whether Peaty will require his previous world-record pace to upset Qin remains to be seen. He maintains swimmers have "no clue" if they are poised to rewrite the history books until they hit the wall and that it's "all lies" to say otherwise. "It's better when a person is next to you."
Last week, UK Sport outlined its goal for Olympians and Paralympians to not only win in Paris, but "win well" as the organisation prioritises athlete welfare in light of recent scandals. It's a subject that brings out a passionate edge to Peaty, given vast experience over the years from Uttoxeter to Loughborough and the world stage.
"You can, but on a huge scale? Probably not," Peaty remarked when considering the potential to maintain Great Britain's recent success, having finished fourth in the medal table in Tokyo, while also prioritising athlete welfare. "That's just honesty, people don't want to hear the honesty of an athlete who's been through the system. You can win well, and what they mean by that is defined by various values. But mental wellbeing and welfare are incredibly difficult to do at the same time.
"We have to sacrifice a lot, but increasingly in [this] world, we don't want to sacrifice, we just want the result. That's the way I see the world, it's just my opinion. People coming through, younger kids, not everybody, but they want it now. [On] the welfare side, there's a thin line between what is acceptable and what isn't.
"Do we need to get closer to that to get the performance? A coach has to be hard, they have to be brutal. I've been called things, and it makes me go faster. I'm like, 'yes, go on then!' But not every athlete is like that. Coaches have to learn. And they will learn. The best [coaches] learn individual coaching, a personality very different to me, would not respond [well to that]. I love it when people shout at me. I love it when people are angry. I ask her [Peaty's coach Mel Marshall] to shout at me, just get angry at me.
"We don't want to lose what makes us good. We don't want to become a PC environment, where we can't do anything or say anything. That's my worst nightmare, and it's the worst nightmare for the kids coming through. We need less of that, we need to be human, have a joke, know when the joke is over, get to work and that's how the best teams in the world operate.
"How do we protect the next generation of 10 years [from going] too far this side? We need to work harder. Time will tell. That is something that sits passionately with me. There has to be a line. We have to make sure this line is not too far on that [PC] side.
"No way could I have achieved what I've done without the hard love. My brain would go off, be arrogant, like teenagers, if I didn't have somebody who shouted at me. Mel has been incredible, without her I wouldn't have made it through the sport. And maybe I wouldn't be the athlete I am today, maybe there would have been a new type of athlete."
Peaty still appreciates what it takes to be the best, then, and the potential risks involved. But fresh perspective and wisdom ensure he is now able to press pause when appropriate. His three-year-old son, George, inspires him, while Peaty is content to spend an evening with a mug of green tea and an episode of Ballers.
No longer addicted to the grind, Peaty can attack his craft more efficiently, while also redefining his legacy beyond the pool.
"It depends on what people think of you, so you have no input or control on your legacy," Peaty explains. "The ego in me wants to say I have [changed breaststroke], but the person inside me wants to say I don't deserve that much credit. I would say it's somewhere halfway.
"I think I've had a big impact on the community in terms of the stroke, how people perceive stroke rate, stroke count, how fast you do it and what's possible. Hopefully, I've inspired a lot of people to do better in their own lives. The most important thing is to give a platform for the next generation. A lot will take, take, take at the top, and there's nothing wrong with that. But I believe for a sport to grow authentically, and over time, you have to start with the grassroots. That's the true legacy.
"This is my world. People know what I've done, they may think I'm the greatest ever. Everybody will have their opinion, look at Messi and Ronaldo, they're both incredible athletes, but people will clash because they like to clash. Hopefully, they just say he's an incredible athlete, and put a lot back into the sport, that's all I want really."
Join our commenting forum
Join thought-provoking conversations, follow other Independent readers and see their replies