Rio 2016: Dutch cyclist Laurine van Riessen prevents nasty collision by riding up side of track during keirin
Her high-speed manoeuvre takes place during the final lap of the second heat of the women's keirin race on Saturday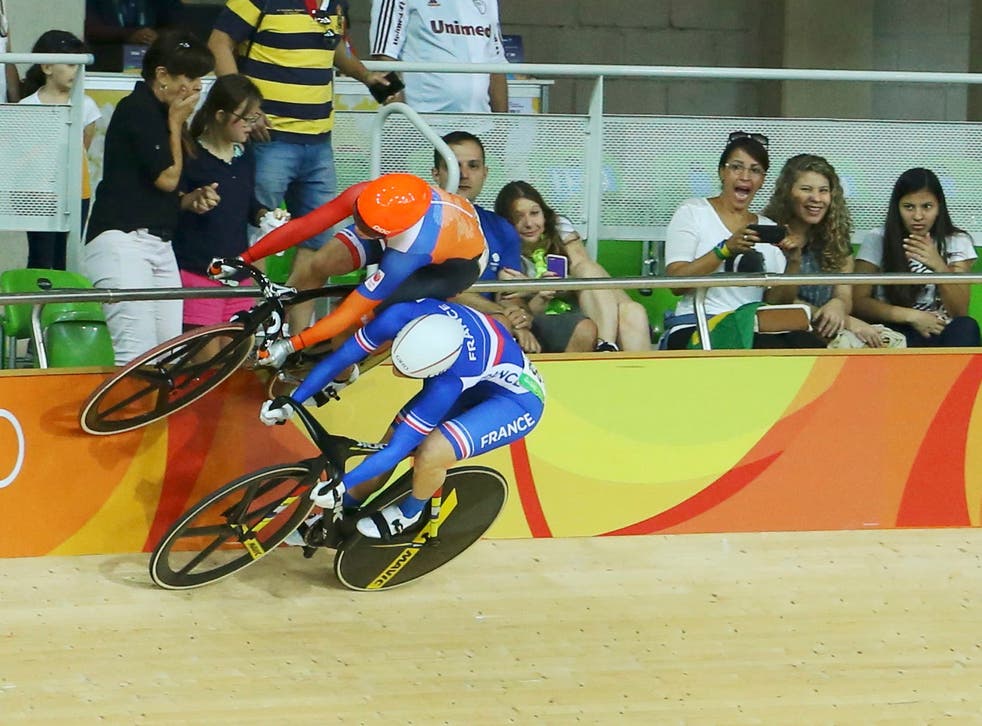 Dutch cyclist Laurine van Riessen avoided turning a nasty crash in the Olympic velodrome into a painful pile-up – by riding up and along the barrier at the side of the track.
Her high-speed manoeuvre took place during the final lap of the second heat of the women's keirin race on Saturday.
It followed a collision between New Zealand's Olivia Podmore, France's Virginie Cueff and Spain's Tania Calvo, who was eventually thrown off her bicycle and slid down the track's wooden surface.
When Ms Cueff swerved towards Ms van Riessen, the Dutch cyclist harnessed her momentum to ride right up the advertising hoardings, narrowly avoiding another collision.
Ms van Riessen, who managed not to overshoot the top of the hoarding and crash into the stands, ended up finishing fourth in the race. Wai Sze Lee of Hong Kong came first.
The spectacular crash caused a delay in the morning track cycling program so that officials could repair a gouge in the wooden surface of the velodrome.
The surface was repaired with the help of duct tape and competition resumed after a few minutes.
Keirin became an official Olympic event at the 2000 Sydney Olympics, having been developed in Japan for sports fans to gamble on in 1948.
Rio 2016: Yesterday's Highlights
Cyclists follow a speed-controlled electric bicycle for a number of laps, before riding as fast as they can to the finish line.
The high speeds and many cyclists involved in the event often result in crashes.
Join our new commenting forum
Join thought-provoking conversations, follow other Independent readers and see their replies