Rio 2016: Wrong Chinese flag used for second time during medal ceremony
'Apparently there is no supervision and checking system at the Rio Olympics,' says a former Chinese official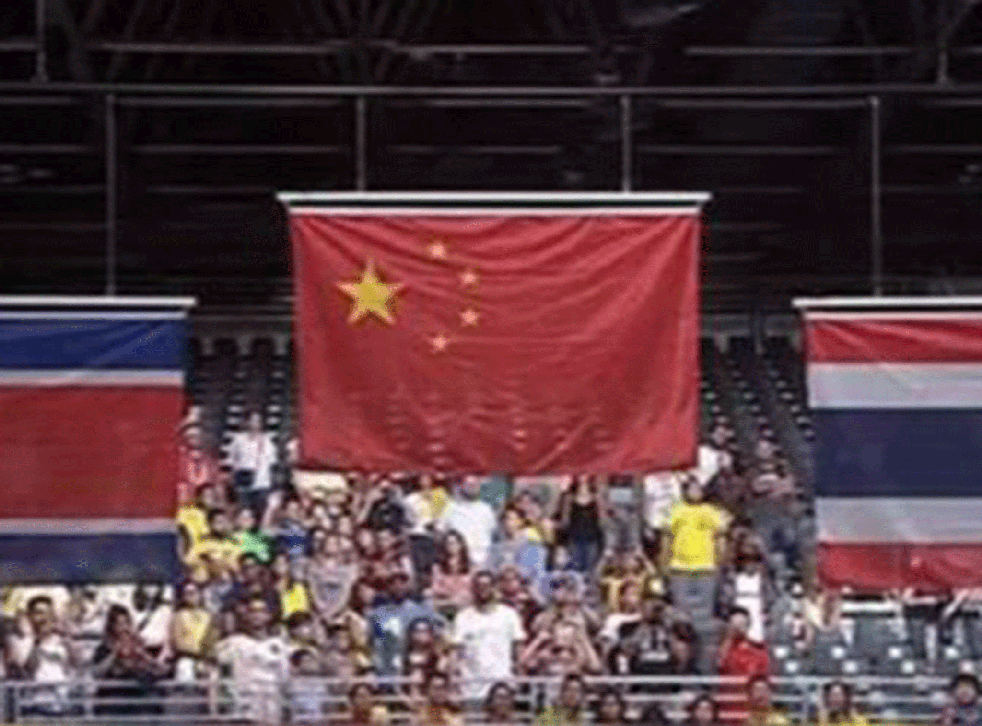 China has reacted angrily after the wrong Chinese flag was raised by Rio officials for the second time at a medal ceremony.
Both the Chinese consul at the Olympics and his country's many citizens vented their irritation when a Chinese flag with wrongly aligned stars was raised at the women's volleyball.
The Olympic committee said it will issue an official apology to China after Song Yang, the Chinese consul, lodged a formal complaint with the Rio authorities over the double blunder.
Zhao Dongming, director of the cultural activities department for the Beijing Olympics organising committee, said medal ceremonies ought to demonstrate "respect" for countries.
"Apparently there is no supervision and checking system at the Rio Olympics, even after the incident sparked wide criticism and reached the level of a diplomatic incident more than ten days ago," Mr Zhao told the Global Times.
"Rio seems to be missing the importance of Olympic awards ceremonies, which represent respect for the athletes and where they are from."
A flag with four stars parallel to one another, rather than correctly angled towards the main star, was first raised during the medal ceremony of the women's 10m air rifle. China's Du Li and Yi Siling won silver and bronze medals respectively, with the US taking gold, on the first day of the Games.
Despite the error being quickly spotted and the flags withdrawn, the same kind were used again on 22 August when the Chinese women's volleyball team beat Serbia and the Netherlands to win the final gold medal of the Olympics.
Speculation that the flags had in fact been made in China was quickly quashed by its national media. New Chinese flags with correctly oriented stars were reportedly made by a Brazil-based company and sent to every Olympic venue following the first mistake.
Users of China's main social media site, Weibo, were quick to criticise the repeat online.
"Another wrong flag? Can we not just compete in a good mood?" said Huang Xiaoming, a Chinese actor who has 49 million followers on his Sina Weibo account.
Another user replied to the post, saying: "The incident is unbelievable and unforgivable, since the correct flags were made and sent to the venue last week…Rio Games organisers are the worst in Olympic history."
China has taken third place in the Olympic Games 2016 this year overall, with Britain making second place and the US taking first.
Join our new commenting forum
Join thought-provoking conversations, follow other Independent readers and see their replies