The Independent's journalism is supported by our readers. When you purchase through links on our site, we may earn commission.
Rio 2016: Protesters hit with tear gas by police prior to opening ceremony
The protests come during a time of significant economic and political strife in Brazil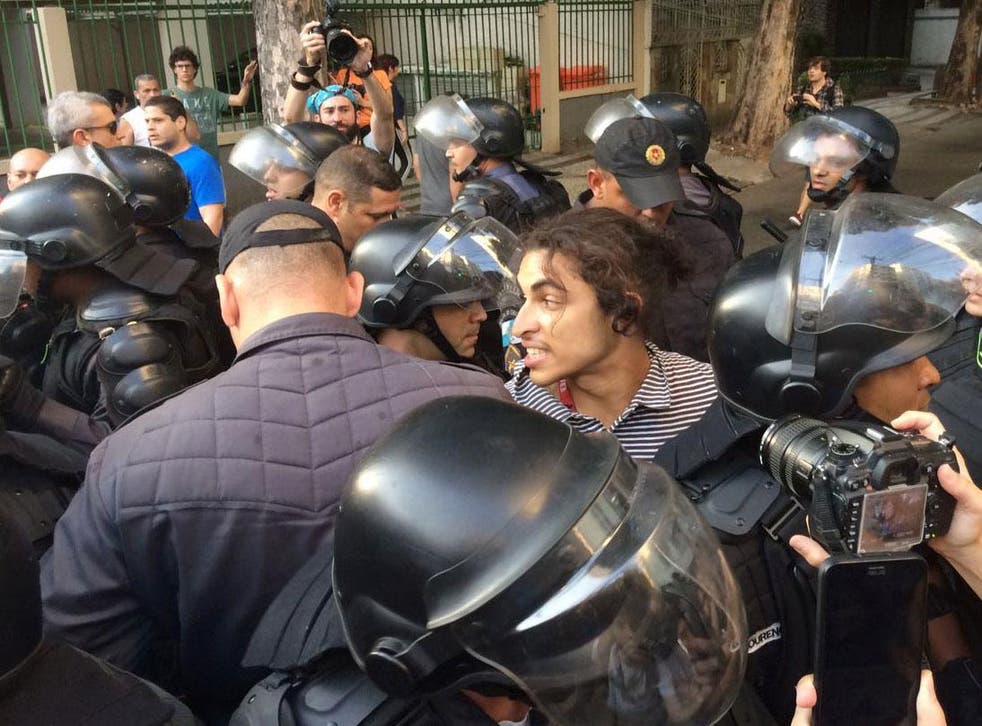 Violence broke out shortly before the opening ceremony for the 2016 Rio Olympics was set to begin.
Police shot tear gas at a group of anti-Olympic protesters who assembled in a neighbourhood about a half-mile from the Maracanã Stadium in Rio de Janeiro, broadcast via Facebook livestream by BuzzFeed News.
The "Exclusion Games" protest, reportedly organised by a group called Comitê Popular RIo, reflects the resentment felt by Brazilians who criticise the economic cost of the Olympics as the country is undergoing a massive recession, political strife, as well as safety and public health and safety crises.
According to G1, police deployed tear gas and pepper spray as a group of masked protesters tore down a Brazilian flag in the Afonso Pena Square in the north Rio area, and proceeded to burn it. Police then fired teargas canisters and in one instance a projectile that set off a "very large bang" – the reporter presumed it was a flashbang grenade.
Some demonstrators sustained injuries from police, according to reporters on the scene. In one instance, a number of medics surrounded a protester who appeared to be coughing up tear gas.
One protester told Yahoo News that he was tackled and punched in the stomach.
The protesters dispersed after the police engaged the crowd.
Rio 2016 water contaminated by raw sewage and waste

Show all 8
Law enforcement recently held a protest of their own. After months without payment, police met tourists at the airport in Rio de Janeiro with a sign that read "Welcome to Hell". They were protesting not only lack of pay, but unsatisfactory working conditions that left them without appropriate tactical gear – such as a helicopter – and even basic necessities in the office, like toilet paper.
Rio authorities established a perimeter around the stadium at midnight on Friday. Roughly 80,000 people – including 11,000 athletes - are expected to descend upon the stadium throughout the Games.

Correction August 6 10.25 am ET: An earlier version of this artticle said a group called Rio on Watch organised the demonstration. Comitê Popular Rio led the protest.