As it happened
ended
1470449614
Rio 2016 opening ceremony as it happened: Brazil make carnival from chaos in front of the world
Relive the ceremony as millions around tuned in to watch the opening ceremony in Rio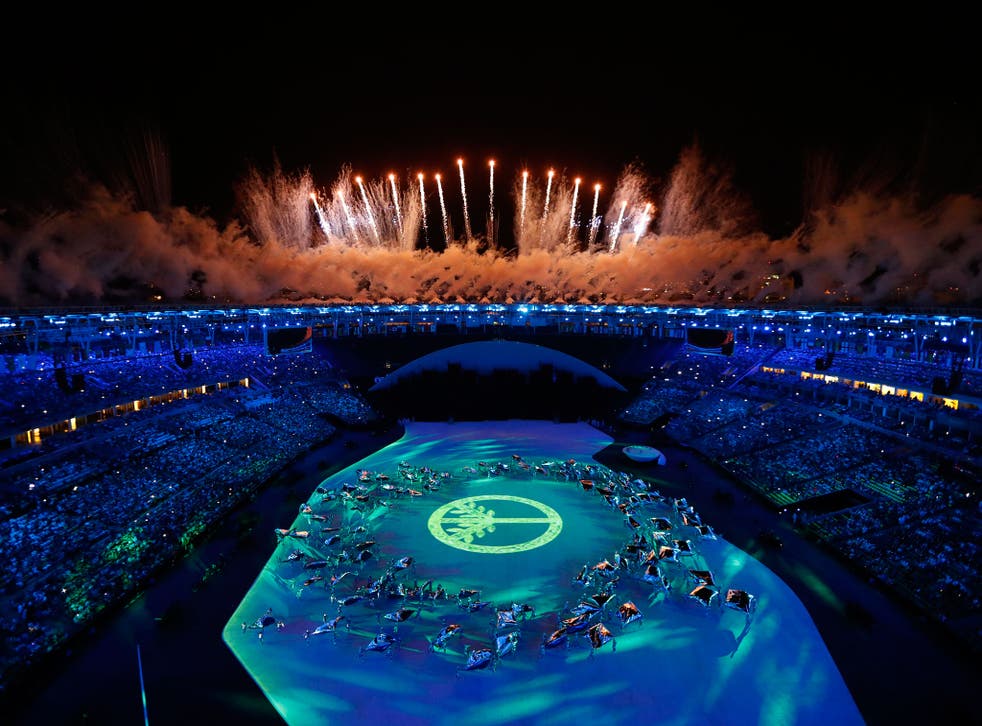 Welcome to The Independent's coverage of Rio 2016 as the sport finally takes over from the simmering political and social unrest to have blighted the organisation of the Olympics this summer.
Follow the latest from Rio below...
Please allow a moment for the blog to load...
The Maracana Stadium hosts the opening ceremony of the Rio Olympic Games as Brazil looks to put the doom and gloom of the past few weeks behind it and raise the curtain on what will be 17 days of the best the South American nation has to offer. But what will it offer?
Any Olympic ceremony often indicates what is to come over the ensuing fortnight of action, with London's grand opening a sign of things to come as the capital staged a memorable Olympic Games.
While the build-up to Rio has been blighted by fears over the Zika virus, concerns over health and safety and shock at the extreme poverty that the less fortunate experience in Rio de Janeiro, Friday signals a chance to put that all to one side and showcase the city in its finest light.
We already know that the ceremony will not be as flash as London, or even on the same scale as 2012, given that the money spent on it is around a tenth of the £27m spent four years ago.
Film director Fernando Meirelles, famous for his City of God, will coordinate the opening ceremony and explained that he could not justify spending a similar amount to the London showcase given the level of poverty in his home country. But while the ceremony is set to show the best of Brazil, there could be a few bizarre stop-offs along the way.
1470434834
More on the sad news Pele will not be able to attend tonight because of ill health. 
"I'm not in physical condition to take part in the opening ceremony," Pele said.
"Only God is more important than my health. In my life, I've had fractures, surgeries, pain, hospital stays, victories and defeats. And I've always respected those who admire me." 
Samuel Stevens
5 August 2016 23:07
1470441395
And now the inexorable march of athletes. Hang in there folks, you can do it. Given my inability to correctly identify German table tennis players, I'll leave you in the capable hands of our sport guys.
Christopher Hooton
6 August 2016 00:56
1470442138
Aruba looked a happy bunch. Didn't know where it was. Looked it up and now it's obvious why they're a happy bunch.
Matt Gatward
6 August 2016 01:08
1470442634
Here come China. This could take some time
Matt Gatward
6 August 2016 01:17
1470443293
Egypt. That's with an E. Fifth letter of the alphabet. 21 to go if my maths are correct...
Matt Gatward
6 August 2016 01:28
1470443571
Flag carrying Rafa Nadal with a massive beam on his chops as he leads Spain out into the Marcana. 
Matt Gatward
6 August 2016 01:32
1470443756
The U S of A ... Hundreds of em. Very preppy with the white chino look
Matt Gatward
6 August 2016 01:35
1470443876
Russia soon....what reception will they get?
Matt Gatward
6 August 2016 01:37
1470444212
Team GB in the house. Andy Murray with the flag. Not sure about the jackets
Matt Gatward
6 August 2016 01:43
Join our new commenting forum
Join thought-provoking conversations, follow other Independent readers and see their replies