2018 Winter Olympics: Kim Jong-un lookalike dancing in front of North Korean cheerleaders sparks mayhem
The man identified himself as Howard and said it was just a coincidence that he looked like the Supreme Leader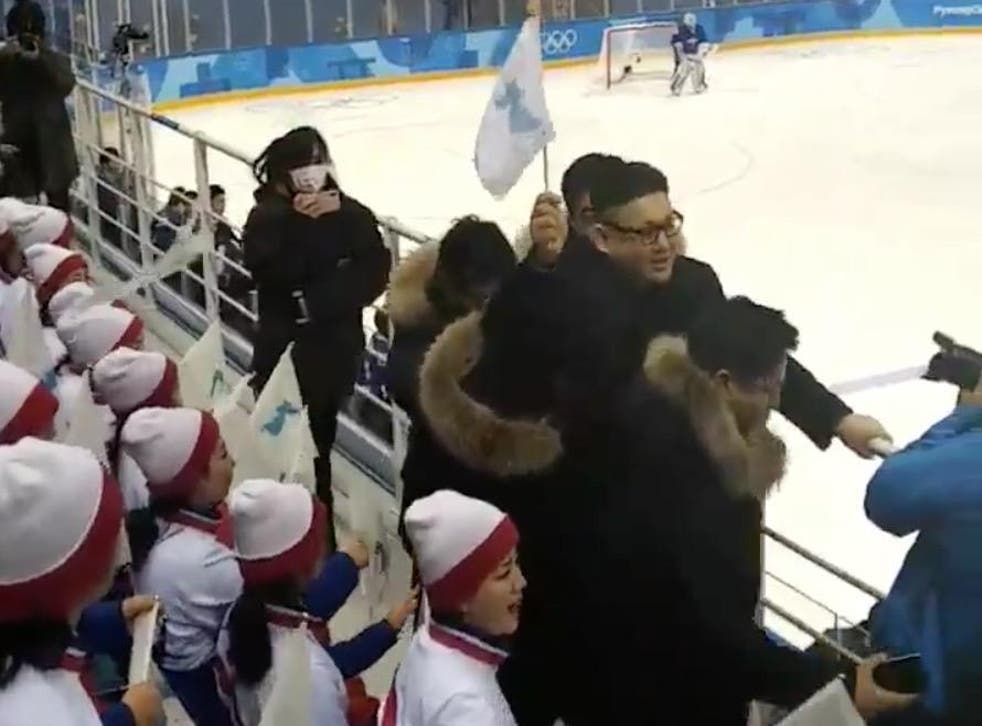 A man who looks like North Korean leader Kim Jong-un has caused chaos by dancing at the Winter Olympics.
North Korean cheerleaders and security officials were treated to a short dance by the man, who later claimed not to be an impersonator. They had been watching the match between Japan and the unified team representing North and South Korea when he stood up and began to dance in front of the now famous cheerleaders.
Security workers and bodyguards apparently working for North Korea attempted to push him inside, and he eventually made his way to his seat. But even then he continued to be hassled.
The man identified himself as Howard, according to local reports. He was eventually taken away from the game and escorted into a room, and it's not clear what happened to him after.
He told reporters that he wasn't aware of breaking any law or rule, or engaging in any violent behaviour. But he was nonetheless barred from going back into the game.
Officials then told him he had broken a rule that prohibits political statements during the games. But he claimed he simply looked like the North Korean leader, telling officials: "I just showed up with my flag and my face... If you don't like my face there's nothing you can do about it, I was born this way," according to reporter Vincent Bevins, who was on the scene and documented it in a thread on Twitter.
James Pearson, a Reuters journalist covering the Winter Olympics, was sat amid the North Korean cheerleaders when the lookalike arrived. He described the confusion that came as he disrupted the cheerleaders' view and security officials weren't sure what to do.
Japan won the game 4-1. But far more important than the result of the game was the symbolism – it was a rare and difficult process to have the unified Korean team play, and especially against a nation that has had tense relations with North Korea.
Join our new commenting forum
Join thought-provoking conversations, follow other Independent readers and see their replies