Shock Winter Olympics medalist keeps goggles on during press conference because 'I don't have any makeup'
'I was not prepared to be at this ceremony, and I don't have any makeup' the 22-year-old explained, after stunning the world with super-G gold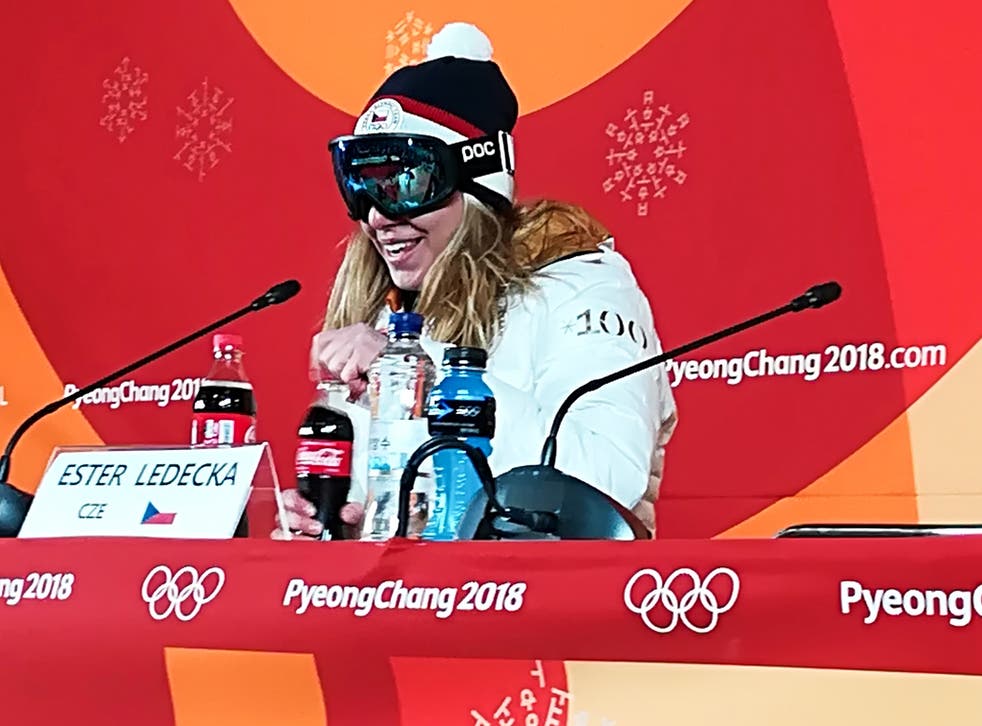 Ester Ledecka, who delivered one of the biggest upsets in Winter Olympics history by winning the women's super-G on Saturday morning, kept her ski-goggles on throughout the duration of her winners press conference, explaining: "I was not prepared to be at this ceremony, and I don't have any makeup."
The 22-year-old was a rank outsider in the event. Rated 43rd in the World Cup standings in the skiing event, she was thought to have a much better chance of gold in the snowboarding events, which she will also contest in Pyeongchang.
But in a shock result Ledecka won by 0.01 seconds ahead of defending champion Anna Veith of Austria, with America's Lindsey Vonn missing out on a medal altogether.
Ledecka has never finished on the podium in a World Cup ski event and could not hide her disbelief upon winning the Olympic gold medal, raising her hands to her head and carefully studying the electronic leaderboard several times.
Her shock was also evident in the gold medal press conference, where she kept her ski goggles on because she had not bothered to pack any make up. She added that she could "not believe" the result.
"I am so surprised about all of it," she said. "I'm really trying to win and do a good run every time but I didn't really realise that this really can happen."
2018 Winter Olympics – in pictures

Show all 29
The Czech, who is set to compete in the snowboard parallel giant slalom, added: "Until today I thought that I'm a better snowboarder. Actually, I would rather go riding snowboard now.
"I don't want to be rude - you are all great - but I didn't really expect that I would be sitting here. I should have already had, like, three runs on snowboard now."
Join our new commenting forum
Join thought-provoking conversations, follow other Independent readers and see their replies