Lions squad announcement LIVE: Jonny May and Kyle Sinckler miss out as Warren Gatland reveals selection
Follow all the latest updates after Warren Gatland revealed his 37-man squad for the British and Irish Lions' tour of South Africa this summer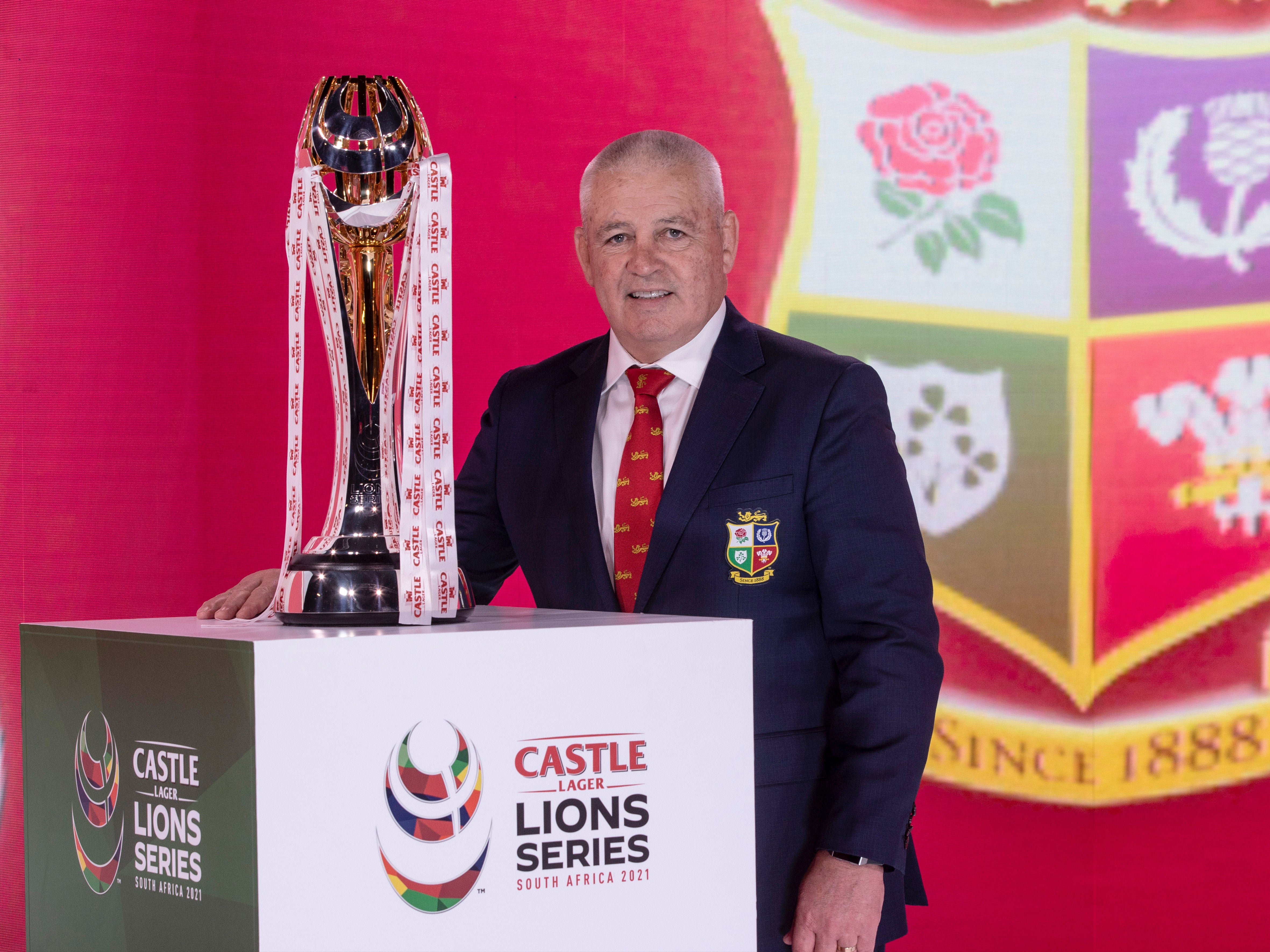 Follow all the latest news live as the British and Irish Lions' 37-man squad is announced today. Head coach Warren Gatland has selected 21 forwards and 16 backs and the players were not been told beforehand, finding out along with the rest of the world.
There are plenty of big talking points, like the captaincy, which has been handed to Wales captain Alun Wyn Jones after leading his country to the Six Nations title in the spring. Even then though, Jones may not be guaranteed a starting berth in what is naturally a highly competitive squad pooling the resources of the four nations.
Ireland fly-half Johnny Sexton has been left out of coach Gatland's 37-man squad, which tours South Africa from 3 July until 7 August. Owen Farrell, Dan Biggar and Finn Russell will be in contention for the fly-half positions. Follow all the latest reaction from the Lions' squad announcement below.
Read more:
1620310036
British and Irish Lions Squad
That just about does it for our live coverage of the British and Irish Lions squad announcement. As often proves true, the prognosticators were almost entirely wrong, with a number of curveballs thrown by Warren Gatland and his staff and plenty to digest among the 37 names.
We'll have plenty more reaction to the squad over the next few days, and it is little more than a month now until the squad first convenes for a training camp on Jersey (assuming political tensions have eased, of course!). Until then, however, farewell, and do stay safe and well. Thank you for joining us!
Ireland captain Johnny Sexton misses out at fly-half while England's Kyle Sinckler is a surprise omission at tighthead prop
Harry Latham-Coyle
6 May 2021 15:07
1620309777
Itoje hands over the baton
Harry Latham-Coyle
6 May 2021 15:02
1620309492
Lion cubs
Louis Rees-Zammit is the most junior tourist this time around, two years younger than Maro Itoje was when he was the youngest in 2017. It is customary for that player to take possession and responsibiliy for the Lions' cuddly toy mascot BIL, a role fulfilled by this tour's captain Alun Wyn Jones last time the British and Irish Lions ventured to South Africa.
What tips might Jones have for his team-mate, who ranks as one of the youngest Lions selections ever?
Louis Rees-Zammit has been included in Warren Gatland's 37-man squad for the 2021 Lions Tour – despite only turning 20 in February
Harry Latham-Coyle
6 May 2021 14:58
1620308551
Chris Harris gets the Lions call
Apologies for a third video in this ilk in reasonably quick succesion, but this might be the best yet. A proud moment for Chris Harris, who'd have a pretty good shot of a starting jersey, you'd think, given his defensive aptitude and familiarity with Steve Tandy and Gregor Townsend in defence and attack. He'd be the most similar outside centre to likely opposite Lukhanyo Am, so integral in South Africa's World Cup triumph, with what each does leading the outside blitz.
Harry Latham-Coyle
6 May 2021 14:42
1620308222
Lions Squad - another rather lovely announcement video
A slightly different video, but along similarly pleasing lines.
Harry Latham-Coyle
6 May 2021 14:37
1620308011
Attack Coach Gregor Townsend on the squad
"There's players that really excite me from an attacking point of view. The three tens will be the players I work with most. Finn Russell I know very well, but I'm looking forward to working with Dan Biggar and Owen Farrell as well.
"We are going to have to have more than one type of game. We are going to have to match and bring our own physicality but also have a game of speed, movement and finding space. There are players who can do both things, players who are more suited to a physical game and players more suited to playing wide with ball-in-hand."
Harry Latham-Coyle
6 May 2021 14:33
1620307147
Bath's British and Irish Lions find out...
It's been a good week or so for this sort of video, with the NFL Draft last week and the Lions squad selection this. Always good to see someone's life change on video:
Harry Latham-Coyle
6 May 2021 14:19
1620306907
Sam Simmonds makes the Lions squad
England outcast, Exeter star - Sam Simmonds may not be a favourite of Eddie Jones but offers something different for Warren Gatland, with his footwork, pace and genuine X-Factor, as well as a real nose for the line.
Exeter man was called up by Warren Gatland despite having not featured for England for more than three years
Harry Latham-Coyle
6 May 2021 14:15
1620306331
Warren Gatland faces the press
"There wasn't one position we weren't having a good discussion about which players to name. We sent out over 70 letters to players and picked a squad of 37. All of those players who received letters and didn't get picked are on that standby list if we get injuries."
Harry Latham-Coyle
6 May 2021 14:05
1620305725
Independent Rugby Newsletter
Make sure you keep up to date with all of the latest rugby news by signing up to our handy newsletter! It comes out every week, direct to your inbox, so sign up now, and while you are there, do have a peruse of our plentiful other offerings, too, to ensure you don't miss out on exclusive, free content.
The latest breaking news, comment and features from The Independent.
Harry Latham-Coyle
6 May 2021 13:55
Join our commenting forum
Join thought-provoking conversations, follow other Independent readers and see their replies