Andy Murray becomes world No 1: 12 months of sacrifice pays off with Murray in the form of his life
Murray's purple patch has coincided with Novak Djokovic's slump to send the Briton to the top of the world rankings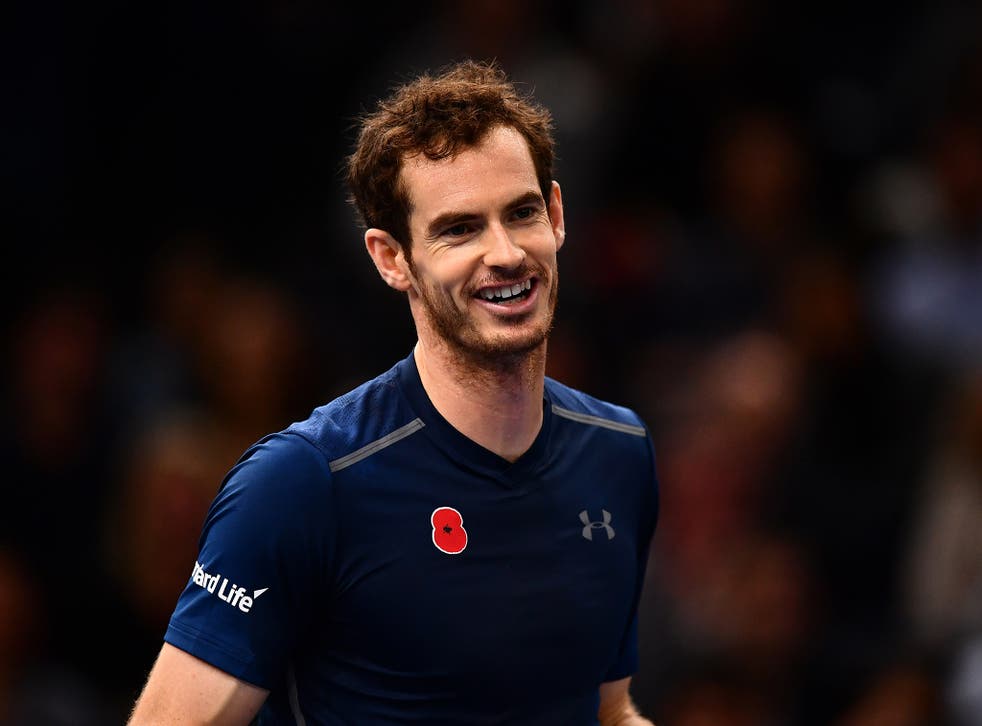 As Judy Murray said on Twitter, where she posted a photograph of herself with her younger son Andy when he was just a boy, "you've come a long way baby". Seven years after he first rose to No 2 in the world rankings, Murray will replace Novak Djokovic at No 1 in Monday's updated list after Milos Raonic withdrew from his Paris Masters semi-final against the Scot with a leg injury.
Djokovic has been No 1 for the past 122 weeks and for 223 weeks in total. However, following the Serb's quarter-final defeat to Marin Cilic on Friday, Murray had known that he would go to No 1 just by reaching Sunday's Paris final, in which he will now face John Isner, who beat Cilic 6-4, 6-3.
Murray admitted that the manner of his final rise to No 1 was "a little bit strange" but added: "It wasn't about this week and it wasn't just about last week or a few days here and there. It's about 12 months of work to get there. Obviously it's unfortunate the way that it happened today. I would have liked to have done it on the court, but it's been many years of work to get here."
He added: "I had always imagined doing it on the court. Like last night before I went to bed, I was imagining doing it, thinking about it happening on the court after a match. None of my other big achievements have been after walk-overs or anything like that."
Murray said he was sure he would feel good on Monday but added with a smile: "If I get defaulted in the match tomorrow, I don't think I get the points from this week. So I need to make sure I'm on my best behaviour, keep my racket in my hands, and all will be well on Monday."
The only other British player who has been ranked No 1 since the launch of the official world rankings is Murray's brother, Jamie, who briefly topped the doubles chart earlier this year.
At the age of 29 Murray will become the second oldest player – after 30-year-old John Newcombe in 1974 – to top the singles rankings for the first time. No other player has ever taken so long to go to No 1 after becoming No 2. Murray first went to No 2 in 2009 and has spent a total of 76 weeks there.

In April this year Djokovic had a massive lead of 8,725 points at the top of the rankings. Although Murray closed the gap during the clay-court season, Djokovic still led by 8,035 points at the end of the French Open, where he beat the Scot in the final to hold all four Grand Slam titles.
Since June, however, Djokovic's form has slumped, while Murray has enjoyed the best run of his career. Sunday's final will be his 11th in his last 12 tournaments as he attempts to win his eighth title of the year.
Having won his first two Grand Slam titles and his first Olympic gold medal after appointing Ivan Lendl as his coach, Murray has now won another Grand Slam title, another Olympic gold medal and become world No 1 after reuniting with Lendl this summer.
However Murray also gives much credit to Jamie Delgado, who joined his coaching staff earlier this year. "To get to No 1 it takes a full year's work and he's been there for every tournament," Murray said. "He's been there every single day working with me from the beginning of this year."
Murray said he had not expected to get to No 1 this year. "I was so far behind in terms of points, and the amount of matches it would take me to win," he said. "I never expected to do what I had done after the French Open, so I was really down after I lost that [final].
"But things can turn around quick in sport - and it's just a strange sport. You had Novak losing yesterday to a guy who had lost 14 times in a row to him. And then the following day John [Isner] beat Cilic, who had beaten him six times in a row."
Murray said becoming No 1 felt very different to winning Grand Slam titles because "it takes such a long time to get there". He said it was especially satisfying to become No 1 at a comparatively late stage of his career compared with other players who have topped the rankings.
He also said it was very satisfying to get to No 1 considering that he has competed in one of the greatest eras in the history of men's tennis alongside Djokovic, Roger Federer and Rafael Nadal.
"It's been such a difficult thing to do during my career because of how good the guys around me have been," he said. "Even this year I have had to win so many matches and get to the latter stage of pretty much every tournament that I have played. It's been really, really hard to do it, really difficult. Obviously they are three of the best players that have ever played the game."
Djokovic could yet regain the world No 1 ranking at the season-ending Barclays ATP World Tour Finals, which start in London in eight days' time.
"I want to finish this season well," Murray said. "I wasn't necessarily thinking about getting to No 1 this week, but it was something I was looking at for a few months' time. But now that I've done it, I need to now obviously reset my goals and find the next thing to motivate me and try and push me to keep getting better."
Join our new commenting forum
Join thought-provoking conversations, follow other Independent readers and see their replies