Carlos Alcaraz captures the impossible and now Wimbledon will never be the same again
Carlos Alcaraz not only became the champion of SW19 when he defeated Novak Djokovic, but the people's champion as well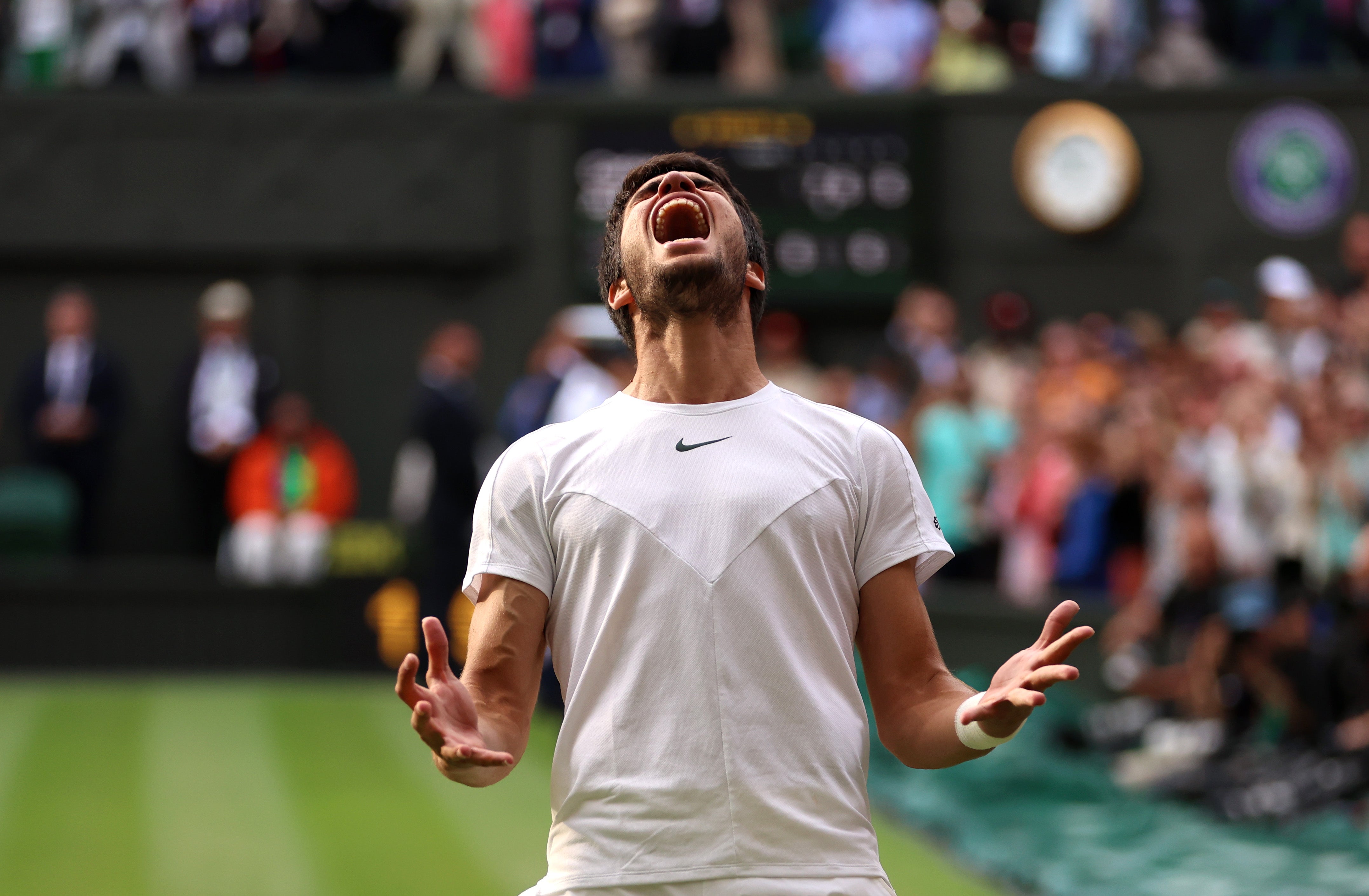 Wimbledon has a new champion, and a new hero. To break new ground and end Novak Djokovic's dominance at the All England Club, Carlos Alcaraz had to go to a place no one else had dared to reach, dragging the most successful men's player of all time into a battle that saw this final live up to its hype and will be remembered as one of the greatest ever staged here.
In overturning history, Alcaraz played with a spirit of infectious belief and carried Centre Court with him. The 20-year-old Spaniard met Djokovic head on, denying the Serbian a fifth consecutive Wimbledon title, refusing to go down against the game's most formidable force and a legend of the sport who had won 104 matches in a row from a set up at the grand slams.
A titanic, 26-minute game midway through the third set captured Alcaraz's stunning resilience and tenacity to believe in the miracle he was trying to accomplish. Already up a break, Alcaraz hunted for another, not once letting Djokovic off the hook. The 36-year-old Djokovic, who had controlled his young opponent magnificently to race to the opening set, was suddenly stressed, rushed, and in danger.
He knew what Alcaraz threatened to do. Djokovic had won 34 matches in a row at Wimbledon. He had not lost on Centre Court in 10 years, since losing to Andy Murray in the 2013 final. But he had also not faced an opponent like Alcaraz, a 20-year-old who lives every moment and approaches every shot like he has the chance to make the impossible possible. The second-set tiebreak was another turning point: Djokovic had won 15 tiebreaks in a row coming into the final, Alcaraz, who faced the brink then, barely blinked.
Tiebreaks are Djokovic's realm, his palace where he shows his mental fortitude, and a place Alcaraz's peers dare to tread. Alcaraz ended Djokovic's reign with his powerful forehand, his dazzling speed and his wondrous creativity. Even as Djokovic forced a fifth, Alcaraz never once lost sight of what he was fighting for. He roared back, and now Wimbledon will never be the same again.
He is the new people's champion: after 21 years of Djokovic, Roger Federer, Rafael Nadal and Andy Murray, there is a new name on the illustrious board of winners. And how he deserves it, not only to beat Djokovic in the manner he did, but to close it by staying true to what he wants to bring every time he steps out onto a tennis court. Serving it out, Alcaraz put his signature drop shot into the net on the opening point, only to go for the drop shot again, and then spin the lob over Djokovic's head. From there, the serve, and a remarkable transition onto grass was complete.
This, after all, should not be happening, on what is Alcaraz's fourth tournament on grass. He arrived in London four weeks ago looking to learn and, at first, having to survive on the surface. Just reaching the final was a dream, but what followed will become legend.
Like the best finals, there were several contests at once here; matches within sets, sets within games. The meeting of the two best players in the world, separated by age but brought together by their standing at the top of the sport, started with a match that no one expected: a thrashing. Djokovic showed the experience of a 23-time grand slam champion as Alcaraz suffered with nerves. Alcaraz was erratic but, as it so often is, the answer for that was on the other side of the net.
Djokovic, as solid as a rock, began to toy with his younger opponent, using Alcaraz's drop shot against him. How that would turn in the latter stages, but as the intensity of the rallies sharpened by the third game, Djokovic remained in complete control. If the defending champion hadn't been required to get out of third gear throughout these Championships, this was a statement. Djokovic was too quick, too alert even for Alcaraz, and he dominated the rallies.
Alcaraz, though, found his confidence and started to display his magnificent shot-making. It came as Djokovic lost track of his serve, with his ball toss causing him particular difficulty in the breeze, reducing his already slow service routine and its endless ball bouncing to a snail's pace. Yet as Djokovic tightened his game from the baseline and stared down the other end of the court for a reaction, Alcaraz met it dead in the eye, beginning to hit bravely for the lines. It became a different match entirely.
But to become an epic one, it needed a twist. In the tiebreak, Djokovic slumped two backhands into the net in a row to give Alcaraz set point. Finally, Djokovic's vulnerable serve – which stood at 50 per cent in the second set – crumbled. Alcaraz attacked it, flashing the backhand winner down the line. Somehow, Alcaraz had overturned the momentum, but he knew there was a long way to go. As the backhand landed, Alcaraz could have roared after it, darting and shouting. Instead he stood, soaked it in, pointed to his head. In control, it was game on.
And like all legendary duels on this hallowed court, the details soon faded among the dizzying rallies, the stupefying shots, amid games that lasted an eternity. Somewhere in the fog, a great champion creaked and Djokovic's third backhand error in quick succession handed Alcaraz the break at the start of the third. Now facing against the tide, Djokovic tried to claw on with all he had, but Alcaraz was unrelenting, outlasting Djokovic in a 32-point game that was almost as long as the opening set.
When it was won, Alcaraz roared again, and Centre Court believed too. Djokovic saw the set slip away, an unthinkable 6-1 landslide that hinged on a brutal tug of war and threatened to define the final. But Djokovic found a fight from deep within, as well as his serve and unerring return to deconstruct Alcaraz. He forced the fifth, of course he wasn't done.
But then Alcaraz went again. Usually, it is Djokovic who rises in the decider, but Alcaraz found his steel and used it against the Serbian. Alcaraz saved break point with a stunning forehand down the line, then denying Djokovic after he had picked himself up from the grass to try and keep the match alive. Alcaraz, toying with his opponent now, slapping the most extraordinary forehand winner, took the break. Djokovic smashed his racket into the net post, the dream of equalling Federer's men's record unravelling, another calendar grand slam up in smoke.
This was Alcaraz's dream and after his stunning rise through the sport, a grand slam champion at 19, the youngest world No 1 of all time, this was a moment to stand above the rest. Alcaraz had pictured it. Just playing the Wimbledon final, he said on Friday, would be the best day of his life. Beating a champion like Djokovic, he said, would be extra special. And then the moment came and it was purer than anything he could have imagined.
Join our commenting forum
Join thought-provoking conversations, follow other Independent readers and see their replies