Rafael Nadal explains why it'll be 'almost impossible' for him to repeat French Open success at Wimbledon
The Spaniard is talking pessimistically about his chances of going all the way at the All England Club, where competition begins in just three weeks' time
Paul Newman
Paris
Monday 12 June 2017 15:44 Comments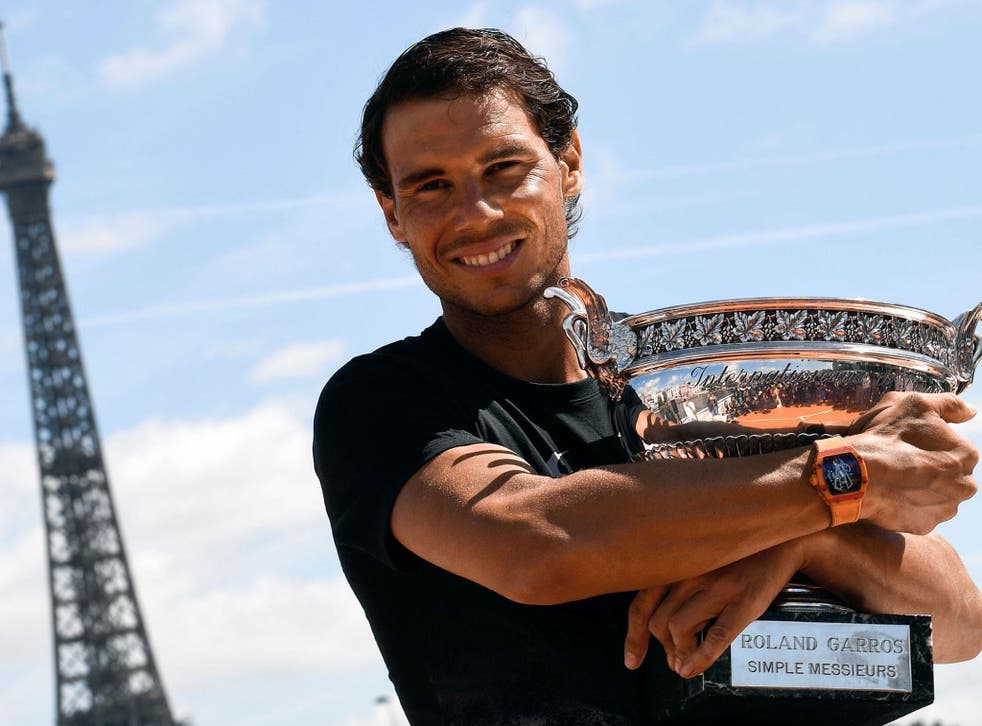 According to Mats Wilander, seven times a Grand Slam champion and now one of the sport's most respected commentators, Rafael Nadal should be regarded as one of the two favourites to win Wimbledon. According to Nadal, who has lost to opponents ranked between No 100 and No 144 in his last four appearances at the All England Club, it will be "almost impossible" to win a third Wimbledon title if his troublesome knees react to playing on grass in the way that they have for the last five years.
Wilander, speaking on Eurosport in the wake of Nadal's record 10th victory at the French Open, sees the Spaniard and his long-time rival, Roger Federer, as the two most likely winners at Wimbledon. He thinks the champion of Roland Garros will have the edge because of the confidence he will derive from his historic triumph in Paris.
Nadal might also draw encouragement from the fact that on the only two other occasions when he won the French Open without dropping a set (in 2008 and 2010) he went on to win Wimbledon. However, the Spaniard is talking pessimistically about his chances of going all the way at the All England Club, where competition begins in just three weeks' time.
"If I have pain in my knees, then I know from experience that it's almost impossible," he said. "After 2012 what happened with my knees has made it tougher and tougher for me to compete on grass."
Nadal played in five Wimbledon finals between 2006 and 2011, but his story since has been a tale of sorry defeats and injury woes, culminating in his withdrawal last year because of a wrist problem. In his last four appearances at the All England Club he has lost to Lukas Rosol (world No 100) in the second round, to Steve Darcis (No 135) in the first, to Nick Kyrgios (No 144) in the fourth and to Dustin Brown (No 102) in the second.
The problem for Nadal is that the lower bounces on grass put extra stress on his knees, which have always been his biggest physical weakness. On clay and on hard courts he does not have to get down so low to play his shots because of the higher bounce.
"It's been a while since I played a good Wimbledon," Nadal admitted. "I love grass. Everybody knows that. It's a surface that I really enjoyed playing on a lot. I missed playing Wimbledon again [last year], so I hope that my knees will hold up well and that I can have the preparation that I really need and want."
He added: "I need to have strong and powerful legs to play well at Wimbledon. If I don't feel that, then probably my chances are not good. But if I am healthy and I am able to have the right preparation and feel healthy during Wimbledon, then I will probably have my chances to play well."
Like Andy Murray and Stan Wawrinka, the man he beat to win the French Open on Sunday, Nadal will begin his grass-court campaign next week in the Aegon Championships at Queen's Club in London, where he has played only once since 2011. He won the title there in 2008.
Murray, meanwhile, started his grass-court preparations today with a practice session at Wimbledon, just three days after his defeat to Wawrinka in the semi-finals at Roland Garros. Ivan Lendl, Murray's coach, has joined the Scot in London and will be with him all the way through the grass-court season. Murray will be practising at Queen's Club later this week.
Federer, nevertheless, has beaten all his rivals to the grass-court starting line. The seven-times Wimbledon champion, who skipped the whole clay-court season in order to focus on grass and the subsequent North American hard-court stretch, is competing this week in Stuttgart and had his first practice session there on Sunday. Federer, who is sporting a new short-cropped haircut, will also be playing in next week's tournament in Halle, where he has won the title eight times.
Today's updated world ranking list sees Nadal back up to No 2 following his Paris triumph. He is 2,605 points behind Murray, but could catch the Scot by the end of Wimbledon.
The rankings are based on a rolling 12-month total of points earned, which means that Murray will lose points if he fails to defend his titles at both Queen's and Wimbledon. Nadal, meanwhile, will add whatever points he wins to his current total because he was missing through injury at this time last year. The winner at Queen's earns 500 points and the winner at Wimbledon 2,000.
Novak Djokovic has fallen to No 4 in the rankings, his lowest position for eight years. The Serb usually chooses not to play any tournaments in the build-up to Wimbledon, but given his poor recent form it would be no surprise if he sought a late wild card at an event next week.
Wawrinka, who is No 3 in the rankings, has added Federer's former coach, Paul Annacone, to his team for the grass-court season. The American also coached Pete Sampras and Tim Henman.
"I want to progress," Wawrinka said. "I'm very happy with my team but we had some discussions in order to get a new vision, to get another view of my game. So that's why we have decided to turn to Paul, who has a lot of experience."
Register for free to continue reading
Registration is a free and easy way to support our truly independent journalism
By registering, you will also enjoy limited access to Premium articles, exclusive newsletters, commenting, and virtual events with our leading journalists
Already have an account? sign in
Join our new commenting forum
Join thought-provoking conversations, follow other Independent readers and see their replies