Heather Watson's opponent Victoria Azarenka is the latest new mum to take to the court at Wimbledon
The former world No. 1 is battling her way back up the rankings after the birth of her son, Leo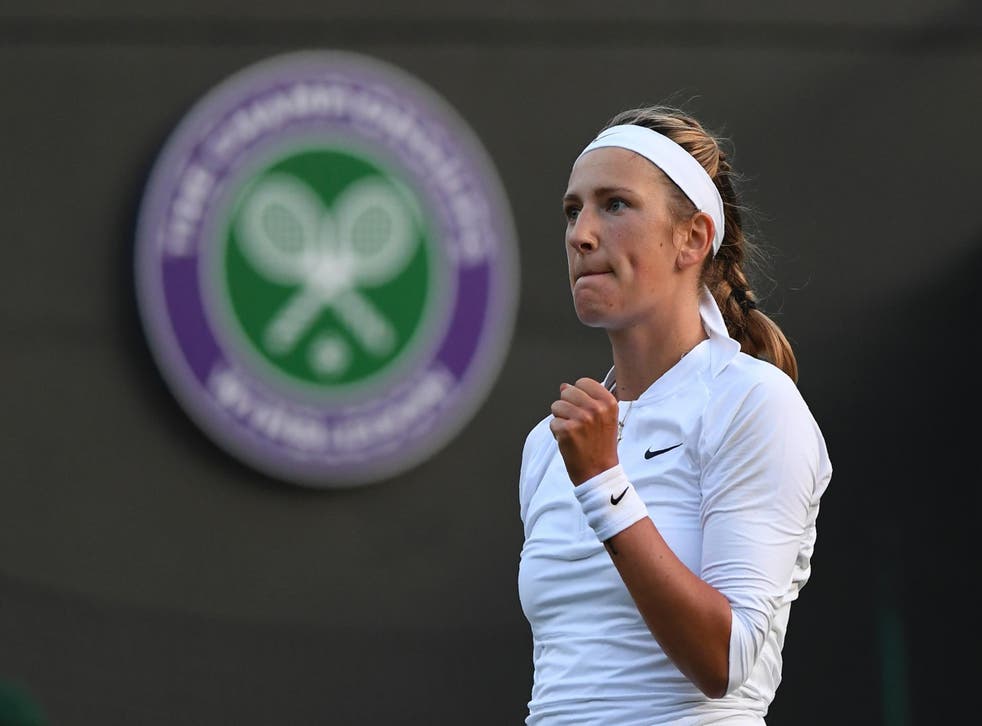 Heather Watson's third-round opponent at Wimbledon is new mother Victoria Azarenka, who has six-month-old son Leo with her in London.
It may not appear a tough clash for the young Brit at face value, but the world No. 683 is a former world number one, and is making a strong return to grand slam tennis.
While it is great to see her back to her best at SW19, Azarenka is not the first woman to have made an impressive comeback to the tour after giving birth.
There are several memorable examples, and here is a look at four major stars who found success as mothers:
KIM CLIJSTERS
The Belgian's professional tennis career appeared to be over when she was forced to retire at the age of 23 through injury, and after giving birth to daughter Jada in 2008 her life looked to be moving in a different direction. However, Clijsters was tempted back after enjoying playing in an exhibition match under Wimbledon's new Centre Court roof in 2009. And she completed a remarkable sporting comeback to win that year's US Open, just 18 months after giving birth. It made her the first mother to win a grand slam since 1980. She successfully defended the US Open title 12 months later, adding the 2011 Australian Open title and rising to number one in the world rankings before halting her playing career - this time for good - in September 2012.
MARGARET COURT
Court won 21 grand slam singles titles before taking time out in 1971 and 1972 for the birth of her first child, son Daniel. In 1973 she triumphed at the Australian, French, and US Opens, missing out on a clean sweep due to losing against Chris Evert in the semi-finals at Wimbledon. She had a daughter, Marika, in 1974 and again returned to the tour, but there would be no more grand slam trophy success. Her 24 singles majors remains a record, with Serena Williams one behind Court. Williams is currently absent from the women's tour, expecting her first child. Australian Court, now an ordained Pentecostal minister, has recently caused controversy with her vociferous opposition to LGBT rights.
EVONNE GOOLAGONG CAWLEY
Popular Australian Goolagong Cawley stepped off the tour in late 1976 after finding out she was pregnant, but she was soon back with racket in hand after giving birth to daughter Kelly in May of the following year. In 1977, a scheduling quirk meant there were two Australian Opens, and Goolagong Cawley returned to action in time to win the second of those in December, beating Helen Gourlay Cawley - no relation - in the final. She added the 1980 Wimbledon title to her collection too by defeating Chris Evert for a seventh and final grand slam singles success.
LINDSAY DAVENPORT
American Davenport gave birth to son Jagger in June 2007, and just three months later the former world number one was back on tour and winning a title in Bali. In the earlier peak years of her career, the hard-hitting Davenport had won the US Open, Wimbledon and Australian Open titles. And although she did not land another grand slam upon returning to the tour as a mother, she collected four titles before announcing she was pregnant again in 2008 and would be stepping away from the game once more. That marked the end of Davenport's singles career, but she won one more doubles tournament in 2010.
Join our new commenting forum
Join thought-provoking conversations, follow other Independent readers and see their replies