UFC 275 LIVE: Jiri Prochazka wins light heavyweight title from Glover Teixeira plus full results
Re-live round-by-round updates from two title fights and a stacked card in Singapore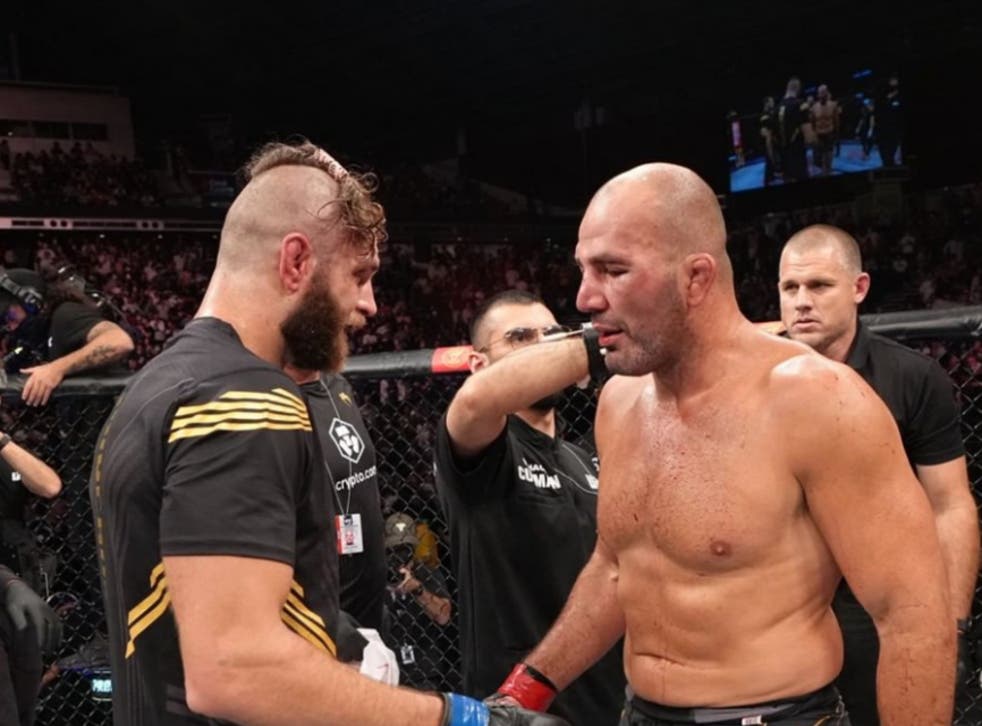 Jiri Prochazka submitted Glover Teixeira with fewer than 30 seconds left in the main event of UFC 275, winning the light heavyweight title at the end of an enthralling, turbulent fight on Sunday.
Teixeira entered Singapore's Indoor Stadium as the second-oldest champion in UFC history at 42 years old, making the first defence of the belt that he won late last year. Prochazka, fighting in the UFC for just the third time, was positioned as the young lion set to take over the pride at 205lbs, although the Czech challenger had collected significant experience outside the UFC before debuting in the promotion in 2020. Prochazka, 29, has held titles in other organisations but can now call himself the best light heavyweight in the world, having won the UFC gold with this rear-naked-choke victory over an aged but game Teixeira.
In the co-main event, Valentina Shevchenko retained her flyweight title with a controversial split-decision win against huge underdog Taila Santos (48-47, 47-48, 49-46), after Zhang Weili knocked out fellow former women's strawweight champion Joanna Jedrzejczyk. Zhang finished the Pole emphatically in Round 2 of their rematch, defeating Jedrzejczyk with a spinning back fist. The pair had previously fought in 2020, with Zhang emerging victorious via split decision. Following Saturday's rematch, Jedrzejczyk announced her retirement from MMA and left her gloves in the ring – a symbolic gesture for calling time on one's fighting career.
Re-live UFC 275, below.
1655013005
UFC 275 LIVE
Full UFC 275 report here:
Meanwhile, Valentina Shevchenko retained her flyweight belt, and Joanna Jedrzejczyk announced her retirement after a brutal KO loss to Zhang Weili
Alex Pattle
12 June 2022 06:50
1655010935
UFC 275 LIVE
Teixeira was 39-37 up on two of the three judges' scorecards at the time of the stoppage, and he was winning Round 5.
In other words, the Brazilian was 28 seconds away from retaining his title.
What a performance from the 42-year-old, in any case. He showed great resilience alongside his immense skill.
All credit to Prochazka, though, for claiming the belt in just his third UFC bout.
Alex Pattle
12 June 2022 06:15
1655010600
UFC 275 LIVE
Jiri Prochazka def. Glover Teixeira via fifth-round submission (rear naked choke, 4:32).
Alex Pattle
12 June 2022 06:10
1655010463
UFC 275 LIVE
Teixeira vs Prochazka – Round 5
Teixeira is in mount with 90 seconds to go! This is remarkable.
Prochazka kicks off the fence and escapes the position! Now he's pouring on strikes while Teixeira turtles up...
Teixeira moves and finds himself in Prochazka's side control, and the Czech is then able to lock in a rear naked choke with 30 seconds left in the fight...
TEIXEIRA TAPS! OH, MY WORD!
Alex Pattle
12 June 2022 06:07
1655010345
UFC 275 LIVE
Teixeira vs Prochazka – Round 5
One more round. It could well be 2-2 here. The men touch gloves and embrace.
Good one-two from Teixeira, then a huge straight right hand that seems to hurt the challenger!
Teixeira throws a few more punches, then jumps and pulls guard! Could that be a huge mistake by the champion?
Now Prochazka is in full guard, but the Czech stands and allows Teixeira back up, too.
More solid right hands from Teixeira! These are his best strikes of the fight, and Prochazka looks tired...
Teixeira is unable to land a takedown but connects with a fierce jab and a couple of great right hands. Now he gets the takedown against the fence! Two minutes to go...
Alex Pattle
12 June 2022 06:05
1655010108
UFC 275 LIVE
Teixeira vs Prochazka – Round 4
Into the championship rounds, for the first time in Prochazka's professional MMA career.
Prochazka with a front kick to the body of Teixeira, then some loud punches to the champion's head.
Another takedown by Teixeira! He spends some time in side control, before moving into mount and attempting an arm-triangle choke...
Teixeira is squeezing hard! Prochazka rolls out terrifically! Now he stands above Teixeira and rains down punches, but the Brazilian reverses the position masterfully! Somehow he has the back of his challenger again!
He can't secure a rear naked choke, and Prochazka is able to get back on top and land a few punches before the buzzer sounds!
Alex Pattle
12 June 2022 06:01
Register for free to continue reading
Registration is a free and easy way to support our truly independent journalism
By registering, you will also enjoy limited access to Premium articles, exclusive newsletters, commenting, and virtual events with our leading journalists
Already have an account? sign in
Register for free to continue reading
Registration is a free and easy way to support our truly independent journalism
By registering, you will also enjoy limited access to Premium articles, exclusive newsletters, commenting, and virtual events with our leading journalists
Already have an account? sign in
Join our new commenting forum
Join thought-provoking conversations, follow other Independent readers and see their replies