Super Bowl 2018: Rob Gronkowski 'ready to roll' as New England Patriots tight end declares his fitness
The 28-year-old suffered a head-to-head impact in the AFC Championship Game victory over Jacksonville Jaguars and missed training last week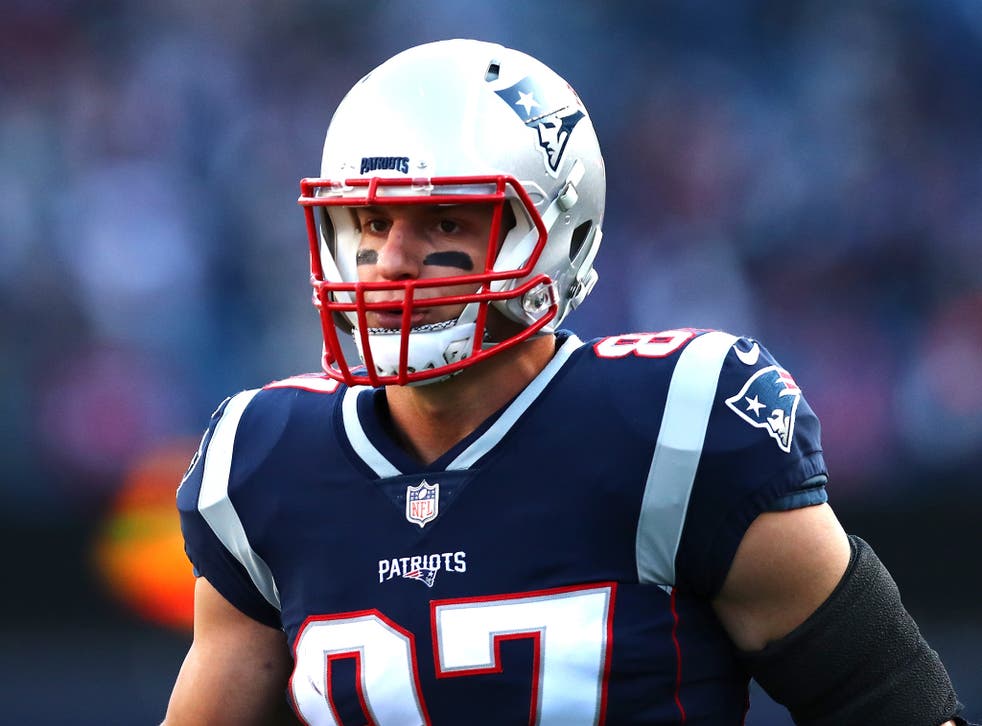 The New England Patriots' star tight end Rob Gronkowski has declared himself "ready to roll", despite missing the first media availability of Super Bowl LII week following his bout of concussion.
Gronkowski was not present for opening night at the Xcel Energy Center, when players and coaches from both the Patriots and Philadelphia Eagles participated in interviews before Sunday's game in Minnesota.
The 28-year-old was forced out of the AFC Championship Game when struck in a helmet-to-helmet hit from Jacksonville Jaguars safety Barry Church and the head injury forced him to miss practice on Wednesday, Thursday and Friday of last week.
Gronkowski, New England's key offensive weapon, was back out on the training field on Saturday and on Monday he posted a message on his Instagram account that suggested he is hopeful of completing the concussion protocol in time to feature at the weekend.
He said on social media: "Locked in, ready to roll. Minnesota we here. #superbowl52 #anotherone #minneapolis".
Quarterback Tom Brady was unsurprisingly the biggest draw on Monday and took to his podium wearing gloves, a necessity outdoors in Minneapolis' sub-zero temperatures but rather redundant inside.
Brady had raised fears about a right hand injury before the AFC Championship Game only to allay them with another masterful display.
The 40-year-old is one of the main reasons his team are back in the Super Bowl for a third time in four years and are chasing their sixth title in 17 years.
"It is still special - each year, there's usually another factor for why," said safety Devon McCourty, who already has two rings.
"Last year my wife was pregnant and now my daughter's 10 months (old), she'll be here and my wife's pregnant again.
"There's always some extra motivation - having a new baby or someone else that couldn't come last year can come this year.
"The crazy thing is my mum said now we should get pregnant every year so we can go to the Super Bowl. I might have to retire soon!"
For the majority of the Eagles' roster, including London-born running Jay Ajayi, Sunday's contest will be a maiden Super Bowl appearance.
This time last year Ajayi, then with the Miami Dolphins, was working for a sponsor and doing punditry during a Super Bowl won by the Patriots, and he vowed to only return to such an event as a player.
"I left early. I told my manager, my boys and my family I'm not coming to another Super Bowl again unless I was playing in it," Ajayi revealed.
"It's crazy how things work out. Now I'm back playing in the game so I don't have to do the talking. I'm just grateful.
"The biggest thing for us to realise is even though it's the Super Bowl, it's still another game.
"For us really, we're just looking at it as another business trip. Obviously those (Patriots) guys have that experience that they can lean on and rely on. It's still another football game, we're still going to have to go out there and execute our gameplan, the way we would have to any other game.
"Obviously the stakes are higher and the magnitude, with everyone watching it, is bigger, but for us we need to realise it's still just football and go out there and play."
PA
Register for free to continue reading
Registration is a free and easy way to support our truly independent journalism
By registering, you will also enjoy limited access to Premium articles, exclusive newsletters, commenting, and virtual events with our leading journalists
Already have an account? sign in
Register for free to continue reading
Registration is a free and easy way to support our truly independent journalism
By registering, you will also enjoy limited access to Premium articles, exclusive newsletters, commenting, and virtual events with our leading journalists
Already have an account? sign in
Join our new commenting forum
Join thought-provoking conversations, follow other Independent readers and see their replies