'A monster we left in the corner': The endurance of Asia's tiger trade and the new 'Tiger Queens'
Secretive 'zoos' across Thailand and Laos are running the trade in big cat parts, writes Arjun Neil Alim
Tuesday 16 February 2021 08:55 GMT
Comments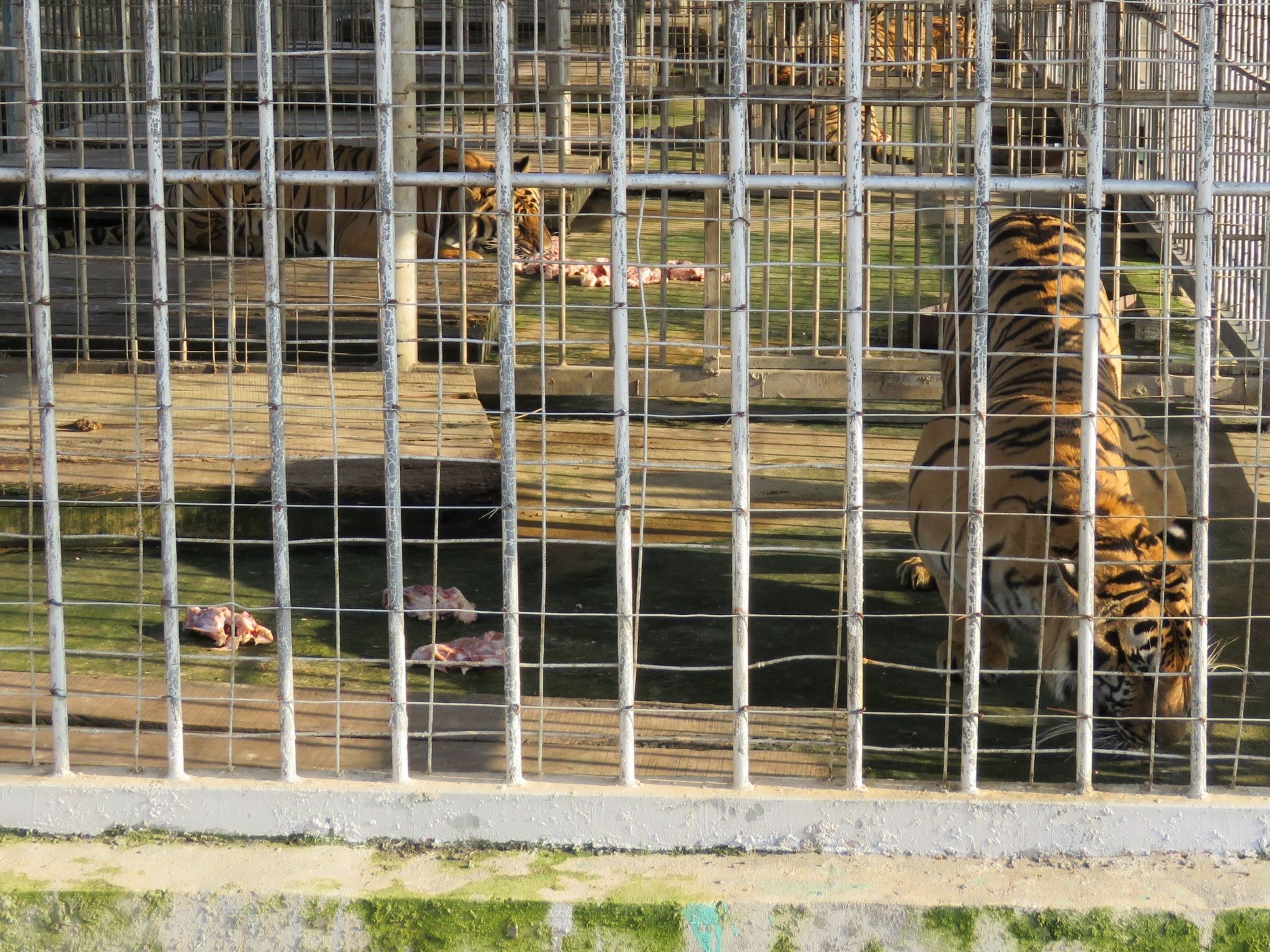 The seizure of goods en route from Nigeria to Vietnam was shocking in only its size. The Nigerian Customs Service, working with British Border Force officers, intercepted a shipment of 10 tonnes of tusks, bones and scales, believed to be from 709 elephants, 11 lions and 10,658 pangolins.
More than one year into a pandemic believed to potentially have the illegal wildlife trade at its origins, with over two million officially reported dead and trillions of dollars lost; wildlife trafficking appears in rude health.
Most noteworthy from the seizure in January 2021, aside from the staggering numbers of endangered species with a market value of over $16m, is the presence of lion. Wildlife experts believe that African lions have become a casualty of the more nebulous tiger trade.
Boosted by seemingly-insatiable demand from Vietnam and China and managed by criminals based in Laos and Thailand, the stress on tiger populations is so severe that lion parts, relatively easier to obtain in Africa, are used as an ersatz product to satisfy the market.
Freeland, an anti-trafficking NGO and The Independent's charity partner in our 'Stop The Illegal Wildlife Trade' campaign, believes that the trade in tigers, which now number less than 4,000 in the wild globally, is run by "Tiger Queens" across southeast Asia.
Much like the Netflix series Tiger King, these agents breed their own tigers ostensibly for reasons of tourism and conservation, which are permitted in Thailand and Laos. However, in reality many of these tiger farms, which are registered and advertised as "zoos", either do not accept tourists or only do so to mask their real profit motive: selling and fencing tiger parts.
Around half-a-dozen tiger facilities with captive tigers in Laos are implicated in the trade of tiger products, according to the Environmental Investigation Agency (EIA). Multinational criminal syndicates take advantage of weak law enforcement and corruption, while profiting from the high margins of selling rare and endangered animals
Steve Galster, the founder of Freeland, said: "Due to increased enforcement and more of a spotlight on the trade, the middle persons in Laos decided to create their own wildlife breeding infrastructure to accomplish two goals: firstly, to create laundering channels - any animals being smuggled across the border from Thailand to Laos could be shown to be bred in Lao breeding farms and paperworked as such.
"Secondly, to breed their own animals to rely less on increasingly unreliable Thai suppliers who were either being caught trafficking, or were raising their prices to pay for increased efforts to circumvent increased enforcement."
According to Freeland, one such tiger farm is Mukda Tiger Park Farm in northeast Thailand, on the Laotian border. Intelligence shown to The Independent by Freeland suggests the 'zoo' had around 30 tigers in the summer of 2020, and would ship live cubs and adult tigers across the border.
In a raid by authorities in December 2020, six tiger carcasses and a severed tiger head were found at the scene. DNA analysis of the live tigers found three to be genetically unrelated to the others, suggesting they may have been smuggled in from elsewhere.
According to Mr Galster, the owners of the farm claimed they were keeping the six carcasses to taxidermy, which remains legal under Thai law. Dr Mark Jones from Born Free estimates that there are over 8,300 tigers in captivity across South East and East Asia, compared to 5,000 in the United States.
Another company, Vannaseng, has been linked to a tiger farm and a monkey farm close to the Lao capital Vientiane. Viengnasone Ounalom, the director of the business, is also believed by Freeland to be the daughter-in-law of the Director General of Lao customs.
The Guardian reported that in 2014 the company was authorised by the Lao government to traffic 20 tonnes of tiger skin and bone and claws worth around $1.2m, in a country in which 80 per cent of people live on less than $2.50 per day.
Vannaseng did not respond to a request for comment from The Independent on the nature of its business and the status of its animal facilities.
The Convention on International Trade in Endangered Species (CITES), to which all Asian countries bar North Korea and Turkmenistan are party, calls for an end to tiger farming for trade in their parts since 2007. While some in the pro-farm lobby argue that tiger farming eases pressure on wild tiger populations, this is not borne out by the ever-shrinking number of wild tigers.
The existence of tiger farms undermines efforts to enforce the ban on trade in tiger products, according to The World Wildlife Fund (WWF). It also argues that tiger farms help "perpetuate (and grow) demand" as their presence "serves to legitimise and normalise demand for such items in a region currently experiencing profound and sustained growth of consumer classes".
Laos and Thailand do have domestic legislation to keep them in line with their CITES commitments, but many say there are unacceptable loopholes. A report from the Environmental Investigation Agency (EIA) from 2019 suggests that licenses to breed and transport tigers are relatively simple to acquire, and there is "no provision" to prevent the trade products marketed as containing tiger. The report,On the Butcher's Block – The Mekong Tiger Trade Trail, focuses on the role of the Special Economic Zones in the region like the Golden Triangle Special Economic Zone (GTSEZ), which is in Laos but de facto administered by a Chinese company.
The GTSEZ is run on a 99-year lease from the Laotian government by Hong Kong-registered company the Kings Roman Group, which is on the US Treasury Department's sanctions list for involvement in illegal activity including trafficking of drugs, people and animal products.
The US Treasury states that Zhao Wei, the billionaire controller of the region, and his wife Su Guiqin, a director of the company referred to as the 'Queen of the Golden Triangle Special Economic Zone' in an article in the South China Morning Post, "[exploit] the GTSEZ to engage in wildlife trafficking of endangered and vulnerable animals, including Asiatic black bears, pangolin, tigers, rhinos, and elephants."
The jewel in the crown of the 100,000-hectare territory is the Kings Roman Casino, which is known to be popular with Vietnamese and Chinese visitors. The accepted currency is the Renminbi and outside the streets are often patrolled by Chinese security.
Debbie Banks from the EIA calls these special economic zones "Chinese-run operations creating lawless areas where wildlife crime can happen" and suggests there are at least two facilities with dozens of tigers in the area, while products like tiger bone wine are easily accessible.
Tiger farms are one part of a wider tiger trade that has been operating for centuries, based on a demand for tiger parts in South East and East Asia. The parts are used principally for remedies from traditional Chinese medicine (TCM).
Ms Banks explained: "Tiger bones are consumed in Vietnam, where they are boiled down into a glue-like substance to make tiger glue. In China they are used in two principal ways: ground down into a powder as an ingredient within traditional medicine or soaked in rice wine to make tiger bone wine, which is marketed as a health product and a prestigious thing to gift someone."
The expansion of the middle classes in both of these countries goes a large way to explaining the sustained demand for tiger products: the consumption of tiger meat is seen by some as luxurious in the way premium champagne might be, and the bones are viewed as a health remedy. " Some believe if they eat a tiger, they inherit the quality of a tiger," said Mr Galster. Where there is an illegal trade there is inevitably fraud. As tigers became harder to poach, and as countries like Thailand and China tightened restrictions on the trade, conservationists began to find lion parts among seized shipments – believed to be substitutes for rarer tiger parts.
Lion carcasses are available in number in South Africa, given the popularity of big game hunting in the region. A report from 2017 by Born Free titled 'Cash Before Conservation' states that South Africa is the largest exporter of lion bones and skeletons to the far East – sending 98 per cent of lion carcasses to Vietnam or Laos between 2008 and 2015.
And so the Tiger Queens have shifted much of their gaze to Africa. Freeland implies that there is an ongoing investigation into a Laotian tiger farm that has opened a subsidiary in South Africa. Meanwhile cases like Vixay Keosavang, a Lao national, remain at large even after the US state department offered a bounty of $1m for information about his wildlife trafficking network from Africa to Asia in 2013.  
Freeland has provided intelligence to multiple enforcement agencies on Keosavang's network, resulting in 11 arrests, 4 prosecutions, and millions of dollars in asset seizures. While Keosavang's business appears to have been disrupted, he remains at large, and the Tiger Queens seem to have kept business going. 
Mr Galster explains: "The wildlife trafficking syndicates, part and parcel with these farms in Laos and Thailand, would send sourcing agents to South Africa to buy lion carcasses after the hunters were done.  They would buy carcasses of hunted lions for $1,000, which is about 25 times cheaper than adult tiger skeletons.  Those same agents eventually moved into rhino horn."  Conservationists are now sounding the alarm about lion populations in Africa, which are believed to have dropped by half to 25,000 since 1994.
Debbie Banks from the EIA adds that without DNA testing, agents and consumers cannot tell the difference between tiger and lion bones. And with the pandemic, the trade has now moved almost entirely online.
The EIA recently found a Chinese-owned business in Vientiane advertising tiger bone products over WeChat, a messaging and commerce app owned by Tencent, which released a blog last year titled: "It's more important than ever to end the illegal trading of endangered wildlife".
"It's a big festering wound, a monster we left in the corner. It's a difficult situation to deal with because it's very powerful people running these farms and because of the number of animals in question", said Mr Galster.
Join our commenting forum
Join thought-provoking conversations, follow other Independent readers and see their replies