Bristol University offers third of places on disadvantaged pupils scheme to private school students
Bristol's Scholars scheme allows pupils from poorer backgrounds to apply for the top ranking university with lower grades than previously required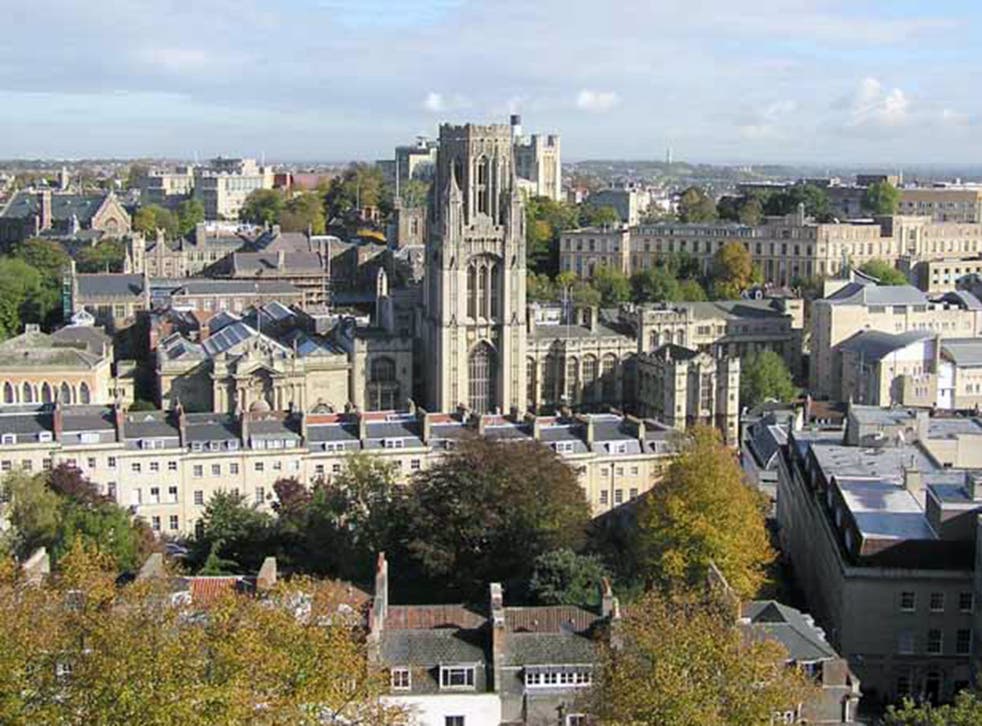 The University of Bristol has come under fire after students discovered that a scheme created specifically to recruit pupils from disadvantaged backgrounds had awarded a third of places to private school applicants.
In December last year, Bristol University officials announced plans to lower the grade requirements for poorer pupils in the city, including those who receive free school meals, live in care or have experienced problems during their childhood years.
The Scholars scheme was praised as an innovative step to increase social mobility in the top ranking university city, but figures obtained by student paper Epigram have since been revealed that 33 per cent of offers were awarded to students taught at independent, fee-paying schools.
Just 14 per cent of sixth form students are taught at independent schools in the UK, making those with lowered offer grades from Bristol significantly overrepresented on the scheme.
The university's society for state school educated students, the 93% club, said it made "no sense" to include students who already "had the privilege of a private education".
Sophie Pender, chair and founder of the society, said the revelation was "unsurprising", given the culture of privilege at Bristol.
"The University has a history of brushing the issues of students from low income state educated backgrounds under the rug of widening participation initiatives that are just getting it wrong - as shown by the Scholars scheme," she told The Independent.
A spokesperson for the group added: "Although it is not in contravention of the university's Widening Participation Strategy, we lament the inclusion of independent schools on this scheme.
"Students from state funded schools will by and large not have the same opportunities that those from independent schools enjoy."
Inside Park Lane townhouse: The student flat that costs £4,000 a week

Show all 12
Opened to 20 schools in Bristol as part of a pilot programme this year, the Scholars scheme allowed head teachers to nominate five students per school, based on "potential" rather than academic results.
However, Bristol admitted just 43 students had been accepted onto the scheme, whilst two state school students were rejected because their grades did not meet entry requirements. No independent school students were turned down.
Ms Pender said: "If you want to let students from private school students in who haven't achieved the same grades because of issues at home then that's great, we encourage the university to take these cases on an individual basis.
"But do not take away the opportunity for a top education from someone who has been deprived of one their whole lives."
Responding to the complaints, Lucy Collins, Head of UK Recruitment at the University of Bristol, said the scheme was in its pilot year, and that the university hoped to recruit students from every Bristol school in future years.
"At the heart of the Bristol Scholars scheme is the determination to provide opportunities for local students whose potential is not recognised in their predicted A Level results," she said.
"Bristol Scholars from independent schools who have been offered places had to fulfil one or more widening participation criteria in order to be selected. For example, they may have faced a disrupted education due to ill health or family difficulties.
"The Bristol Scholars scheme complements the nation-wide contextual offer scheme, in which we reduce our standard offer by two grades, which is only open to aspiring schools and colleges in the state sector."
Join our new commenting forum
Join thought-provoking conversations, follow other Independent readers and see their replies