Cost of university questioned as only 30% of undergraduates feel they're getting value for money
Only a third of undergraduates believe their studies are relevant to the workplace, and one in four say their current course is doing little to prepare them for work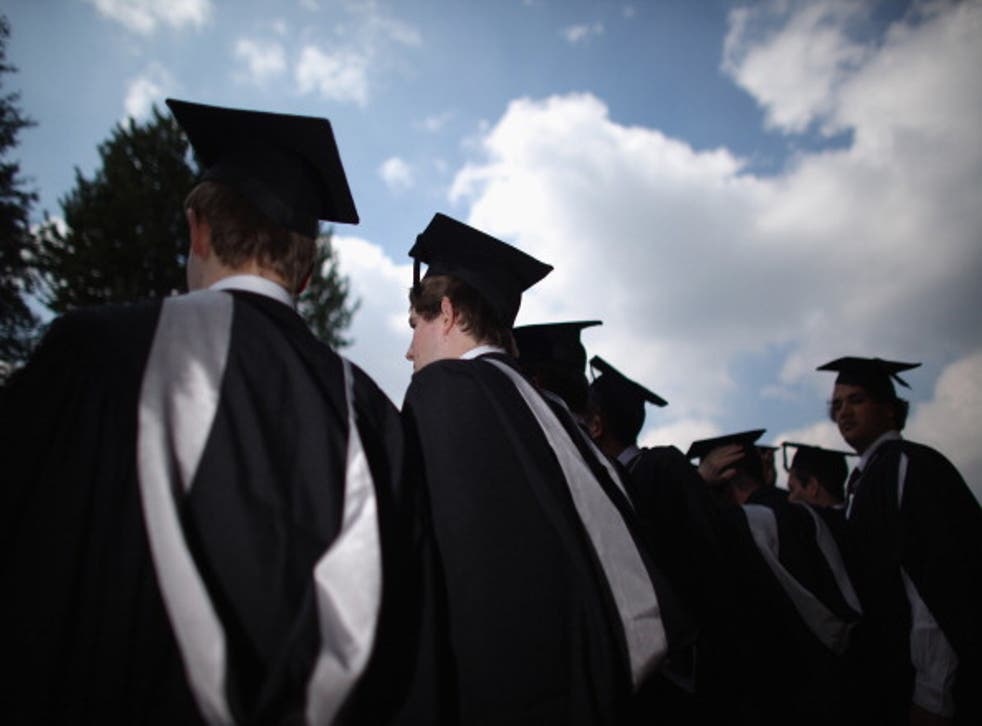 Concerns about whether university is preparing graduates for the world of work is casting doubt over the value for money it provides students, new research has suggested.
Only 30 per cent of current undergraduates believe they are getting their money's worth from their degree course and, with university tuition fees set to rise next year, the figure falls to just 21 per cent among sixth formers who are considering their next move.
Just one day before thousands of A-level students are set to receive their exam results, which leads to the great Clearing rush, the research* from Canvas, the Virtual Learning Environment for academic institutions, shows students believe higher education curricula should be equipping them for the world of work, but that universities are falling short of expectations.
The study has found just 31 per cent of undergraduates believe their studies are relevant to the workplace, and 23 per cent say their current course is doing little to prepare them for work.
This is far from the expectations of sixth formers who want to come out of their degree ready for work. The majority, at 55 per cent, of students are looking for courses developed in close partnership with employers and with the ability to collaborate with them directly (80 per cent). Overall, the research highlights just how important getting a job after graduation is when choosing a university, with 41 per cent of sixth formers citing "employability" as a crucial factor in their decision.
Kenny Nicholl, director of higher education at Canvas, described how too many current and future undergraduates feel they're not being prepared for employment, and, as a result, few believe their degree provides value for money. He added: "It's up to universities to bridge this gap by ensuring students have the skills and knowledge to thrive in the modern workforce. This means being tech-savvy and able to embrace continuous learning."
As fees rise, prospective undergrads are being urged to reconsider whether university is the right option for them. This week, a report from Barclays and the Centre for Economics and Business Research found the amount apprentices earn over the course of their lives is outstripping that of university graduates by up to 270 per cent in some sectors.
Mike Thompson, head of apprentices at Barclays, said, compared to grads, apprentices can "fast track" themselves to home or car ownership, as well as through their careers, without worrying about long-term student debt. He added: "Apprenticeships should be considered a viable and valuable career path and a genuine alternative to university, and our new figures strongly back that up."
The 20 hardest universities to get into
Apprenticeship specialist GetMyFirstJob also found just over 90 per cent of students believe the current UK education system sees exam results as more important than career preparation, with 98 per cent of 17 and 18-year-olds feeling their school needs to put more effort into helping them get into the world of work.
In April, Government ministers were also seen to be questioning whether tuition fee costs of up to £9,000 at some of the UK's top universities could be justified given the "quality and intensity of teaching." The revelation came to light after images of a private memo were leaked online as an unnamed official carried meeting notes from Number 10 to the Cabinet Office.
Universities Minister Jo Johnson, however, moved to quell students' concerns around the rising costs associated with higher education as well as a set of controversial new university reforms. Directly addressing students for the first time in an open letter, he said: "We'll be going even further to commit universities to publish data on their applications, admissions, drop-out rates, and graduate outcomes. Putting all this information at your fingertips will help you choose a course which can deliver your ambitions, and challenge universities to tackle inequality.
"Because there are big benefits to university, graduates already have a large earnings premium - around £9,000 a year on average over non-graduates. You'll also pick up key skills, friendships, and confidence which will benefit you for the rest of your life.
"Going to university is still a big decision, and it's a choice which more and more of you are making. We want that decision to pay off, to set you up for life, and our reforms will make sure universities do just that."
*Conducted online by Atomic Market Research among 501 sixth form students and 503 undergraduate students
Register for free to continue reading
Registration is a free and easy way to support our truly independent journalism
By registering, you will also enjoy limited access to Premium articles, exclusive newsletters, commenting, and virtual events with our leading journalists
Already have an account? sign in
Join our new commenting forum
Join thought-provoking conversations, follow other Independent readers and see their replies