Google I/O 2016: Allo chat app, Android N and Daydream VR platform unveiled at conference
Allo's integration with Google's assistant will either be useful or very annoying
Doug Bolton
Thursday 19 May 2016 14:04 Comments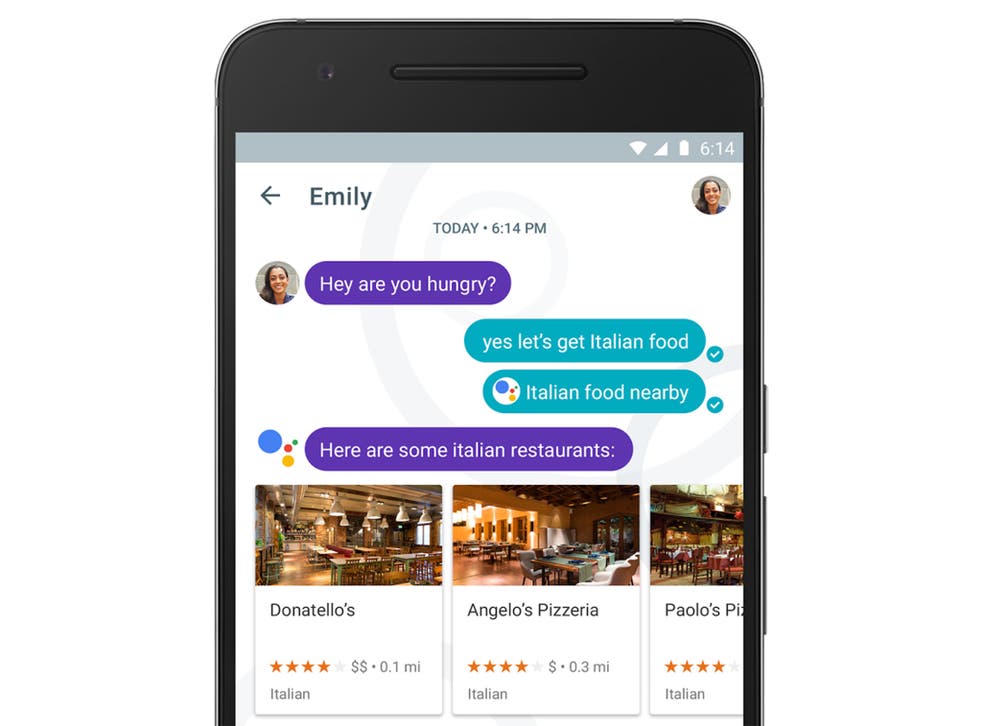 Google is launching a messaging app, and it's going to start butting into your conversations.
Allo, as the app has been named, was unveiled at the opening event of the company's I/O developer conference in San Francisco.
It works similarly to most other messaging apps, but also has a built-in AI assistant.
Google's assistant scans your incoming messages, so it can suggest good responses. It can do this for regular texts or picture messages, and seemed impressively smart in on-stage demonstrations.
For example, if a friend sends you a picture from their graduation, the AI will recognise the content of the picture and suggest appropriate responses like "Congratulations!" or "You did it!".
Similarly, it'll follow your conversations and direct you towards different services when you need them. So if someone in a group chat talks about wanting Indian food, a suggested reply could be a list of Indian restaurants in the area.
Users can obviously choose whether they actually send these suggestions or not, but they'll appear regardless. It's a cool idea, but it remains to be seen whether it'll take off. Do people really need a robot to remind them to congratulate their friends when they graduate?
Allo certainly has some stiff competition - chat apps only work if your friends are on them as well, and when WhatsApp, Messenger and plain old SMS are so ubiquitous, Allo has a big mountain to climb. Making it the stock messaging app for Android would help, but there's no indication if that's going to happen.
We'll find out more when the app launches for Android and iOS in the summer. End even if you don't use Allo, Google's assistant may find its way into your home anyway.
Google Home
Google Home is Google's take on the Amazon Echo, a voice-activated speaker which helps you interact with the internet. After activating the speaker by saying 'OK, Google,' you'll be able to tell it to play music, set timers, check traffic information, turn on your lights and book cinema tickets.
It looks pretty nifty and minimalist, and demonstrations at I/O made it seem pretty smart. The speaker is coming out "later this year," according to Google, although there's no exact UK release date yet.
Android N
Android N is the name for the next version of the Android operating system, and Google's currently looking for a name. You can make suggestions on the Android website, but make sure they start with 'N'.
A lot of the new features coming to Android N are fairly standard, like improved performance, better battery management and streamlined notifications. We'll also be getting a crop of 72 new emojis.

The most interesting update, however, is 'Instant Apps'. Rather than making you download loads of apps for niche services, Instant Apps lets you access them straight away.
When you open an Instant App, you only download the part of the app you'll be using. So if someone sends you a link to a nice jacket, you'll be able to view the optimised page in that shop's app, without downloading the whole thing.
It appeared to work seamlessly in the demonstrations, and the apps themselves look a bit easier to navigate than the typical mobile website.
The Android N developer preview is available now, if you want to try it out.
Daydream
Unfortunately, Google's rumoured standalone virtual reality (VR) headset didn't materialise at the I/O opening event. We are getting plenty of new VR content, however, in the form of Daydream, Google's new VR platform.
Daydream is a whole new ecosystem which encompasses hardware and software, and looks set to make mobile-based VR even better.
Daydream comes out in the autumn, and it'll only work on compatible phones. Users will be able to download and use high-end VR experiences through Daydream, possibly alongside the new headset and motion-sensing controller.
We don't know very much about these pieces of hardware, but Google will be sharing the designs with lots of different manufacturers, as they did with Google Cardboard. With your phone strapped into the headset, you'll be able to use the controller like an ordinary remote control, or as virtual arm in a VR game.
For everyone else, Google is adding a VR section to the Play Store, so you'll be able to easily find the best content.
The I/O conference ends on 20 May, so we may well see more details about these upcoming features in the near future.
Register for free to continue reading
Registration is a free and easy way to support our truly independent journalism
By registering, you will also enjoy limited access to Premium articles, exclusive newsletters, commenting, and virtual events with our leading journalists
Already have an account? sign in
Join our new commenting forum
Join thought-provoking conversations, follow other Independent readers and see their replies