Is virtual reality the future of news? Documentaries go 360-degrees as three are launched in one day
Team behind the 360-degree news films hope that they can engage a lost news audience, by being more immersive and objective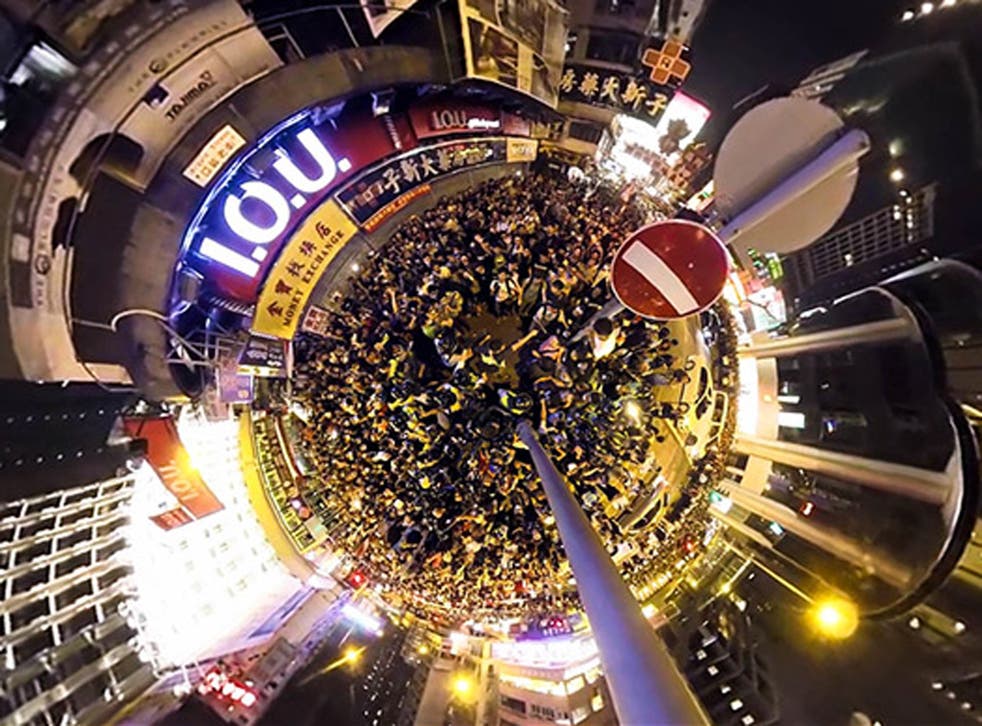 Three companies today launched virtual reality-enabled news documentaries, hoping that the 360-degree films can lure back people turned off by conventional news.
One of the apps was made by Vice News, in partnership with digital artist Chris Milk and director Spike Jonze, to film the Millions March protests in New York in December.
Another called "Hong Kong Unrest" covered the Hong Kong protests and was made by the creators of immersiv.ly, an app that is being developed to make news journalism in virtual reality.
A third has been made by the UN, following a Syrian refugee. The film is called "Clouds Over Sidra" and was also created by Chris Milk, along with UN advisor Gabo Arora.
The launch of the three films all in one day is probably a coincidence — though one probably driven by Sundance Film Festival. The festival began yesterday and will run until next week, promoting new ways of making films as well as traditional ones.
All three films seek to seize on the growing interest in virtual reality. The technology is associated most closely with gaming, but has been put to diverse uses including recruiting soldiers for the army and filming a concert by Paul McCartney.
Those uses often require expensive and complex headsets and computers — such as Oculus Rift, which is expected to launch in a consumer version of its headset by the end of 2015. But the same technologies can be used without any special equipment — the Hong Kong film can be watched on a normal screen, scrolling around the scene using the mouse or trackpad, or watching a version that has been flattened so the whole of the 360-degree picture is seen.
The films can also be watched using Google Cardboard, a simple version of a virtual reality headset that can be made with little more than a piece of cardboard and a phone.
The technology is likely to become even more mainstream in the coming weeks, when YouTube is expected to unveil 360-degree videos on the platform. It is expected that it will support flat videos as well as those being watched on virtual reality headsets.
Now news journalists and documentary makers hope that they can use the 360-degree videos to bring back people who may be disenchanted from traditional journalism — as well as making films more immersive for those already watching them.
That will be helped partly by the increased sense of objectivity in the 360-degree films. Because less editing happens, viewers feel more in control.
"When you put a frame around something, you can get the audience to interpret what's in that frame in a very certain way," Edward Miller, who filmed and edited the Hong Kong film, told The Independent. "Often the director or the cameraman can influence what it is you're seeing, and what it is you think you're seeing.
"Whereas there's nowhere to hide with a 360-degree camera."
That kind of choice adds a sense of objectivity, which could return some of the excitement to an increasingly jaded news audience.
"When played back, you have the freedom to literally explore the full picture, on your own terms," said Scott Broock, vice president of content at Jaunt VR, the immersive content firm that made the Paul McCartney concert film. "You decide what to make of the facts for yourself, which is empowering and ultimately far more meaningful than a heavily edited piece. It returns a true sense of objectivity to newsgathering."
It could also increase the amount of time that people watch the films for, and encourage them to view them repeatedly — what experts refer to as "stickiness". Watching the film over again from a different point of view can mean watching an entirely different film, and the filmmakers hope that viewers will keep coming back to watch again and re-edit their own film.
Miller made the Hong Kong film using six separate go pro cameras, either placed on a tripod or a long boom pole that meant he could hold it up high. (The Hong Kong protests were especially helpful to cover, given the protestors were so media-savvy and welcoming to coverage, but Miller says the kit is so light that it could be used in most places.)
The film is then stitched together using a range of software — much of which is still in development and so needs improvement.
Jaunt VR, for example, hopes to speed up its editing suite so that it will be able to take live footage and make it 3D in only 8 seconds. That would allow for the kind of livestreaming that has become a common feature of protests — but in 360-degrees.
Using the six cameras and 3D footage meant that Miller could get a more full view of events than traditional cameras, he said. He pointed to the example of seeing a girl falling over in a scuffle with police — unlike 2D cameras, which tend to see only 120-degrees or so, he could film all parts of what was happening.
While those kind of big, immersive events are one way of demonstrating the value of the technology, those behind it say that it could one day be used for a range of films.
It could capture roundtable discussions so that viewers can choose which panel member they want to watch. Or it could be used in education — capturing doctors in the middle of surgery so that they can be watched by students, for instance.
And there are many questions still to be answered, which filmmakers are engaged in researching. Films could be shot in 180-degrees rather than needing to go all the way around, for instance, and could introduce 3D for even more immersion.
Register for free to continue reading
Registration is a free and easy way to support our truly independent journalism
By registering, you will also enjoy limited access to Premium articles, exclusive newsletters, commenting, and virtual events with our leading journalists
Already have an account? sign in
Register for free to continue reading
Registration is a free and easy way to support our truly independent journalism
By registering, you will also enjoy limited access to Premium articles, exclusive newsletters, commenting, and virtual events with our leading journalists
Already have an account? sign in
Join our new commenting forum
Join thought-provoking conversations, follow other Independent readers and see their replies