Watch more than ever with the Samsung Galaxy Watch6 Series at Currys
Discover Samsung's latest smartwatch range and deals with Currys
Monday 20 November 2023 11:54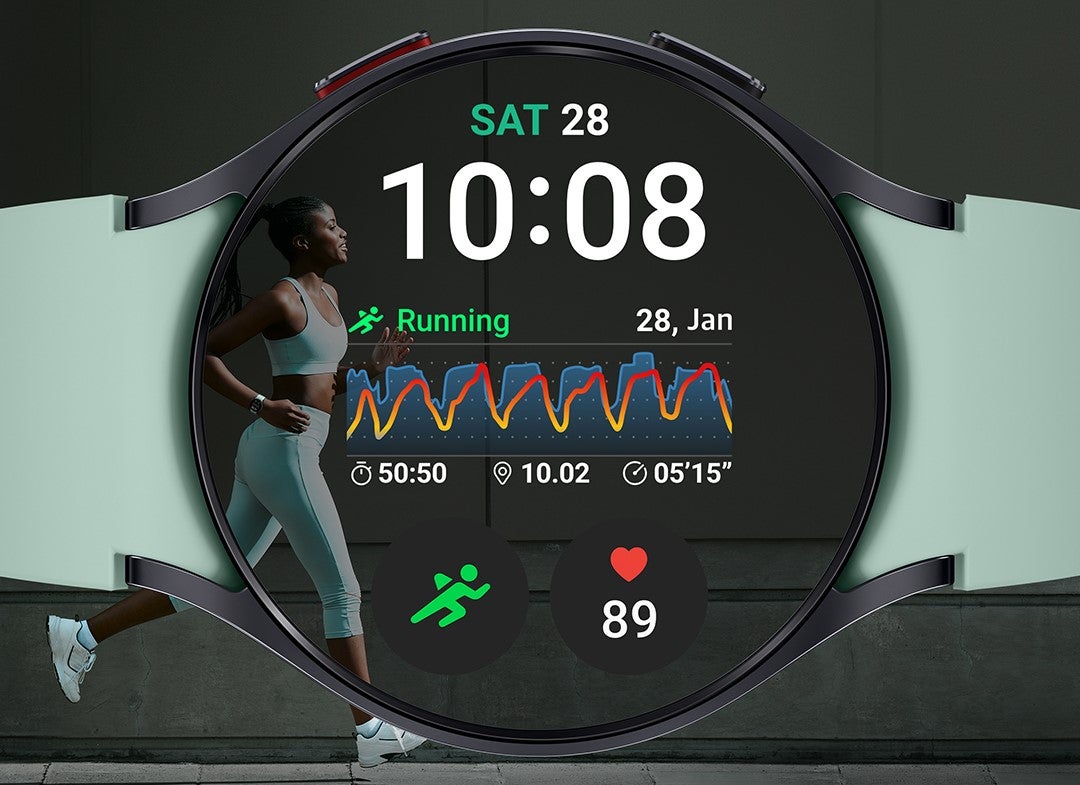 Finding that ideal balance between style and utility is always an important factor in determining what smartwatch you should buy.
It needs to be both a practical device that can keep up with your workout routines, messaging and other daily tasks but it also needs to look the part while doing so.
That's why Samsung's new range of smartwatches fit the bill as a discreet and multifunctional timepiece. Along with its functionality and connectivity, it's also a suitable companion for any Android user, particularly those already invested in the Samsung ecosystem (Compatible with smartphones running Android 10 or above with Google Mobile Services (GMS) and RAM 1.5GB or above).
To find out more about Samsung's Galaxy Watch6 series, keep reading the rest of the article below.
The Samsung Galaxy Watch6 is the latest iteration of Samsung's Smartwatch range, designed with a more personalised health and fitness routine in mind.
With the Watch6, you can collect data on your body any time you like, with a built-in bioelectrical impedance analysis (BIA) sensor, which allows you to monitor your body and set detailed and bespoke fitness goals (Not intended for use in detection, diagnosis, treatment. Intended for general wellness and fitness purposes only. *Body composition is only supported in Samsung).
One of the Watch6's newest features is the inclusion of sleep coaching, which monitors nightly sleep stages to aid in improving your sleep quality and your overall health as a result (Compatible Smartphone required. For best results in detecting and recording snoring, place your smartphone on a stable surface near your head with the bottom of the smartphone pointed to your head. Sleep coaching requires sleep data of at least 7 days, including 2 days on the weekends. (*Requires Samsung Health app v6.24 or later. *Galaxy Watch6 must be paired with a Samsung Galaxy smartphone with Android 10.0 and minimum 1.5GB Memory. *Sleep tracking features are intended for general wellness and fitness purposes only. Not intended for use in detection, diagnosis, treatment of any medical condition or sleep disorder. The measurements are for your personal reference only. Please consult a medical professional for advice. *Sleep Coaching requires sleep data of at least 7 days, including 2 days off. Availability of blood oxygen level feature may vary by country or regions. *Invisible LED is enabled when sleep mode is turned on. Fabric Band is sold separately and compatible with Galaxy Watch4 and later released Galaxy Watch series. Availability of watch bands may vary by country/region or carrier)
Compared to Samsung's previous model, the Galaxy Watch6 also boasts a larger screen with thinner bezels (Galaxy Watch6 display size is compared to that of Galaxy Watch5. *The screen size and black margin comparisons are based on Galaxy Watch6 Small (40mm)), meaning that this model's real estate to see more of your workout routines, messages and other apps – all from the comfort of your wrist.
The Watch6's sapphire crystal glass also makes for a resilient and sturdy display that's able to keep up with you, rain or sunshine, with IP68 and 5ATM ratings for strong water, dust and pressure resistance (Galaxy Watch6 is water resistant to up to 50 meters in depth for 10 minutes under the 5ATM rating. It is not suitable for diving or high-pressure water activities. If the device or your hands are wet, they must be dried thoroughly prior to handling. Galaxy Watch6 provides ingress protection (IP68) against dust and fresh water to a maximum of 1.5 meters for up to 30 minutes. Refer to user manual for further information, including care/use instructions. Based on Vickers hardness measured with constant load of 200gf.).
The Watch6 also comes in 44mm and 47mm models for different wrist sizes, as well as bluetooth and 4G connectivity.
Samsung Galaxy Watch6 classic: Was £399, now £349 Currys.co.uk
The Samsung Galaxy Watch6 Classic is a premium model that combines functional modernity with timeless watch design in both look and feel.
The rotating bezel on the Galaxy Watch6 classic brings smooth, responsive scrolling for intuitive interaction with the screen that happens to be inspired by diving watches, meaning it wouldn't look out of place on a treadmill or a board room.
As a result, the watchface lends itself well to a number of strap combinations that make use of the Watch6 Classic's versatility. Swapping between a sports band or a metallic strap for a more formal occasion couldn't be simpler with the watch's quick release button.
Equipped with a new processor than previous models, the Watch6 Classic features Samsung's fastest watch processor yet (Compared to Galaxy Watch4 Classic.), making accessing content smooth and fast whether you are settling in for the night or leaping out of bed to start the day.