The Independent's journalism is supported by our readers. When you purchase through links on our site, we may earn commission.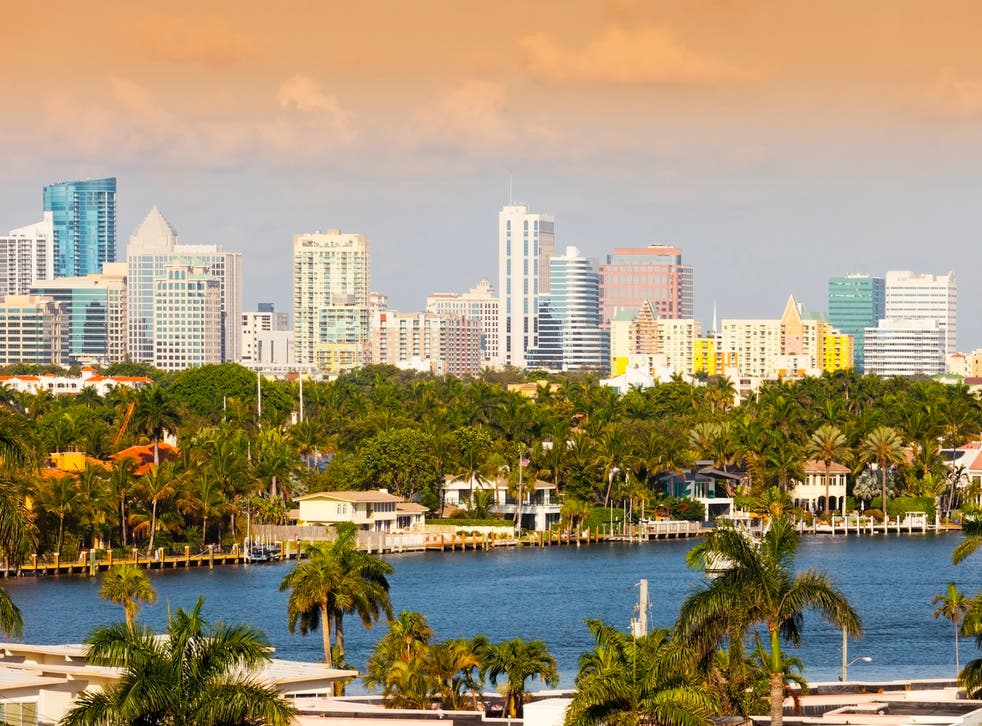 Fort Lauderdale city guide: Spend a weekend in the Venice of America
From soaking up some rays to hitting the Everglades, here's how to spend 48 hours in this low-key Florida destination that's on the up and up
Why go now?
Say you're off to Fort Lauderdale, and you'll likely get more than one response along the lines of, "Oh, great! Um… Where is that again?" It isn't too surprising; this beachside city smack bang in the centre of Florida's Gold Coast is somewhat overshadowed by its loud, brash next-door neighbour, Miami. If it's previously gone under the radar though, Fort Lauderdale is about to get a significant boost; British Airways has a new direct route from London Gatwick to Fort Lauderdale that launched in July. FL's laid-back charm, year-round sun and competitive prices just got more accessible.
Get your bearings
Forty minutes' drive north of Miami, Fort Lauderdale is the more demure, less expensive big sister to the blow-out party town.
The city sprawls up the coast, with gold sandy beaches and the warm waters of the Atlantic separated from inland FL by a network of intracoastal canals – not for nothing is this city known as the Venice of America. The main strip is Las Olas Boulevard (1), a hub for dining, drinking and shopping, which runs from downtown FL out east to the beach.
The tourist office (2) (001 954 765 4466; sunny.org) is just north of Las Olas on NE Third Avenue; it's closed on Sundays.
Day one
Take a hike
Fort Lauderdale is not a particularly pedestrian-friendly city, mainly because of its sheer size; but, having said that, you can see some of the prettiest bits on foot. The Riverwalk (3) (goriverwalk.com) is a quiet path that runs along part of the Tarpon river. Start inland at the westernmost end that leads off SW Fourth Ct (4) and meander east, savouring the beautiful views of the river along this mile-long trail. It finishes on Las Olas Boulevard (1) – turn right and continue east along the main strip, ducking into outrageously gaudy art galleries and beachy boutiques along the way.
Keep walking almost as far as the beach and turn left onto Las Olas Circle (5), where you'll find a stop for the water taxi (6).
Take a ride
There are a variety of ways to get around FL – you can flag down the Sun Trolley (suntrolley.com) which runs all day for $1 a ride, with various routes going up and down Las Olas, around Downtown and to the north of Fort Lauderdale beach. There are also various taxi services as well as the ubiquitous Uber. But for the true FL experience, hop onto a Water Taxi (watertaxi.com) wherever possible. There are several services that explore the canals and, while it's not the quickest way of getting around, it is by far the loveliest.
Get on at Water Taxi stop 8 (6) and alight at stop 5, the Hilton Marina and Convention Centre (7). An adult ticket costs $26 for unlimited rides all day.
Lunch on the run
From stop 6, cross the road to Market 17 (8) (001 954 835 5507; market17.net), a farm-to-table restaurant and bar offering up such delights as royal red shrimp mac and cheese, boards of housemade charcuterie, and grilled local cobia with squid ink fregola pasta. Opt to sit on the patio, pleasantly shaded by palm fronds, and consider jazzing up lunchtime with one of Market 17's signature cocktails. The avotini blends cucumber organic vodka, avocado, pineapple, ginger, lemon and lime juice and agave nectar – basically your five-a-day.
Cultural afternoon
Hop on a trolley or catch a taxi towards FATVillage (9) (001 954 760 5900; fatvillage.com), Fort Lauderdale's art district. For those lucky enough to be in town on the last Saturday of the month there's ArtWalk, an all-day event which sees local contemporary artists throw open the doors to their studios and galleries to let visitors have a snoop around. There are also food trucks, musicians and an artisanal market to imbue a fun, festival atmosphere.
A 15-minute walk south brings you to NSU Art Museum (10) (001 954 525 5500; nsuartmuseum.org). This modern art museum features numerous rotating exhibitions – running until 8 October is "Human Animals: The Art of the Cobra", exploring Cobra artists' innovative use of animal images. Open 11am-5pm Tuesday to Saturday, 12-5pm Sunday, closed Monday; admission $12.
An aperitif
Las Olas Boulevard (1), the city's main boardwalk, is dotted with watering holes for a pre-dinner drink. American Social (11) (001 954 715 1134; americansocialbar.com) has an extensive drinks list, with over 40 craft beers on tap. Enjoy a local IPA with a side of classic Americana: comfy booths are strewn with US flag cushions and the walls are bedecked with old covers of Life magazine.
Royal Pig (12) (001 954 617 7447, royalpigpub.com), meanwhile, offers bespoke cocktails in more sophisticated surroundings. High, arched ceilings, dark-wood bar stools and intimate lighting make for a cosmopolitan backdrop in which to enjoy a Lazy Pig – muddled cucumbers and lime shaken with Nolets Gin and St Germaine elderflower liqueur.
Dine with the locals
Louie Bossi (13) (001 954 356 6699; louiebossi.com), also on Las Olas, is an upmarket Italian that prides itself on using traditional ingredients to cook up founder Louie Bossi's authentic recipes. Bag an outside table to experience the pretty courtyard, complete with several tables inside ornate, birdcage-like summerhouses. The melt-in-the-mouth charcuterie platter comes with plump Sicilian olives, while the mozzarella tasting board is lifted by the addition of truffle honey, roasted Marcona almonds and dried fruit. For mains, the Paccheri pasta – mixed mushrooms and mascarpone – sounds simple but is swoon-worthy.
Day two
Out for brunch
Head to Colada (14) (001 954 368 4705; coladahouse.com), a hip café serving Cuban-inspired breakfast items and excellent Cuban coffee. If you're in the mood for savoury, it doesn't get much better than huevos benedicto – Cuban biscuit topped with roast pork, poached eggs, papitas and black bean hollandaise sauce. For those with a sweet tooth the tres leches waffle stack topped with guava whipped cream and powdered sugar is weird yet wonderful.
Walk in the park
You can't walk in it, strictly speaking, but the Everglades is a must-visit national park half an hour's drive from Downtown FL. Sawgrass Recreation Park (15) (001 954 389 0202; evergladestours.com) offers half-hour airboat tours of this amazing habitat. The swamp-like shallow water, lined with sawgrass and cat tails, is teeming with wildlife, from damselflies to egrets, blue herons to ospreys. But that's not the main attraction. This is 'gator country – and on a warm day you'll see them basking in the sun. Airboat rides cost from $20.95 per person or $250 for an hour-long private tour for one to four people; price includes entrance to the onsite wildlife centre, where you can hold a baby alligator and pet a tiny fennec fox.
Window shopping
Just 10 minutes' drive from the Everglades is Sawgrass Mills and the Colonnade Outlets (16) (001 317 636 1600; simon.com/mall/sawgrass-mills). This sprawling shopping mall has over 350 retailers packed inside, and is second only to Disney when it comes to most-visited Florida attractions. It's an outlet mall – high-street brands, designers and department stores alike offer serious discounts to the thousands of shoppers who flock there each day. Swing by Century 21 for labels without the hair-raising price tag; grab cheap, laidback basics at Old Navy; and, for the quintessentially American experience, take a wander through Barneys and Bloomingdale's.
Travel essentials
Getting there
British Airways (0344 493 0787; ba.com) has a new direct service from London Gatwick to Fort Lauderdale. The route operates five days a week, fares from £189 one way.
Fort Lauderdale Hollywood International Airport (17) is located to the south, positioned between FL and the neighbouring town of Hollywood. Many hotels offer free shuttle services from the airport; alternatively a taxi to the Las Olas area costs around $21, or catch a free Sun Trolley, which runs on Saturdays and Sundays from 9am-5pm.
Staying there
The newly opened Hyde Resort and Residences (18) (001 754 212 3083; hydehollywoodbeach.com) is as oceanfront as it gets, plonked right on the beach in Hollywood, just south of FL. It's a condominium hotel made up of spacious one-, two- and three-bedroom apartments, with a ninth-floor pool area and gym. Rates from $239 (£185) per night for a one-bed apartment, room only.
In prime position by Fort Lauderdale beach and just a short walk from Las Olas Boulevard, the Ritz-Carlton (19) (001 954 465 2300; ritzcarlton.com/en/hotels/florida/fort-lauderdale) offers a seventh-floor pool, private pedestrian access to the beach, a top-notch spa and a fitness centre. Doubles from £295, room only.
A three-minute walk from Fort Lauderdale beach is North Beach Hotel (20) (001 954 565 5790; thenorthbeachhotel.com), a clean, modern three-star with spacious rooms, a heated outdoor pool and onsite restaurant. One-bedroom suites sleeping up to four people from £86, room only.
Register for free to continue reading
Registration is a free and easy way to support our truly independent journalism
By registering, you will also enjoy limited access to Premium articles, exclusive newsletters, commenting, and virtual events with our leading journalists
Already have an account? sign in
Register for free to continue reading
Registration is a free and easy way to support our truly independent journalism
By registering, you will also enjoy limited access to Premium articles, exclusive newsletters, commenting, and virtual events with our leading journalists
Already have an account? sign in
Join our new commenting forum
Join thought-provoking conversations, follow other Independent readers and see their replies