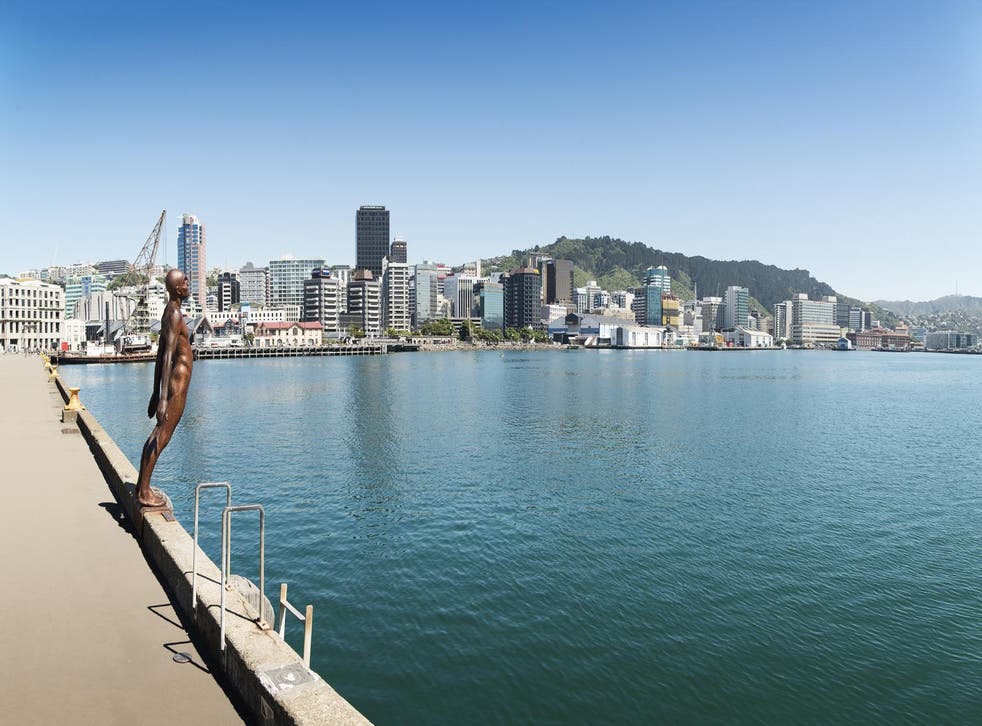 48 hours in Wellington: Hotels, restaurants and places to visit
Explore New Zealand's capital in the summer sunshine
Why go now?
Thriving Wellington is a perfect city to escape to during the Northern Hemisphere's winter. January features international cricket, while 6 February is Waitangi Day – which commemorates the ratification of the Waitangi Treaty, which enshrined citizenship rights for Maori people and is a de facto national day for celebrating New Zealand's European and Pacific heritage. And until 2018 the acclaimed Gallipoli – The Scale of Our War exhibition at the Te Papa Museum (1) (tepapa.govt.nz) looks in detail at the Anzac's role in this bloody First World War battle.
Get your bearings
New Zealand's capital is at the very southern tip of the North Island. This is a small city and practically everything in the downtown district is in a stright line between the mountains that rise to the west and the bay to the east. The suburbs spread as the bay widens out, with the airport (2) on a small flat plate of land to the south east. Ferries to Picton on South Island run from the ferry port (3) just north-east of the city centre.
Trolleybuses run in central Wellington, but the chances are you won't need to use them much as it's so walkable. You can get a Snapper card from newsagents (snapper.co.nz) to reduce a central bus zone ride from NZ$2 (£1.18) to NZ$1.66 (£0.98) and top it up at will.
The main tourist information centre is called i-Site (4) (wellingtonnz.com), and is located on the corner of Victoria and Wakefield Streets in the city centre. Open 8.30am-5pm daily.
Day one
Take a view
Follow the curve of the bay down to the small beach at Oriental Bay (5) and from there you'll see Mount Victoria (6) rising above the city. If you're feeling fit, you can yomp up to the summit; there are various bike and walking routes, including pleasant woodland strolls.
Mount Victoria also gives its name to the neighbourhood of streets to the west of the mountain that are home to Wellington's cool crowd, including comedy duo Flight of the Conchords, who you can still see out and about in town.
Take a hike
A northern arc of a stroll allows you to take in practically all of central Wellington's main sights. After descending Mount Victoria and checking out the colonial houses on Marjoribanks Street, you can see the Art Deco Embassy Theatre (7) on the corner with Kent Terrace. Turn right on to Oriental Parade and you'll come across the graceful heft of the Wellington City Fire Station (8).
Continue straight ahead to Clyde Quay Wharf (9), where you'll find a pop-up sauna in an old shipping container with a diving board that lets you launch yourself straight into the freezing cold sea after your 15 minutes of heat.
Double back and turn right along Wellington Waterfront Walk, following it until you cross a bridge, turning left immediately afterwards and joining Harris Street. To your left are steps, which will take you to Civic Square (10), one of Wellington's main public meeting spots.
Exit on to Victoria Street and cut down Chews Lane to Willis Street, which, if you head right along it, becomes Custom House Quay. You'll pass many of the city's skyscrapers along this street. Go left at Bunny Street and you'll see the city's fine old railway station (11).
Diagonally opposite is the unmistakable sight of the Parliament building (12). There's an original colonial building connected to a dramatic 1960s extension affectionately called "the Beehive" by Wellingtonians, and designed by a Scot, Sir Basil Spence. Tours of Parliament are available daily (10am to 4pm; parliament.nz).
Lunch on the run
Various Kiwi celebs have signed the plates that hang on the wall at Monsoon Poon (13) at 12 Blair Street, though to be perfectly honest I was pushed to recognise the names of any of them. No matter, it's an informal and fun lunch joint proferring an odd but enjoyable mix of Indian, Thai, Malaysian and Chinese food. The beef rendang is very good, likewise the butter chicken (moonsoonpoon.co.nz; open daily 11am to 10pm).
Window shopping
Wellington Underground Market (14), below Frank Kitts Park at Jervois Quay, runs officially from 10am to 4pm every Saturday (undergroundmarket.co.nz). You can pick up clothes, jewellery, ornaments and food – and there are live tunes.
An aperitif
Kiwis are crackers for craft beers, and the hottest name on everyone's lips right now is The Garage Project (15) at 68 Aro Street (garageproject.co.nz), where they brew everything from IPA to pilsener, and you can sip it all in a default hipster setting (found furniture, white tiles, exposed steel and wood, lots of beards). Open Friday and Saturday 10am-9pm, Sunday to 7pm, Monday 2pm-6pm, Tuesday-Thursday 12pm-8pm.
Dine with the locals
Some restaurant reviews can be rather off in real life but if you don't like the whole lamb shoulder (find some friends to share with) at The Bresolin (16) at 278 Willis Street (thebresolin.co.nz) I'll eat my hat – or maybe just the rest of your dinner. Cooked for 12 hours by a team led by Wellington superchefs Leonardo and Lorenzo Bresolin, it's some of the best lamb I've ever stuck a fork into. Book ahead for Saturday nights – and dress up. Open weekdays 7am-11pm, weekends 9am-11pm.
Day two
Sunday morning: out to brunch
Olive (17) at 170 Cuba Street (oliverestaurant.co.nz) is popular among Wellintonians for its extravagant brunches (tiramisu waffles with boysenberry compote, vanilla mascarpone and coffee syrup) and sophisticated air.
A walk in the park
A cross betweena a zoo and a park, Zealandia's (18) aim is to preserve the landscape of Wellington in a time capsule before settlers arrived here and changed the natural set up. A beautiful place for a walk, its 225 hectares are packed with plants. You'll find it on Waiapu Rd (visitzealandia.com).
Alternatively, hire a car and head out of town to the Wairarapa, a region of spectacular scenery, with vineyards, fields and walks along the river valleys. It's all sheltered by the Rimutaka Mountains, which locals comically refer to as "the hill". creating a warm, dry microclimate a world away from "Windy Welly". Don't want to drive? No problem. There's a cycle trail running from Wellington to the Wairarapa over the Rimutaka mountains (wairarapanz.com/rimutakacycletrail).
Cultural afternoon
Wellington is famous for its films, comedy and literature. Visit the Tinakori Road home of one of the city's most talented scribes, Katherine Mansfield (19), known for writing The Woman At The Store and Prelude (katherinemansfield.com). It was built in 1888 and has been restored to how it would have looked back in Mansfield's day.
The icing on the cake
Chances are if you've come all the way to New Zealand, you're not just spending time in Wellington. The railway journey north from the city is one of the world's greatest, packed with tunnels that plough through mountains and tracks that wend their way round cliffs and thread between valleys over huge viaducts.
Kiwirail's Northern Explorer service (kiwirailscenic.co.nz) runs four times a week as far as Auckland (12 hours; singles from NZ$179/£106), or you could hop off at Ohakune for the spectacular mountains, Ruapehu, Ngauruhoe and Tongariro, and return to Wellington the following day.
Travel essentials
Getting there
The writer flew with Singapore Airlines (singaporeairlines.com), which serves Wellington from Heathrow via Singapore and Canberra four times a week. It also flies from Manchester.
There are no one-stop flights from the UK to Wellington. Other carriers offering two-stop services include Air New Zealand (airnewzealand.co.uk), Qantas (qantas.com.au) and Emirates (emirates.com).
From the airport (2) a taxi takes 20 minutes into town NZ$44 (£26) – though ask for the scenic route via the bay rather than the tunnel (NZ$9/£5.30 extra and 10 mins longer) – while the Airport Flyer bus takes around 45 minutes to get to the stop on Queensgate (NZ$9/£5.30; metlink.org.nz).
Staying there
QT Museum Wellington (20) at 90 Cable St (qthotels.com.au) is about to launch as the Aussie design-focused brand's first overseas venture. It's set within the old Museum Hotel building, a local landmark which was jacked up and moved 100 yards on rails from its original home when the Te Papa Museum (1) was being built. Wellington's hippest hotel by miles. Doubles from NZ$250 (£147), room only.
Quest on Thorndon (21) (questonthorndon.co.nz) is a cool little hotel on Thorndon Quay, a stone's throw from Wellington's waterside, with a friendly vibe. Doubles from NZ$222 (£131), room only.
Halswell Lodge (22) at 21 Kent Terrace (halswell.co.nz) is an affordable option in the centre of town with free wi-fi and parking. It's within walking distance of all the major attractions. Doubles from NZ$100 (£59), room only.
Click here to view our New Zealand Tour, with Independent Holidays
Join our new commenting forum
Join thought-provoking conversations, follow other Independent readers and see their replies