The Independent's journalism is supported by our readers. When you purchase through links on our site, we may earn commission.
48 Hours in Athens: hotels, restaurants and places to visit
Athens is too often overlooked in favour of the Greek islands, but with its fabulous August festival and proximity to the newly hot Peloponnese peninsula, it's time to take notice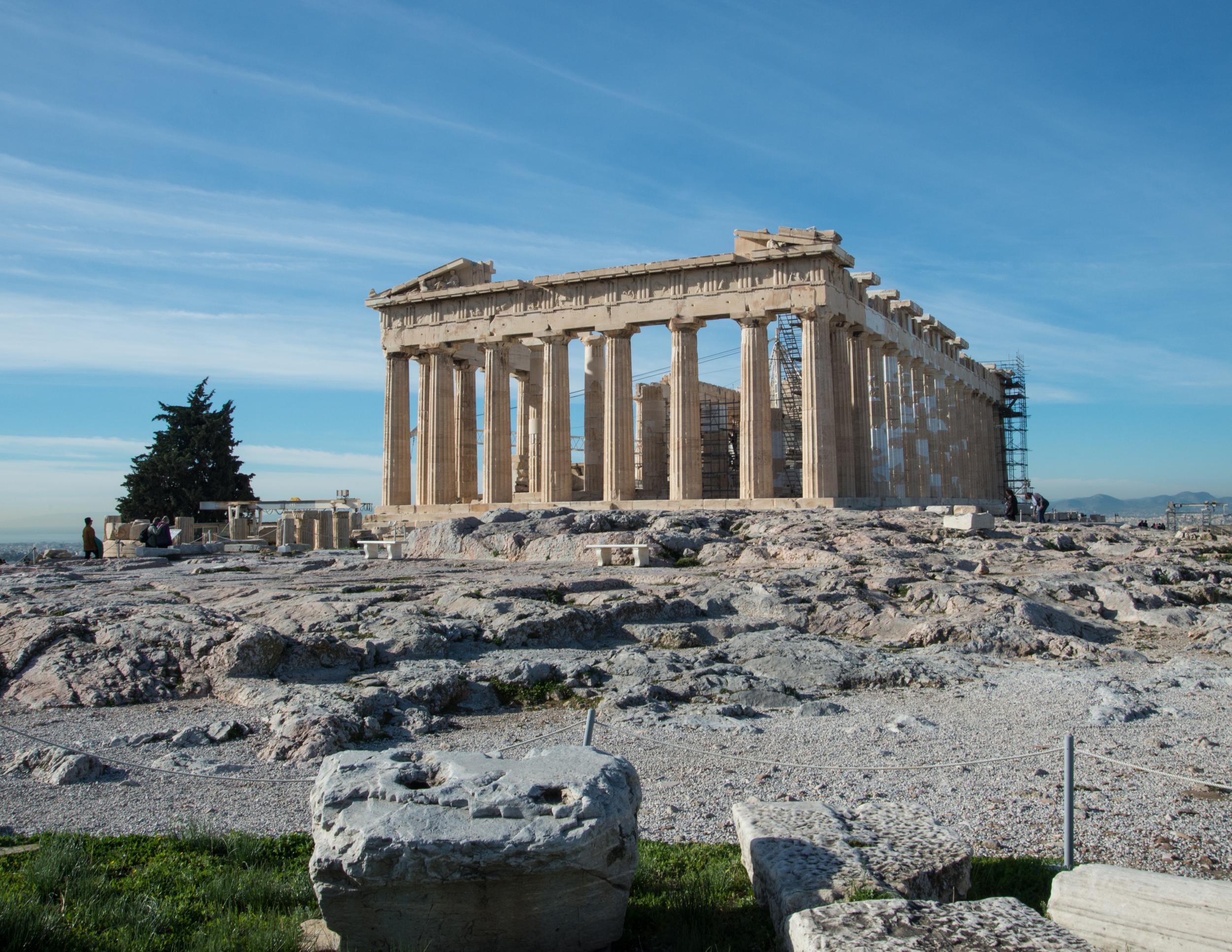 Travel essentials
Why go now?
The Greek islands are renowned as summer hotspots, yet the capital is rarely seen in the same light. But Athens is a fine prospect in August, a starting point for twin-centre holidays which also visit the nearby Peloponnese peninsula, 50 miles to the west and - with a wealth of untouched little villages and ports - a rising star itself. The Athens and Epidaurus Festival (00 30 210 327 2000; greekfestival.gr), a feast of drama, dance and music staged at various venues, continues through the month.
Touch down
Eleftherios Venizelos Airport (1) (00 30 210 353 0000; aia.gr) is 17 miles east of the city. It is linked to the UK by Aegean Airlines (0871 200 0040; aegeanair.com) from Heathrow and Birmingham, and by British Airways (0344 493 0787; ba.com) from Heathrow. easyJet (0330 365 5000; easyjet.com) flies direct from Edinburgh, Manchester and Gatwick, while Ryanair (0843 504 7252; ryanair.com) offers a connection from Stansted.
Line Three of the Athens metro ties the airport to the heart of the matter, including central stations Monastiraki (2) and Syntagma (3), in 40 minutes; single fares are €10 (returns within 48 hours are €18). Airport bus X95 makes the journey to Syntagma Square (3) in 50 minutes, for €6. Taxis take 40 minutes at fixed rates of €38 in the daytime and €50 between midnight and 5am.
Get your bearings
Athens is located almost at the south-east corner of the Greek mainland, and is the capital of the Attica region as well as the country. It spreads out, as it has for at least 7,000 years, around the Acropolis (4) – its landmark rock bluff, crowned by the Parthenon (5) temple since 447BC.
It is easily explored on foot – although the three-line, 65-station metro system covers the city in detail. Single tickets for all journeys in the centre (metro, buses, trams; 00 30 214 414 6400; stasy.gr) cost €1.40, 24-hour passes €4.50. A tourist information kiosk (6) is open on Amalias Ave Dionissiou Areopagitou Street, daily 9am-9pm, between May and September (00 30 210 321 7116; thisisathens.org). A year-round kiosk is available at the airport (1) (daily 8am-8pm; 00 30 210 353 0390). Further details can be found at visitgreece.gr.
Check in
The Hermes Hotel (7) is a three-star close to the heart of the action at 19 Apollonos Plaka in Plaka (00 30 210 323 5514; hermeshotel.gr), with a cool bar and a children's play room. Double rooms from £64, with breakfast.
St George Lycabettus (8) is a boutique gem - with a glorious rooftop pool - on the lower slope of Lycabettus Hill, above Kolonaki (2 Kleomensus Street; 00 30 210 729 0439; sglycabettus.gr). Doubles from €88, room only.
Hotel Grande Bretagne (9) (00 30 210 333 0000; grandebretagne.gr) is the five-star king of Syntagma Square (3) – all 19th-century echoes, with doubles from €230, room only.
Day one
Take a hike
Begin a morning wander into antiquity in central Monastiraki Square (2). Stroll south on Areos, past Hadrian's Library (10), a seat of learning from the Roman era that was built in 132AD. It still stands firm, all staunch columns.
Find more of the same as you go south on Dioskouron – where the Roman Agora (11) was one of the city's focal points in the 1st century BC. The Tower Of The Winds, a grand marble clocktower, is still visible.
From here, cut west on Polignotou, and take the path around Areopagus Hill. This gives a leafy view of the Acropolis. Continue to pedestrian drag Dionysiou Areopagitou, and follow it clockwise to number 15 – where the Acropolis Museum (12) is a treasure trove of ancient heritage (00 30 210 900 0900; theacropolismuseum.gr; entry €5). Open daily 8am-8pm (Monday to 4pm; Friday to 10pm), it makes a case for the return of the "Elgin Marbles" – the reliefs which were chiselled from the Parthenon (5) by aristocratic magpie Thomas Bruce from 1800 to 1803. A gallery displays the carvings which survived this act of appropriation – alongside replicas of those that currently reside in the British Museum.
A walk in the park
The main entrance to the Acropolis (4) (00 30 210 321 4172; odysseus.culture.gr; daily 8am-8pm; €20) is directly opposite the museum on Dionysiou Areopagitou. You need at least two hours to explore this craggy wonderland, hiking up towards a date with the Parthenon (5), the temple to the city's patron ancient goddess, Athena. It ranks as an epic symbol of civilisation, as does the Theatre of Dionysus Eleuthereus (13), on the south side of the hill. Dedicated to the ancient Greek god of drama and wine, this 4th century BC auditorium held 17,000 people in its heyday – and retains its splendour in the present.
Lunch on the run
The eateries on nearby Makrigianni are tourist traps, but Yard Cafe (14) at No 17 (00 30 210 923 9792; yardcafe.blogspot.co.uk) is a solid pitstop, serving dishes such as pork fillet with figs for €12.
Window shopping
Ermou is the city's main pedestrian drag. Le Chocolat – Matsouka (15), at No 18 (00 30 210 331 8010; chocolat.com.gr), is a hive of olive oils, wine and Greek produce, as well as fancy chocolate.
The chic Kolonaki district, meanwhile, has some of Athens' best stores. Home décor specialist Box Architects (16) at 9 Charitos (00 30 210 724 8600; boxarchitects.gr) sells lights and lamps in an array of shapes. Jack In The Box (17) at 13 Charitos (00 30 210 725 8735; jackinthebox.gr) is a superb toy shop, full of tricycles and cuddly bears.
An aperitif
Set parallel to Ermou, Kolokotroni is an avenue abuzz with bars. Booze Cooperativa (18), at No 57 (00 30 211 405 3733; boozecooperativa.com), is one of the liveliest; part watering hole, part gallery, with modern artworks on the walls and craft ales for €4.
Dine with the locals
Thissio has many food options on the narrow lane of Herakleidon. The Sowl (19), at No 10 (00 30 210 345 0003; thesowl.com), is a Latin hotspot that dispenses a citrus-heavy seabass ceviche for €10.60.
Psirri is a maze of restaurants. Oineas (20) at 9 Aisopou (00 30 210 321 5614; facebook.com/oineas) serves modern Greek fare, including grilled octopus for €9.50. Liosporos Jazz Cafe (21), at 24 Miaouli (00 30 213 024 9151), clings to Greek traditions – such as soutzoukakia (minced lamb with tomatoes and basil) for €6.
Day two
Sunday morning: go to church
A religious jewel on Plateia Mitropoleos, the Metropolitan Cathedral (22) (00 30 210 322 1308; daily 7am-7pm; Sunday mass at 6.30am) is one of the city's most important buildings. It was one of the first landmarks constructed in the capital after Greece wrested itself away from Ottoman control in 1829 – built between 1842 and 1862, using masonry from 72 demolished churches, as a statement of national identity. A place of contemplation, it holds the tombs of two saints (Philothei and Gregory V of Constantinople) who were killed under Turkish rule. Adjacent, the Mikri Mitropoli (23), a tiny church, dates to the 13th century.
Out to brunch
Grab a bite next to the cathedral at Commerce (24) (00 30 210 322 5533) at 5 Evangelistrias, one of a clutch of eateries on this Monastiraki street that are raising their level above photos-on-menu mediocrity. A plate of grilled Crete sausages with sour cabbage is €9.
Cultural afternoon
If you want to experience more of the past, the National Archaeological Museum (25), at 44 Patission, in the slightly more northerly Exarcheia area (00 30 213 214 4800; namuseum.gr), is an Athens essential. Open daily 8am-8pm (€10), it has been a shrine to Ancient Greece since 1889. Exhibits include the Artemision Bronze – a sculpture of (probably) Zeus that was discovered in a shipwreck off the country's northern coastline in 1926 – as well as the Mask of Agamemnon (a gold funeral mask, dated to 1,500BC, which supposedly belonged to the Mycenaean king who commanded the Greek forces at Troy).
To glimpse a more modern side of the city, try the Technopolis City of Athens (26) at 100 Pireos Street in the Gazi district (00 30 210 347 5518; technopolis-athens.com). A 19th-century gasworks reimagined as a hotspot of music and art, it includes the Industrial Gas Museum (daily except Monday, 10am-6pm; €1), which preserves machinery of this oil-rag era. It also has the Skywalk, an aerial nest of suspended bridges and walkways (daily 10am-10pm; free).
Take a view
Rising to 908ft (277m), north-east of the centre, Mount Lycabettus (27) offers a wide snapshot of the city. You can approach the summit on foot, taking the trail which presents itself on Kleomenous, to the rear of the St George Lycabettus hotel (8) – an upward route which is awash with cacti and slow-moving tortoises. Or you can take the funicular - its base station waits at Aristippou 1 (28) (daily 9am-2.30am; €3.50 each way). This saves on shoe leather, though you have to walk up steep Ploutarchou to find it. The 19th-century Chapel of St George is a whitewashed joy on the hilltop.
The icing on the cake
Elsewhere on the summit, you can take in the sunset from the terrace at Orizontes Lycabettus (00 30 210 722 7065; orizonteslycabettus.gr) – a seafood specialist serving specialities including sautéed sea bream in citrus sauce for €19.
Click here to view our Classic Greece Tour, with Independent Holidays
Join our commenting forum
Join thought-provoking conversations, follow other Independent readers and see their replies