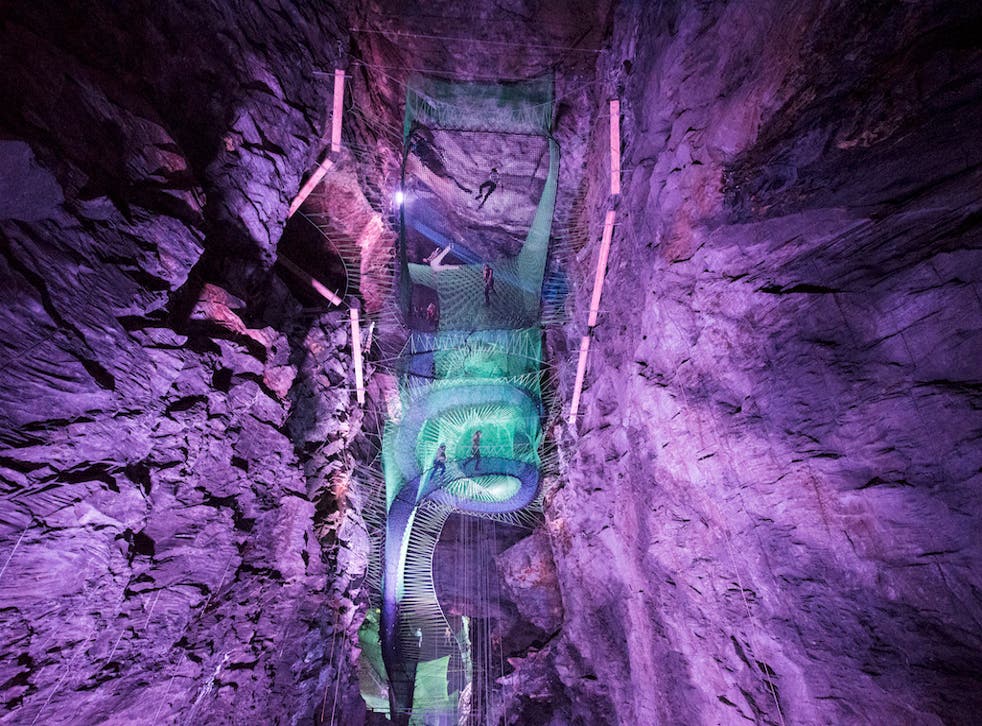 Snowdonia's transformation from sleepy park to adrenaline junkies' paradise
The Welsh national park has shaken off its gentle image and embraced hardcore adventurers
Once upon a time, sleepy Snowdonia lured visitors with hill walking, slate mine tours and steam railways.
It was hardly a place for the thrill-seekers of this world. Nowadays it's become the UK's adrenaline junkie capital, offering a feast of ground-breaking and world-class extreme adventure pursuits.
Visit the Welsh national park for the only inland surf lagoon, fastest zip wire and highest powerfan on the planet – and that's just for starters. If it's thrills and challenges you're after, here are eight activities which prove your next action-packed break should be in North Wales. Snowdonia sleeps no more…
Go four it
Slide down in unison with friends or family on Europe's first four-man zipline (zipworld.co.uk). You descend in parallel down three wires totalling 2km in length – but if you don't beat your teammates down the first time, you'll have another chance. Instructors at Titan say the trick to flying down faster is to roll up as tightly as possible. Just don't miss the fantastic views over the historic mining town of Blaenau Ffestiniog and the surrounding lakes and valleys.
Surf's up
There's no need to hang around for the perfect wave at the world's first inland surf lagoon, where mechanically created ones flow every three minutes. Surf Snowdonia (surfsnowdonia.com) features a 300m-long fresh-water lagoon, built on the site of a derelict factory in the tiny village of Dolgarrog. Hard-core surfers can enjoy head-height waves which peel perfectly for 150m, while beginners can hone their skills in the white water dregs.
Lessons are available, or the more experienced can head off under their own steam. If you're surfed-out, have a go on the hilarious Blob instead. One person sits on the end of a huge air-filled pillow while another leaps off a 4m-high platform onto the other end, catapulting them into the water.
Going underground
Forget hiking up mountains – go through them instead. You can climb, dangle, sail and zip deep underground in a former Victorian slate mine on a Go Below adventure (go-below.co.uk). The action-packed subterranean assault course near Blaenau Ffestiniog includes scaling a waterfall, crossing an abyss, ascending a vertical shaft and abseiling down to what they claim is the deepest point in the UK. The cavern has the longest and deepest network of zip lines in the world, and culminates in a stomach-churning 21m-free fall jump. How low can you go?
Fly like a bird
Snowdonia likes to break records, and Velocity (zipworld.co.uk) is both the world's fastest zip line and Europe's longest. It's arguably the most unique too, as you zip lying flat, face down and head first, rather than upright. You soar at speeds of more than 160km/h while dangling 150m above Penrhyn Quarry lake. The attraction claims that "it's the closest you'll come to experiencing what it's like to fly" – you have 1.6km of zip line to decide if it's true. Dare to keep your eyes open, and you could be treated to spectacular views as far as Anglesey and the Isle of Man.
Swing low
Europe's highest and first five-seater giant swing hoists daredevils over 80ft high into the air. Skyride (zipworld.co.uk) swings out over the Zip World Fforest Caffi, with magnificent views of the Conwy Valley far below.
Wet and wild
Have a go at riding waves and dodging boulders on nature's very own rollercoaster. The National White Water Centre (canoewales.com) offers white water rafting on the River Tryweryn, which is dam-controlled – so it often has frothing torrents when other rivers are dry. The hardcore can go a step further and try the orca adventure, navigating rapids in a small two-man inflatable canoe.
All time low
Slip on a wetsuit, scramble into a gorge then skid, skim and swim for it. Based in a wild ravine, Canyon Xtreme (snowdoniaadventureactivities.co.uk) is a step-up from ordinary canyoning, with extra-long slides down rock ledges, an abseil or zip wire off a waterfall and a 50ft-jump. Along the way you'll also be clambering over boulders, paddling through rocks and dive-bombing into plunge pools. Die-hard adventurers only need apply.
Jumped up
The 171-year-old Llechwedd slate mine has been skilfully converted into the world's first giant underground trampoline park. Don't let the red jumpsuits, net overshoes and hard hats you're given – or the quaint train ride down, a legacy of the quarry tours which once took place there – lull you into thinking that this is for the mild-mannered.
Once down under in Bounce Below (zipworld.co.uk), you're let loose in a cathedral-sized cavern containing six layers of bouncy net surfaces, all linked by narrow aerial bridges, steep walkways and terrifying sheer-drop chutes. Just in case anyone still thinks they're on a slate mine tour, a technicolour LED light show and blaring music remind you you're most definitely in the 21st century.
More information
Register for free to continue reading
Registration is a free and easy way to support our truly independent journalism
By registering, you will also enjoy limited access to Premium articles, exclusive newsletters, commenting, and virtual events with our leading journalists
Already have an account? sign in
Register for free to continue reading
Registration is a free and easy way to support our truly independent journalism
By registering, you will also enjoy limited access to Premium articles, exclusive newsletters, commenting, and virtual events with our leading journalists
Already have an account? sign in
Join our new commenting forum
Join thought-provoking conversations, follow other Independent readers and see their replies