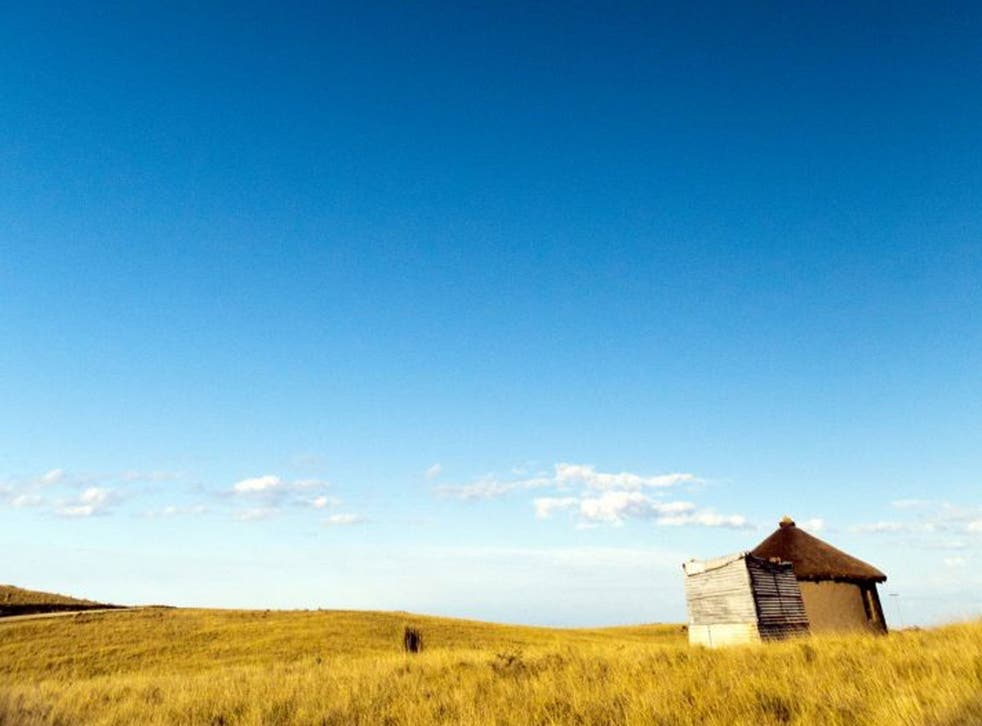 From West to Wild: A coastal adventure in South Africa
Sarah Morrison gives herself no time to dawdle on an astonishing six-day drive from Cape Town to Durban
Sarah Morrison
Saturday 01 February 2014 21:00 Comments
Most people gave me one piece of advice when I told them I was planning to drive across South Africa, from Cape Town to Durban along scenic coastal roads, in a little less than six days. "Don't do it," they said.
This is not because the journey – which at 1,650km is the equivalent of driving from London to Aviemore and back – is not worthwhile. In fact, it is one of the world's most beautiful road trips. You pass through densely vegetated stretches of countryside, by purple-tinted mountains, alongside sandy beaches and national parks. One road – the N2 – guides you almost all the way from the lush and developed West Coast to the vast rolling hills of the rural Wild Coast, where you are more likely to see bulls protecting traditional mud huts than you are to meet a tourist with a Lonely Planet guidebook.
No, the reason for their trepidation was that this is a road trip that's hard to rush. To cover the distance in less than a week you have to be committed to spending a lot of time in your car – and to battling road works. As you get further east, you will become expert at avoiding pot holes, fearless drivers (who overtake constantly) and roaming wildlife.
Most people opt instead for a trip along South Africa's Garden Route, which spans a couple of hundred kilometres from Mossel Bay to the mouth of the Storms River, in the Eastern Cape province. But while this offers landscapes of spectacular beauty, you will not come away with the same insight into South Africa.
No, you have to go the whole distance. The country that boasts the most powerful economy on the continent also has one of the globe's most unequal societies. The Rainbow Nation is home to more than 50 million people speaking 11 languages – yet, as it celebrates two decades free from apartheid and still mourns the loss of Nelson Mandela, almost one in two South Africans remains poor, and one in four is unemployed.
To witness the country's complexities first-hand, you could do far worse than drive from Cape Town to Durban and simply look around. Households in Cape Town, the capital of the Western Cape, have double the average income of those living in any of my stop-offs in its eastern counterpart, according to the 2011 Census.
South Africa's economy might be growing at an average of three per cent annually, but it also has the second-highest degree of inequality in family income distribution in the world.
While the Western Cape has the lowest unemployment rate in South Africa (around 23 per cent), in the Eastern Cape unemployment is estimated to be at almost 31 per cent. The census also indicates that Western Cape has the highest number of households with a computer, a refrigerator and the energy for lighting. The Eastern Cape, which is roughly the size of Uruguay, has the lowest.
One of my first meals in Cape Town was at the trendy, healthy eatery The Kitchen, which Michelle Obama visited on a recent trip. One of my last in South Africa was at a hand-carved table situated on a cliff in the Xhosa village of Lubanzi, on the Wild Coast two hours from the nearest major highway. It is the latter I remember most distinctly: after weaving for hours around looping roads I reached the remote village and ate my home-made food overlooking the sea from a hand-made wooden bench on top of a jagged cliff.
But let's start at the beginning. I left Cape Town in a rental car and headed inland on the N2. It took just over five hours to reach the Outeniqua Mountains, near Sedgefield. The lure of tree houses had bought me to Teniqua Treetops, home to eight hand-carved tree houses resting on stilts high up in the protected forest.
Motivated by a desire to "ensure the long-term sustainability of the forest" while "leaving the smallest environmental footprint", husband and wife Vivian and Robyn Patz have created a sustainable home like no other. Guests can stay in any of the treehouses in the resort – all are so remote that privacy is no issue. They have solar geysers, piped rain water and compost toilets.
Take a bath and you'll notice the cola-coloured water – a result of the tannin in the fynbos shrubland. Night brings total darkness and the howls of the wind against the trees. Morning brings the sound of birds.
There are plenty of river walks and hikes for those who have a few days to spend in the forest – 1,000-year-old milkwood trees, towering yellowwoods, candlewoods and saffrons are all found nearby. But for those, like me, anxious to reach their next destination, Nature's Valley – a jewel of the Garden Route – is just under two hours' drive away.
Tucked away in the Tsitsikamma National Park, surrounded by coastal forest and the Indian Ocean, Nature's Valley is the only residential area within any of South Africa's 21 national parks. The area is known for its lush forests, golden beaches and secluded lagoons.
It also marks the end of the five-day 42km otter trail – a hiking path along the Garden Route whose name refers to the African clawless otter, which is found in this region. Just make sure you bring everything you need; there is one shop in the valley and no banks.
You can stay here – there are cottages to rent and a lovely hippie backpackers' hostel, known as Wild Spirit. Or you can drop your bags in neighbouring Plettenberg Bay, around a half-hour's drive before you reach the valley.
I spent one night at Emily Moon River Lodge, a family-run place with space for 20 guests, which looks out over the southern bank of the Bitou River. It is owned by Mark and Christine Valentine. They have made a shrine to the artefacts they have picked up on their extensive travels through Africa and India. The carved door to the popular restaurant comes from Rajasthan, the wooden fish on display are from Cameroon, the bright umbrellas from Bali.
Mark's parents, Simon and Diane, run the place, and ornately framed family pictures decorate the restaurant. The lodge's name is inspired by the story of the fictional character Harry Mallard – who promised to return to Emily Moon once he'd found paradise. Guests can paddle the hotel's kayaks out on the river, or simply while away the days by the pool.
Once rested up, I prepared for my longest journey yet – reaching the Wild Coast, deep in the rural Eastern Cape, which takes around six hours by car – on a good day. This part of my trip was the most sparsely developed. Modern lodges are replaced with traditional rondavels – huts with thatched roofs.
If you plan, as I did, to visit the towns dotted along the coastline, a small rental car won't cut it: I was driving in the smallest car the hire company offered – and had to get picked up in a 4x4 as I got closer to the rural villages.
There is one five-star hotel in the Xhosa village of Chintsa East, on the edge of the Wild Coast. It is so idyllic in its seclusion that it houses only seven suites. Prana Lodge has its own Thai spa and is situated in the middle of a deep forest alongside Chinsta Bay. It promises "ultimate relaxation and restoration for body and soul".
At times it is so quiet that you might pine for the hustle and bustle you left behind – I soon longed for the noisy villages beyond its doors. But the quality of service, food and the private beach is stunning. I spent much of my time watching dolphins swim past while dipping my toes in the Indian Ocean.
After one night, it was time to move out of five-star comfort. To leave the luxury hotel and head into the former Transkei homeland, a region that became the dumping-ground for black people not required as labour in apartheid South Africa. This is where Mandela was born – in the small village of Mvezo, on the Mbashe River, district of Umtata. The Transkei is an area still characterised by poverty and high levels of unemployment. And yet its desolate beaches, subtropical forest and hidden reefs mean it draws travellers from across the world.
Most head to Coffee Bay – a popular town filled with the sort of travellers who like to drink. Instead, I opted for the quieter town of Lubanzi – said by locals to be "as away from everything as you can possibly be".
To get there, I left the N2 at the Coffee Bay turn-off, then wound around rolling hills until I eventually encountered unmanageable non-paved roads. Happily, I'd called ahead to Wild Lubanzi Backpackers and was picked up in a trusty 4x4 that swept me over the uneven rocky paths. Aiden and Rahel, who renovated the space from scratch, live off grid, with the help of solar power. They can accommodate only 30 people at a time, but have a large, self-catering kitchen (home-made food can also be provided) and a big wooden table to share meals.
Their home, more like a communal house than a hostel, rests on a cliff overlooking the ocean. When I was not relaxing with a book, I walked from Lubanzi to the Hole-in-the-Wall – a celebrated rock formation with a hole through the middle – thought to be caused millions of years ago by the waves ferreting at its side.
The more adventurous hiker can journey to nearby towns in four or five hours, or walk to the Mncwasa river mouth for some bird watching. Just beware the dogs and bulls on your journeys – I was chased by both. Neither seem to know the meaning of the word "tame".
And now for the final stretch. It can take from five to eight hours to drive from Lubanzi to Durban airport. I stayed overnight at Port St Johns – a good stop-off with a variety of accommodation and some great local music bars – but I also got held up on the last stretch of the drive when the motorway was closed at short notice.
On arrival in Durban – with time to spare – the journey all made a strange kind of sense. If you manage it, give yourself a pat on the back. You'll have seen more than any Garden Route traveller. And your motto is almost certain to be the same as mine: "Next time, go for longer."
Travel essentials
Getting there
British Airways (0844 493 0787; ba.com) and Virgin Atlantic (0844 209 7777; virgin-atlantic.com) fly non-stop from Heathrow to Cape Town. South African Airways (0844 375 9680; flysaa.com) flies from Heathrow via Johannesburg to both Cape Town and Durban. Emirates serves both cities via Dubai from a range of UK airports.
Holiday Autos (0800 224 8001; holidayautos.co.uk) offers a week's 4x4 car hire, collecting from Cape Town and dropping off in Durban this month for £250.
Staying there
Teniqua Treetops, Sedgefield (00 27 44 356 2868; teniquatree tops.co.za). Treehouses from R1,265 (£65), room only.
Emily Moon River Lodge, Plettenberg Bay (00 27 44 533 2982; emilymoon.co.za). Doubles from R2,740 (£148), with breakfast.
Prana Lodge, Chintsa East (00 27 43 704 5100; pranalodge.co.za). Doubles from R1,470 (£80), including breakfast.
Wild Lubanzi Backpackers, Lubanzi (00 27 78 530 8997; wildlubanzi.co.za). Doubles from R280 (£15), room only.
More information
Click here to view our South Africa Tour, with Independent Holidays.
Register for free to continue reading
Registration is a free and easy way to support our truly independent journalism
By registering, you will also enjoy limited access to Premium articles, exclusive newsletters, commenting, and virtual events with our leading journalists
Already have an account? sign in
Join our new commenting forum
Join thought-provoking conversations, follow other Independent readers and see their replies