The Independent's journalism is supported by our readers. When you purchase through links on our site, we may earn commission.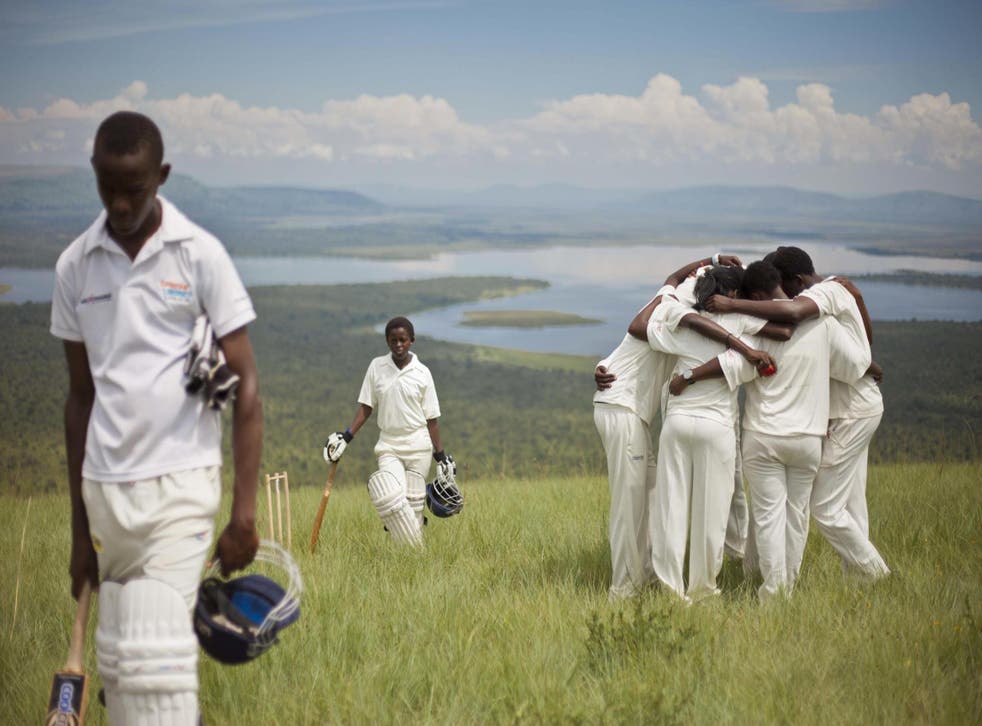 Kigali's cricket scene: How sport is helping Rwanda heal from genocide
As direct flights launch from London Gatwick to Kigali, Mary Holland investigates how cricket is helping Rwanda learn to trust again, 23 years on from the genocide
Standing on the edge of this tree-fringed cricket field, you'd think it's a typical practice ground – albeit one that's a little down at heel. Onlookers sit on pale green grass dotted with brown potholes, their legs sprawled as they watch a young batsman whack a ball to the boundary. The blue, hand-painted scoreboard is old and tired, with score placards that have to be manually changed. There are no floodlights or stadium seats; yet for all this, the pitch is playing host to cricketing royalty.
For cricket captain Eric Dusingizimana and his teammates on the national team, some of whom are applauding the latest play from the sidelines, this is their field too. It is the only one in Kigali, and although it belongs to the technical college (IPRC), it's shared between teams. The field also bears a very heavy weight that has nothing to do with the hefty thwack of leather on willow: it is the very spot where thousands of people lost their lives in a massacre during the Rwandan genocide.
Eric Dusingizimana didn't choose to play cricket because it was a popular sport at school (it wasn't) or because it's his country's national sport (it's not). For most Rwandan boys when he was growing up, the dream was to become a soccer star. But for Dusingizimana, it was the science behind cricket that piqued his interest: friction forces, collision and motion. He was captivated by the relationship between the sport and his studies, mathematics and physics. So he started playing a game that, although it's been around for hundreds of years, was very new to him and his country. Dusingizimana proved to be good at it, too. After joining the Rwanda National Cricket Team in 2008, he went on to become captain, a title he still holds today.
It's an unlikely tale of unlikely events that transpired around an unlikely sport in Rwanda. Despite cricket being among the most popular sports on earth, you'd have been hard-pressed to find a single cricket player in the country before 1994. Today, there are over 15,000, making it the fastest growing sport in Rwanda.
In 1994, post-genocide, the country was drowning in the aftermath of an immense, unfathomable tragedy. Rwanda yearned to heal - but how does a country begin to repair itself after a brutal massacre, when people were robbed of something essential: trust? Rwanda's fast-growing cricket movement began when refugees started returning home from surrounding countries with a new skill – one that involved a bat, a ball and a whole lot of team spirit.
"What's really interesting about cricket is the values it teaches people," says Alby Shale, Founder and Project Director of the Rwanda Cricket Stadium Foundation. "In Rwanda, trust was eradicated in 1994, but cricket has really helped rebuild it." These days, Shale is involved in a whopping project to build Kigali's first cricket stadium, set to be unveiled in October this year.
Dusingizimana has been instrumental in raising awareness and securing funds for the stadium. On 11 May 2016, in an effort to raise money, the cricket captain set out to break the Guinness World Record for the longest individual net session. He began batting at 8am and finished two days later at 11am – which brought his total continuous batting time to 51 hours, raising £15,000 in the process. "It was incredibly hard," he says of the challenge, "but I wanted to raise awareness and money for the cause; to make our dream a reality."
Dusingizimana, a genial and sunny chap, has since become a national hero – his face is plastered across billboards all over Kigali, with the word "legend" emblazoned on them. "Nelson Mandela said: 'Sport has the power to change the world. It has the power to inspire; to unite people in a way that little else does.' That is what sport is currently doing in Rwanda," he says.
But in Rwanda, cricket isn't just a gentlemen's game. The captain of the Rwandan women's cricket team, Cathia Uwamahoro, is also a Guinness World Record holder. After batting for 26 hours continuously, she now holds the world record for longest individual net session in the female category.
"Women are so successful [at cricket] because they've developed with their male counterparts," says Shale, who is also pioneering Cricket Builds Hope, a new initiative that will use cricket to raise awareness of gender-based violence, gender equality and tackling HIV. "We're seeing that cricket can be used as a social tool," he says. "The idea is to take cricket to refugee camps where we will run workshops to raise awareness about these [social issues]." Rwanda seems like the perfect place to start because of the equal playing field between men and women, according to Shale. The hope is to then roll out the programme across other Commonwealth countries.
Until then, the drive to raise money and support for the cricket stadium continues. "We still need £110,000 pounds to finish our field of dreams," says Dusingizimana. The movement to grow support for the still unfamiliar game also continues; but this is something he doesn't seem too concerned about. "We face many challenges in growing support, but we work hard and do extraordinary things to raise awareness for cricket," he says. "Everyone plays cricket here in Rwanda, including him…" Dusingizimana laughs as he takes his phone from his pocket to reveal a picture of one of Rwanda's great mountain gorillas holding a bright red cricket ball.
Outside the technical college gates where the current field is, there is a plaque that reads: "We cannot forget the past but we have to embrace the future." For Rwanda and its flourishing new sport, the future is indeed looking bright.
Getting there
National carrier Rwandair (rwandair.com) has launched direct flights between London Gatwick and the Rwandan capital Kigali. From 26 May the airline will run a thrice-weekly service, with a flight time of eight hours and 40 minutes. Fares start from £372 return.
More information
To donate to the cricket stadium visit uk.virginmoneygiving.com.
For more information on the Rwanda Cricket Stadium Foundation go to rcsf.org.uk.
Register for free to continue reading
Registration is a free and easy way to support our truly independent journalism
By registering, you will also enjoy limited access to Premium articles, exclusive newsletters, commenting, and virtual events with our leading journalists
Already have an account? sign in
Register for free to continue reading
Registration is a free and easy way to support our truly independent journalism
By registering, you will also enjoy limited access to Premium articles, exclusive newsletters, commenting, and virtual events with our leading journalists
Already have an account? sign in
Join our new commenting forum
Join thought-provoking conversations, follow other Independent readers and see their replies