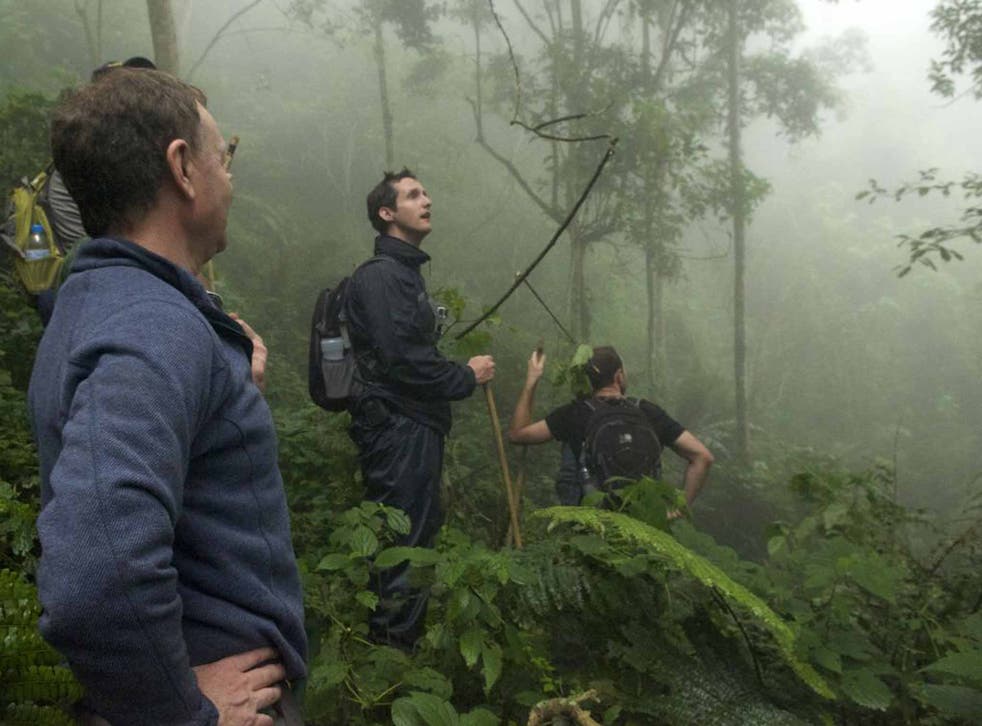 Primate trekking in Rwanda: How do gorilla and chimpanzee experiences compare?
Gorillas may be the star attraction, but can trekking to see chimpanzees be just as rewarding? Emma Thomson tries both
Emma Thomson
Friday 28 August 2015 10:52 Comments
I've been in staring matches before, but this one is different. The pair of perfectly round, ebony eyes locked on me belong to a baby gorilla. She's riding piggyback aboard her mother just yards from me – so close, in fact, I can see the morning raindrops on their thick frizz of black fur.
Viewing mountain gorillas is billed as one of the top wildlife experiences on the planet. But in Rwanda they're not the only ape to see; it's one of only three countries in the world where you can see both gorillas and wild chimpanzees. But how do the experiences compare? I'd used specialist tour operator Expert Africa to find out and had taken my 60-year-old father along as a fitness gauge.
A thick mist conceals the forest when we arrive at Volcanoes National Park – a two-hour drive northwest of the Rwandan capital, Kigali – at 7.30am. Francis, our assigned guide, reels off a rather lacklustre description of the Agashya troupe that our group of eight is trekking to see. There are 18 families currently found in Rwanda (10 are visited by tourists, eight are studied by researchers).
Poignantly, 2015 marks 30 years since researcher Dian Fossey was murdered at her base in Karisoke, between Mount Bisoke and Mount Karisimbi. Visitors can undertake a three- to four-hour walk to visit her burial place, set among the graves of her beloved gorillas, and those who want to visit the Susa troupe that Fossey studied can usually negotiate with rangers to join the group trekking to see them each morning.
We set off – slowest person at the front, fastest at the back to even out the pace – walking through flat, farmed fields, fringed with bitter apple bushes to deter forest elephants, and over the roughly assembled stone wall that marks the official start of the park. We enter a thick forest of bamboo, hopping over the deep puddles of viscous mud that block our path and passing the deep imprint of a just-missed elephant.
After 40 minutes of easy walking we enter a clearing. "How much longer?" asks a flagging member of the pack. Officially, visitors older than 45 and/or with lower fitness are assigned to the "easy to find" troupes situated near the base of the mountain, but this is somewhat uncertain, since the animals move all the time, and this rule isn't in evidence on our walk: my father is barely breaking a sweat, while a man in our group 20 years his junior is puffing and panting. And while there's a 99 per cent chance you'll see gorillas, the trek to find them can range anywhere from 40 minutes to seven hours.
"Another couple of hours," Francis says, deadpan. "Just joking! We're only five minutes away from them, so we're going to leave the porters, walking poles and water bottles here. Keep seven metres' distance, don't make prolonged eye contact with the silverback, and switch off the flash on your cameras. And remember: if they come up and kick or grab you, it's all friendly interaction."
We tiptoe back into the bamboo forest and there, just off to the left, is my staring opponent on his mum's back. I'm totally transfixed. More and more emerge and suddenly Agashya, the silverback – after which the troupe is named – struts into the clearing, commanding silence. He hammers his chest and it echoes loud and clear like clapping coconuts. I notice a female showing a juvenile how to dig for shoots. "Bamboo shoots are like gorilla beer," giggles Francis. "It relaxes them; makes them happy."
Our hour's visitation has been timed to coincide with the group's morning rest period, which means they're less active, but it does allow us to get considerably closer. Agashya gets up and wanders deeper into the forest. We follow slowly. He hauls himself into a thick cluster of bamboo, which sags heavily beneath his great weight, then rolls on to his back and lets out an almighty fart. We snigger into our sleeves as quietly as possible.
A tracker points out a young black-back male walking towards me. I try to move out of the way but find myself backed up against a thicket of trees. As he passes, the young male gives me a quick thump on the leg and a jolt of joy runs through me.
To see the chimpanzees we head for Cyamudongo – an isolated annex of Nyungwe Forest National Park, a four-and-a-half-hour drive southwest of Kigali. It's early, but the forest is bright-eyed and prehensile-tailed. Whoops and cackles of L'Hoest's and black-faced vervet monkeys echo through Nyungwe – Africa's oldest montane forest, home to 13 species of primate, including an estimated 500 chimpanzees.
Again, an atmospheric mist cloaks the forest, highlighting leaves origamied by ants and dewy cobwebs that glisten among the high grasses. I keep a close eye on our guide, Claver, who is dressed head-to-toe in khaki green and moves camouflaged between the trees, save for the powerful black binoculars holstered around his shoulders.
Half an hour after setting off, one of the trackers' voices crackles over the radio to report that the group is moving fast over the cusp of the hill, so Claver turns us around and we retrace our steps to the vehicles and drive to a new, more remote location. There's no path to speak of here. For an hour or more we plunge our walking poles into the compost-rich soil to steady ourselves as we judder down the steep, muddy slope; my porter, Joey, extends a helping hand when the gradient becomes vertical.
Then, suddenly, there's the unmistakable hoot of something larger. "Chimpans!" says Joey with a grin. We trek a little further down and Claver points through the canopy to a crouched figure silhouetted against the mist, like an old man hunched over his morning newspaper. Claver reckons the creature is about three years old. He's worked with researchers and biologists for more than a decade and, as a result, has very good knowledge of the apes' behaviour – much better than that of our gorilla guide. The young chimp climbs across a thick branch towards a large male ensconced in a leaf nest and settles in for a bit of grooming, before climbing lower down to eat some figs. From here we've got a great, uninterrupted view.
Nyungwe's chimps haven't been fully habituated, so encounters can range from just a few thrilling glances to great visuals of their active behaviour. And, as an added bonus, there's currently no limit to the amount of time you may spend with them.
My feet start to itch. I look down to see a platoon of soldier ants trying to munch through the socks I've pulled up over my trousers. I pinch them off while flicking my eyes back towards the youngster, who is now eyeing us up, between munches of fruit. He lets out a jet of urine that splashes on to leaves below. Claver chuckles and we retreat to let him pee in peace.
Such interactions are not easily forgotten and while the gorilla trekking is undoubtedly more iconic and thrilling because of the close contact, chimp trekking offers more adventure, with less-established paths, denser forest and the chance to "discover" them, instead of – as with the gorillas – being told when you're about to meet them. The chimp trekking experience feels less forced and more mysterious, which ultimately is what an animal encounter should be.
Chimpanzees vs Gorillas
Level of interaction
Chimps: **
Gorillas: *****
Required fitness levels
Chimps: ****
Gorillas: ***
Quality of guiding
Chimps: ****
Gorillas: **
Cost
Chimps: *
Gorillas: ****
Getting there
Emma Thomson travelled with Expert Africa (020 8232 9777; expertafrica.com). A seven-night trip costs from £3,433pp, including flights, a private guide and vehicle, two nights at Nyungwe Forest Lodge for chimp and colobus monkey treks, and two nights at Sabyinyo Silverback Lodge with a golden monkey and a gorilla trek, plus a night in Kigali.
Trekking there
Both treks require permits: a chimp permit costs US$90pp (£57); a gorilla permit costs US$750pp (£500). For gorillas, 64 permits are issued daily, and for chimps only eight. For peak season (June to September and Christmas-New Year) it's advisable to book six to 12 months in advance. You can book direct with the Rwanda Development Board (rdb.rw), but it's much easier to let a tour operator, either local or abroad, arrange it. The minimum age is 15 for gorilla trekking and 16 for chimp trekking.
You'll also need to budget for tips for your main guide (US$20/£13), porters (US$10–15/£7-10), trackers and scouts (US$5/£3).
Red tape
British nationals can get a 30-day tourist visa on arrival. The US$30 (£20) fee must be paid in cash.
More information
Register for free to continue reading
Registration is a free and easy way to support our truly independent journalism
By registering, you will also enjoy limited access to Premium articles, exclusive newsletters, commenting, and virtual events with our leading journalists
Already have an account? sign in
Join our new commenting forum
Join thought-provoking conversations, follow other Independent readers and see their replies