Ahead of the game: on safari in Botswana and Zambia
From big cats to baboons, close encounters with African wildlife prove a once-in-a-lifetime experience for Nick Curtis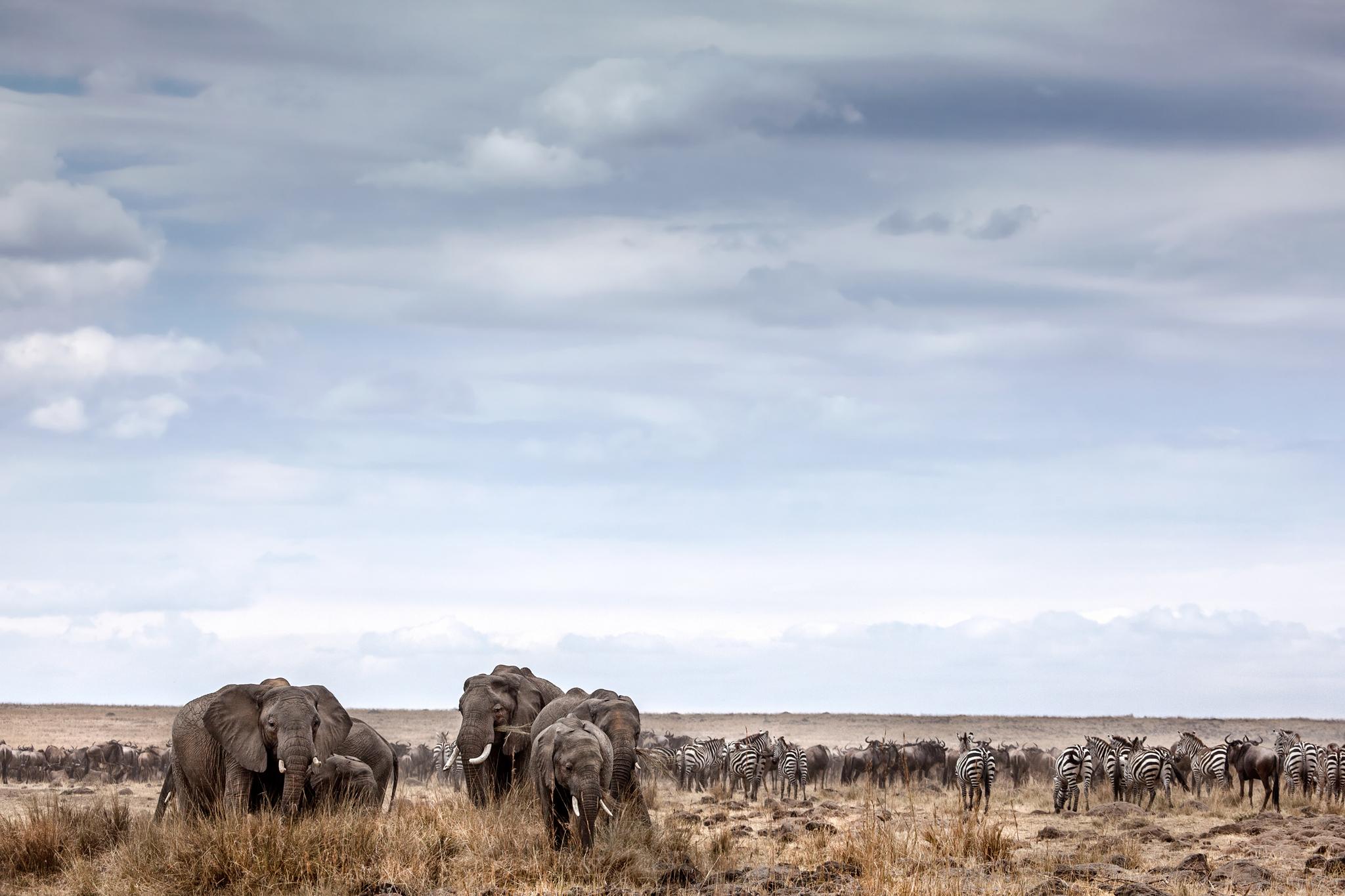 When you've watched a furious baboon thunder across the bush to scare a brace of leopards off his territory, seeing a pride of lions and then a family of white rhinos up close feels like a bonus.
By day two of our trip we were used to the weird mix of slowness and speed on safari: the low-geared crawl through national parks in Toyota Landcruisers looking for game, followed by the swift flurry as dazzling birds, startled impala or insouciantly swaying giraffes fled from our cameras. Then the hectic, competitive and envy-stricken conversation over South African wine and fine food back at camp with fellow guests who seemed to have seen more wildlife than us.
So to witness a baboon on the attack – teeth bared, fur flying, heedless of our presence as he hurtled past – was really quite something. Then to track the lazy brace of leopards – as rare as "two Christmases at once" according to our guide, Adam – for an hour through the bush, one coming so close he brushed the side of our vehicle, was something else again. Then, to find ourselves, two days later, parked axle-deep in the Chobe river while a young male lion and three females basked three metres away on the bank, and then a further day later to walk within 10 metres of the rhinos, made our first safari, in my wife's words, "the trip of a lifetime". And that's not evening mentioning Victoria Falls...
I turned 50 this year and I had only been to Africa once – to Johannesburg and Cape Town – and had never seen big animals in the wild. By coincidence, the Republic of Botswana celebrates 50 years of independence from the British Empire on 30 September this year. It is one of the great success stories of post-colonial Africa. A film by Bafta award-winning director Amma Assante, A United Kingdom, out this autumn, documents the extraordinary tenacity and vision of Sir Seretse Khama, the tribal chief and activist who became Botswana's first president.
Today a concentration on high-cost, low-volume tourism, and a 2013 ban on hunting, keeps the national parks pristine and removes at least some of the threat to declining game populations. Our itinerary, planned by safari specialists Yellow Zebra, involved such a shrewdly escalating programme of sensory experiences and luxury hospitality I was tempted to think the company had also orchestrated the ever-better animal sightings.
We were staying in several Sanctuary lodges, two in Botswana and one in Zambia. First was Stanley's Camp in the Okavango Delta, a string of widely-spaced, semi-permanent tents that make you feel like you're really in the wild – vervet monkeys above, pythons by the path, lion sounds at night – only with modern plumbing and a lovely, rustic bar/restaurant/lounge nearby. There was also a small swimming pool overlooking plains that, in rainy season (November-March) are flooded with water and wildlife, but which were arid when we visited.
From here Adam took us on our first game drives along shifting sandy trails, where we'd see distant giraffes and elephants cropping, a brief glimpse of a hippo's rump as he departed a depleted water source, and the ever-present, balletic impalas. After we'd sipped gin and tonics in the bush and enjoyed the spectacular sunset, Adam picked out a cat-like, long-tailed genet in the nocturnal undergrowth with a spotlight on the drive back. Without the light pollution of home, the Milky Way stood out like a rash across the sky. At a spectacularly carnivorous braai (barbecue) we had our first jealous conversation with a French couple who had seen a lioness and cubs.
But on the second day, we met the three semi-tame elephants who live in the bush with Doug and Sandi Groves, an exceptional couple who clearly prefer pachyderms to people. The way the animals have learned to interact with humans is extraordinary, trumpeting and whistling on request, bestowing sloppy trunk kisses. But their essential wildness was underlined when they scented a group of bachelor buffalos (the most dangerous animal in Africa, we were told) and began to flap their ears, the noise like sails stiffening in the wind, their tusked bulk and speed suddenly snapping back into focus. After lunch in the bush we passed a honey badger, a steenbok, truculent warthogs, a hyena nursing cubs and some zebras in the road. "Zebra crossing," said Adam, not for the first time I'd guess.
I was happy enough with these sightings, and the exuberant birdlife, but the leopard-baboon standoff the next day took things to another level of drama. As if to compensate, Adam arranged a tranquil afternoon ride in a Mokoro – a fibreglass version of a traditional wood canoe poled through shallows by a guide – along one of the few stretches of the delta that held water. Here were tiny, reed-clinging frogs, burbling bream and a lagoon beyond which hippos, Nile crocodiles and a lone elephant were taking the waters, like a scene from a dream.
The following morning we took a light plane from a dirt runway to Chief's Camp, Sanctuary's flagship property, which was under refurbishment, but has since reopened with a "celebrity suite" that could accommodate T Swizzle's biggest entourage, and comes with its own chef and guide.
The wildlife around Chief's seems less skittish than at Stanley's, with zebras, giraffes and impalas standing placidly as we passed close by. Then it was another small plane ride, including a brief squirt of anxiety when the pilot banked sharply to avoid a vulture strike.
Our next stop, Chobe Chilwero camp, is a collection of almost Spanish-style villas overlooking the Chobe river that separates Botswana from Namibia. On this broad, silver-blue ribbon the birdlife was so beguiling it almost turned me into a full-time twitcher. Gleaming green bee-eaters and azure-chested rollers jousted with monochrome kingfishers in the air; fish eagles and wicked-looking bateleur eagles brooded on treetops; and a black heron cloaked his wings over his head to shade the shallows he was hunting in. A boat trip brought us close to pods of hippos, snorting and belching their bass haw-haw-haw laugh.
We ended each day exhausted by the experience and the unrelenting heat, crashing out before 10pm and waking in time to see the coldly beautiful dawn, with warthogs, vervets and mongooses digging up the lawn. Again, we were happy enough with the wildlife we'd seen, and regarded a distant sighting of basking lions as a lucky extra. But luck for us, our guide, Poniso, tracked them the next day and we spent an unknowable time watching them yawn their wicked jaws and roll their nonchalant killer muscles. We remained riveted for so long we ended up dodging past elephants in must and racing against vultures in order to make the 6.30pm deadline to leave Chobe National Park.
After the easy charms of Botswana, Zambia was hectic. Insistent barkers touted trinkets once we'd crossed the Chobe where the borders of the two nations meet those of Zimbabwe and Namibia. Here there was more traffic – and therefore more litter – and there were men with AK47s and mismatched uniforms, most of them rangers armed against poachers who kill rhinos for their horns in Livingstone National Park.
Sussi and Chuma lodge was the most opulent accommodation we stayed in: a collection of circular tree houses, each with its own sun deck and indoor free-standing bath, overlooking the river – in surging flood, a contrast to Botswana's dry delta and low Chobe – and linked by walkways beneath which hippos would waddle and grunt at night. There are also two larger "Chuma houses" at river level, with their own plunge pools and boat docks.
But if the pulse of Zambia was quicker, activities were more leisurely: a buffet lunch on an idyllic mid-river island, a short but stirring walk to see the rhinos, an unproductive but lulling boat trip and a drenching walking tour of Victoria Falls.
We were assured that a 30-minute helicopter flight around the Falls' extravagant geography, boiling gorges and rainbow plumes of spray for $330 (£250) each was worth it, and it was. We also drove through hectic, messy Livingstone town itself, and took a guided tour of Nakatindi, a village of 3,000 people where Sanctuary Retreats' philanthropic arm has built a health centre and a classroom block. The village is poor and blighted by AIDs. But toddlers, schoolchildren and adults greeted us with warmth and curiosity. You could call this poverty tourism but it felt a tiny bit better than floating entirely above the "real" Africa on a cloud of expensive pampering.
We were gobsmacked, seduced and besotted by Africa – the people, the landscape, the spectacular wildlife, the sumptuous places we stayed. And if tourism is an answer – if not the answer – to the continent's financial and political problems, I'm game to return.
Travel essentials
Getting there
Nick Curtis travelled to Africa with Sanctuary Retreats (01242 546609; sanctuaryretreats.com) and Yellow Zebra Safaris (020 3199 7499; yellowzebrasafaris.com).
Yellow Zebra Safaris offers three nights at Sanctuary Stanley's Camp in the Okavango Delta, two nights at Sanctuary Chobe Chilwero on the edge of Chobe National Park and three nights at Sanctuary Sussi & Chuma in Zambia from £3,995 per person. This price is fully inclusive and includes international flights from London with SAA and all scheduled game activities.
Prices at the Sanctuary Chief's Camp start from £748 per person per night, based on a three-night stay including meals and drinks, scheduled game activities, transfers and park fees.
More information
botswanatourism.co.bw
zambiatourism.com
Join our commenting forum
Join thought-provoking conversations, follow other Independent readers and see their replies