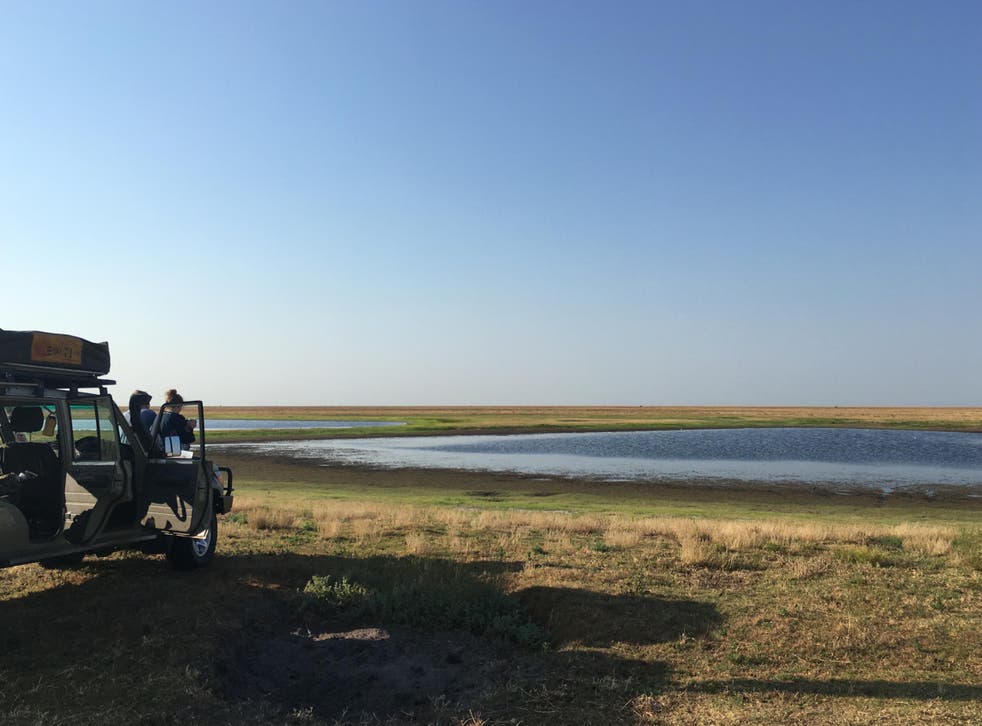 How to go on a safari without breaking the bank in Zambia
Forget flocking to Tanzania's Serengeti or the Masai Mara in Kenya –​ Liuwa Plain offers wildebeest aplenty at a fraction of the price
Thousands upon thousands of wildebeest march rhythmically in a blue-black column. Distant thunderstorms have trailed shawls of purple rainclouds across the horizon. The wildebeest, noses held low to the ground, are following the rain.
We wind down our windows and the smell of dampening earth hangs sweet and heavy in the hot air. The wildebeest plod solemnly past us. Nut brown calves scamper in the wake of their mothers; the odd individual breaks ranks to snatch a mouthful of grass. The great procession stretches 5km to the horizon where it disappears into an inky blur, dust rising into the clouds.
Around late October or November, more than 40,000 wildebeest migrate across huge swathes of the Barotse floodplains – or "Liuwa Plain" – in western Zambia in pursuit of the rains. We are here to witness this incredible spectacle (and simultaneously prove that it's possible to see the second biggest migration on the continent without it costing the earth).
Each year, tourists flock to the Serengeti in Tanzania and the Masai Mara in Kenya to witness the annual "Great Migration" of wildebeest. But joining the holidaying hordes (tourists not wildebeest) in either of these locations doesn't come cheap. The price for a lodge on the Masai Mara is upwards of £250pp per night.
In contrast, Liuwa Plain is one of Africa's most remote and least known safari destinations. Visited by only a handful of tourists annually, the park makes for an adventure-packed trip that's about as cheap as you can get.
On a walking safari in Kenya's Maasai Mara

Show all 15
The park, around 450 miles from the Zambian capital of Lusaka, costs US$30 (£24) per person to enter. After paying at a tiny but efficient office, we are loaded onto a floating platoon attached to a rope and hauled by three "ferrymen" from one side of the Zambezi to the other. From the western side of the river the park stretches for 3,660km sq – an area roughly the size of Wales – all the way to the Angolan border.
Spending three months of the year engulfed in Zambezi floodwater, Liuwa has been flattened into glorious flood plains, stretching as far as the eye can see. These empty grasslands are almost entirely devoid of landmarks, so a satnav is essential. So too is a 4x4 vehicle.
This becomes obvious very quickly as we plough off the platoon into deep sand. From here on in, we are on off-road tracks, either cutting across grassland or spinning through fine black sand.
We hired a 4x4 Land Cruiser for around £200 per day, splitting the cost between four of us.
These "overlanding" vehicles contain everything you need to camp, sleep and eat in style. Our Land Cruiser had a rooftop tent with duvet, sheets and pillows – a two-man ground tent with roll-out bedding is included in the price (or you can have two roof tents side-by-side).
In a series of sliding compartments in the back of the car is everything you can think of: fridge/freezer; water-tank; pots; pans; gas stove; braai (barbecue) tools; washing line; crockery; wine glasses; and a table and chairs. There are even whisky tumblers, candles and a tablecloth. It's camping, but not as we know it.
You don't need to be a fearless gap-year student or afrophile to "overland" it either – for first-time self-drivers, companies such as Safari Drive can arrange bespoke itineraries, organising a fully equipped vehicle, routes, campsites and other accommodation.
The campsites in Liuwa, run by members of the local community, cost $15 (£12) a head. There are four sites spread across the enormous park. Each is tucked into a belt of trees and contains unfenced "pitches" comprised of a sandy clearing with a fire pit and simple thatched shelter – to eat under or to escape the blazing midday sun. There's a toilet hut, outdoor showers and a tap. Piles of firewood are available to buy for a few pence.
We stock up at a supermarket in Mongu (the nearest town to Liuwa Plain) en route to the park, freezing several days' worth of meat and cramming bottles of gin and tonic, dry foods and vegetables into every available space.
Our days begin with tea and rusks at sunrise; at midday we return from driving in pursuit of the wildebeest to feast on a brunch of fresh coffee and bacon, eggs and toast cooked on the fire. In the evening we dine – at our candlelit table – on steak or roasted chicken, sweet potatoes baked in the ashes and red wine. The whole lot costs around £12 a head for four days. All in, for food, park entry, 4x4 hire and camping, the whole trip cost us under £300 each.
Liuwa Plain is like nothing I've seen before. A true wilderness, its endless blonde grasslands unfold, unbroken, in every direction. Mornings and evenings are heralded with thunderous apricot skies. Glimmering waterholes appear from amid the flats. We spot grey crowned and wattled cranes stalking delicately on the lush banks. Jacanas tip-toe, long-legged, through the shallows. Shy antelope – red lechwe and bushbuck – creep to the water's edge to drink. Slumbering in the mud at one watering hole are five spotted hyenas, their stomachs bloated from last night's supper.
Despite Liuwa having a conservation history dating back to the 19th century, when the King of Barotseland appointed his people its custodians, it has suffered enormous wildlife losses over the years through poaching or habitat loss from farming. As a result, a lack of big predators has – until recently – crowned the hyena "king of the jungle". However, as of 2003, the hugely successful not-for-profit organisation African Parks took over the running of the park and reintroduced lions. The population is thought to number around seven, so you have to be extremely lucky to spot one – though it's not impossible.
It took us three days to chase down the wildebeest column, reports of rain sending us in different directions. We left the park as the grasslands were turning from honey to lush emerald; grumpy skies boiled violet-grey as zebras, skittish in the rain, galloped in clouds of dampening dust. Liuwa, in just a few days, would look totally different – a perfect excuse to come back.
Travel essentials
Getting there
South African Airways offers flights to Lusaka from £1,202 return.
Staying there
Safari Drive will create tailor-made itineraries for all budgets, including Liuwa Plain National Park. Price on application.
More information
For information and advice on visiting Liuwa Plain, visit africanparks.org.
Join our new commenting forum
Join thought-provoking conversations, follow other Independent readers and see their replies