The Independent's journalism is supported by our readers. When you purchase through links on our site, we may earn commission.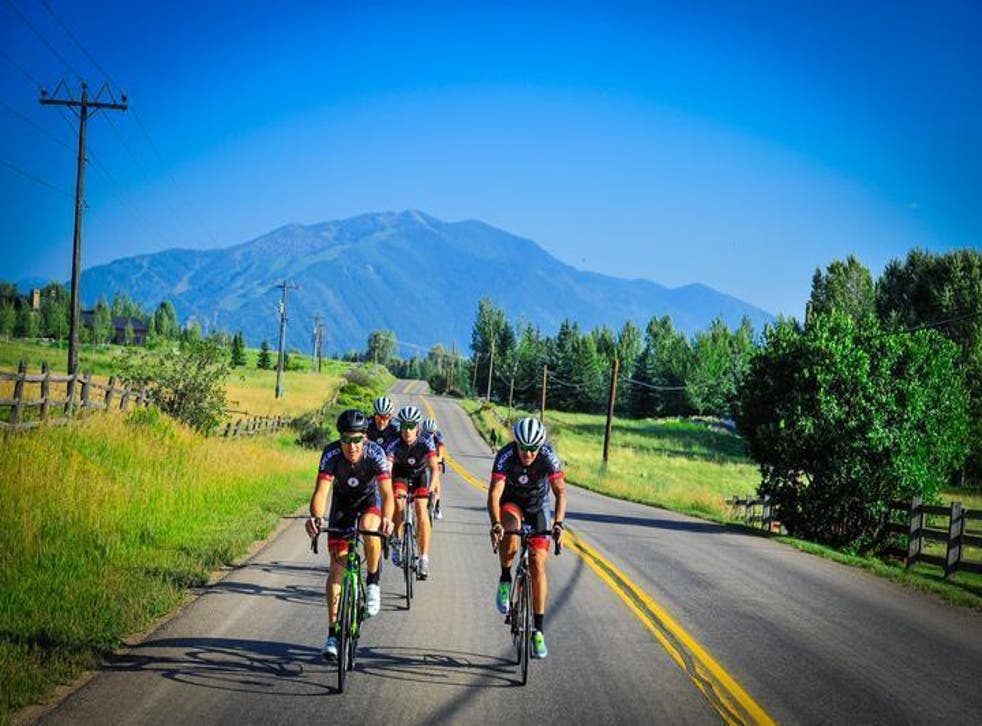 In a spin: cycle like a pro in Aspen
In summer this Colorado ski resort becomes a popular cycling hub – Lance Armstrong even has a home here. Mark Stratton heads for the hills with former professional Christian Vande Velde
Mark Stratton
Monday 18 July 2016 13:37 Comments
When fresh powdery snow falls and the sky is cloudless blue, the good folk of Aspen say it's a "bluebird day" for skiing. Yet with 300 days of sunshine each year, bluebird days are to be found during summertime too. As the amphitheatrical Elk Mountain Range uncloaks to reveal lofty peaks and wild forests inhabited by bears, Aspen seamlessly transforms into a summer playground, not least for world-class cycling.
"Keep sucking them in," urges a fellow spandex-attired member of our peloton during the annual Clip-in-with-Christian cycling camp organised by Aspen's Little Nell hotel. He's referring to my gasping airlessness; my lungs feel as if they're being vacuum-packed as I grind down through my gears to counter the steepness of our initial cycle. Aspen's starting altitude is 7,900 feet: almost twice the height of Ben Nevis.
I arrived yesterday from sea level, so this 4,000ft ascent up the USA's fourth highest road to Independence Pass was always going to be challenging. With my temples throbbing from the altitude during a tough two-hour ascent, I'm dizzily aware of kamikaze chipmunks darting from pine forests, wildflower-scented meadows, and whitewater roaring through boulder-strewn gulches.
Yet I'm not meeting this challenge alone. Clip-in-with-Christian provides amateur enthusiasts like myself the unique experience of life as a professional cyclist. The "Christian" bit isn't some quasi-religious "pedaling for Jesus" scenario, but refers to recently retired ex-professional American cyclist, Christian Vande Velde, who once finished 4th in the Tour de France. Alongside ex-pro George Hincapie, Lance Armstrong's legendary domestique, they ride alongside us offering tips and reminiscing about their careers. The package also includes a professional mechanic tuning up our bikes, daily cycling kit, plus a support vehicle topping us up with water and energy snacks.
When Independence Pass's 12,095ft snow-dappled zenith finally appears above the treeline under a royal-blue sky, Little Nell's staff await with coffee and sandwiches. I jostle (politely) with some Hells Angels and their Harleys to get my photo taken by a sign marking America's Continental Divide.
My joy at having reached the pass without cracking soon magnifies to euphoria during a 19-mile descent nudging 40mph as I freewheel down a smooth, traffic-free tarmac road back into Aspen. With my head clearing I'm soaking in scenic nuances, like the transition from alpine scenery to subalpine forest.
Little Nell waits at the base of Aspen Mountain. The cycling camp includes three-nights' accommodation and meals at Aspen's most desirable ski resort. The five-star hotel's 92 rooms muster around an internal patio with a welcoming outdoor hot tub for fatigued cycling calves. Its Element 47 restaurant spills onto the wildflower-bordered patio while a homey sunken bar off reception has a log fire and black-and-white prints of Aspen's embryonic ski scene in the 1940s. At its other eatery, the sun-drenched après-ski Ajax Terrace, I enjoy lunch with the 27 other participants: all Americans and mostly well-healed professionals who typically own second homes in Aspen or regularly ski here.
Christian, a sports commentator since retiring in 2013, joins us, offering a compelling insight into professional cycling. His victories, the superhuman grind of training, terrible crashes, riding with Lance Armstrong in his notorious US Postal team, and Christian's own eventual confession to doping when it was rife in the early-2000s.
Aspen has long been popular with professional cyclists. "People know it for skiing but for me its more amazing for cycling as the thin air makes biking really challenging," Christian says.
Later, I pedal around the town's grid of streets. This small, wealthy city blends a sunny Californian disposition with European ski-couture: hippie-chic, health-conscious citizens exercising, shopping, and looking good. Of Aspen's numerous multimillion-dollar properties the coolest are wooden weatherboard homes from Aspen's halcyon silver boom in the 1880s. The city sideswipes corporate America with pricey independent clothing shops and art galleries, amid vibrant pavement cafés, sushi cars, and a recently legalised cannabis store.
It was always destined to attract cyclists. Former resident and mayoral candidate Hunter S Thompson suggested banning cars and grassing over roads to create cycle-only pathways. That never happened, but the essence of his aspiration is realised as everybody cycles. State law requires the most courteous drivers I'd ever encountered to give cyclists a 3ft distance when passing.
There's even an oxygen bar in Aspen, yet by the second morning my red blood cells have (legally) duplicated to cope with our second cycle's altitude. A 29-mile loop takes us above 9500 feet to Ashcroft's abandoned silver-mining ghost town: a casualty of 1893's crash due to falling prices.
Nature has long reasserted itself over the chaos of the silver rush and, breathing better, I'm able to fully appreciate White River National Forest's magnificent folds of conifer and white-barked aspen. My scenic reverie is only briefly disturbed by a shout within our peloton. I wonder if somebody has run over one of the plump sunbathing marmots I saw roadside this morning?
In fact, Lance Armstrong descends past at high-speed. "He's got a house here in Aspen but keeps a lower profile these days," says one of our group. I glance back immediately but see only open road the lesser-spotted Lance had speedily vacated.
I take time out from the camp to sample cycling of the fatter tyre variety. In winter, nearby Snowmass is one of Colorado's premier ski resorts, yet in summer its gondolas ferry thrill-seekers to some of the finest mountain-biking countryside in Colorado, with 140 miles of trails.
Padded up like a Star Wars stormtrooper with full-face helmet, chest and elbow protectors and shin guards, I descend downhill under the tutelage of mountainbike pro Matt Fersch. He guides me down the 3.8-miles forested Verde Trail: a supposedly easy course, but still rough and steep enough to send my adrenalin surging.
Below the 11,325ft Elk Camp we career around banked bends, drop off ledges, and gain some air bunny-hopping over hummocks. "Downhill descending is a relatively new sport. The early mountainbike trails used to be designed by hikers to go from A to B. Now they're specifically designed to organically flow through the terrain to create maximum thrills," Fersch tells me.
I'm soon back on my road bike for our final group cycle, departing late afternoon along a flattish 19-mile jaunt alongside Roaring Fork River's red sandstone cliffs and dramatic whitewater chasm, following the Rio Grande cycle path. Yet another safe and well-surfaced cycleway, this one converted from an old railway line once used for transferring precious ores from mountain mines.
Amid cattle ranches we zip past blue jays perched on picket fences en route to Emma Farms for a farewell dinner of I'm told is the best homebred wagyu beef in the United States. Half a mile before the farm, flutes of Veuve Clicquot champagne are offered to celebrate the end of Clip-in-with-Christian. Just as the professional riders do on the final stage of the Tour de France, to toast the Maillot Jaune winner, I cycle the last stretch one-handed, sipping bubbles. I can't help but raise a celebratory flute to Aspen's cycling country.
Getting there
United (united.com) flies from Heathrow to Aspen via Chicago from £888 return.

Staying and cycling there
The Little Nell (thelittlenell.com) offers room-only doubles from $715 (£541) in summer. Clip-In-with-Christian costs $5,750 (£4,347) including four-nights' accommodation, all meals and snacks, riding kits and a cooking class. The next camp runs 25-29 September.
Four Mountain Sports (001 970 920 2337; 520 E Durant Street, Aspen) offers high quality road bikes for hire.

More information
Register for free to continue reading
Registration is a free and easy way to support our truly independent journalism
By registering, you will also enjoy limited access to Premium articles, exclusive newsletters, commenting, and virtual events with our leading journalists
Already have an account? sign in
Join our new commenting forum
Join thought-provoking conversations, follow other Independent readers and see their replies