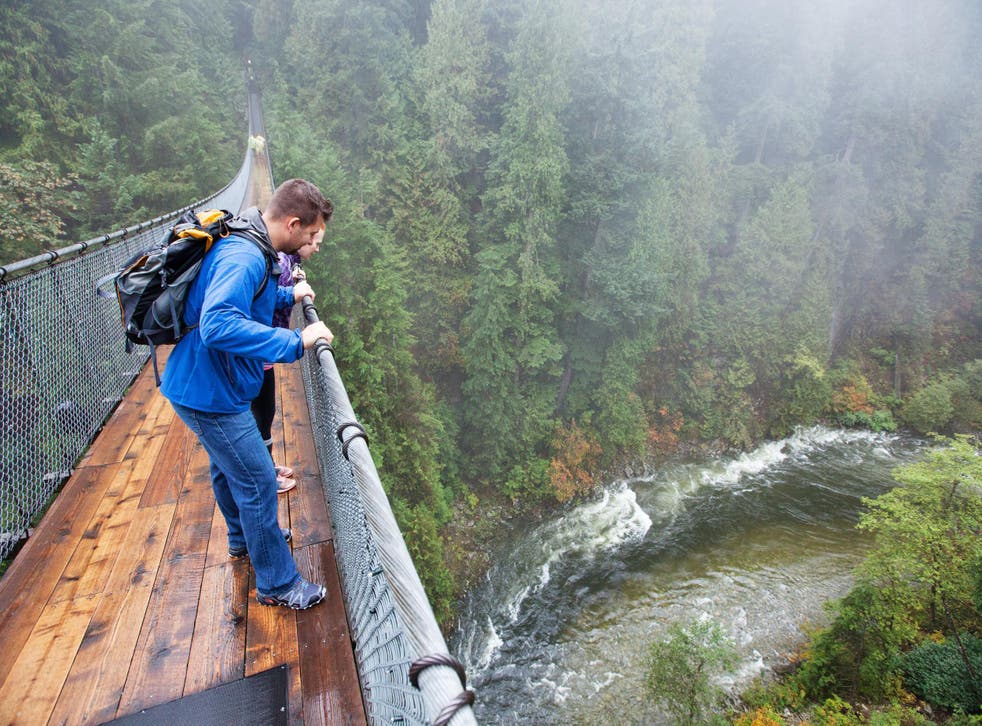 Vancouver's best parks: where the locals hike, swim and see the best public art
Get the inside track on the world's top city breaks from the team at Spotted by Locals
Easily the best thing about Vancouver is how it combines all the exciting bits of big-city living – cutting-edge food, art, music, etc – with fantastic access to the great outdoors. Surrounded by mountains, sea, forests and beaches, you can be eating the latest freshly foraged small plates in an industrial warehouse one minute, then kayaking, mountain-biking or lazing on the beach the next.
And one thing you definitely shouldn't miss in this nature-swathed British Columbian coastal city is hiking in its brilliant parks. That's why we asked Spotted by Locals' on-the-ground team to let us in on their favourite hikes for exploring the vast greenery of Vancouver.
Local Pamela is a frequent hiker in Lynn Canyon Park (lynncanyon.ca), which has lots of well-maintained, clearly marked trails twisting through its 617 acres of forest. Don't miss the nervy crossing over the park's Indiana Jones-style rope bridge, which sways 50 metres above the canyon. Pamela tells us: "Access to the bridge is free – unlike the crowded, touristy Capilano Suspension Bridge, which charges $39.95 to cross." Trails here are easy to moderately difficult; if you're looking for a real challenge, try scaling Lynn Peak from Lynn Headwaters Regional Park. It should take about four hours and is a great backcountry hike ending with a spectacular view.
Local Maya is a big fan of Pacific Spirit Park, recommending the Foreshore Trail for a "true West Coast experience". The route traces the west side of the University of British Columbia and passes along Wreck Beach and Acadia Beach, giving lovely views out over the water. Maya adds: "The trail is within a 30-minute walk, or short bus ride, of great pubs and restaurants. So there are plenty of options to treat yourself after a workout." She also recommends stopping for a spot of swimming along this trail if it's warm enough.
But if you're looking to stay even closer to the city while getting your dose of green, we can also highly recommend Hinge Park, Ambleside Park or the Capilano Pacific Trail. Hinge is one of Vancouver's newest parks, created during the regeneration of the False Creek neighbourhood for the 2010 Winter Olympics (the park is only steps away from the 2010 Winter Olympic Village). This wetland park features lots of fun public art installations to explore and even a hollow, rusty submarine.
Ambleside Park is a slightly less well-known park behind the popular Park Royal Mall. You'll be treated to "a jaw-dropping view of the Lions Gate Bridge and downtown Vancouver," says Maya. She tips us off that sunset is the best time to visit: "The lights make it a truly magical place to be."
Finally, the Capilano Pacific Trail starts in Ambleside Park and is an easy hike along the Capilano River. In summer, once you're back from your hike, cool off in the designated swimming area at Ambleside Park. Or if it's absolutely not strenuous activity you're after, take a leisurely dip at freshwater Trout Lake in John Hendry Park. No hiking necessary!
Spotted by Locals (spottedbylocals.com) is a series of apps and blogs available on iPhone and Android devices with up-to-date tips by locals in 60+ cities in Europe and North America
Join our new commenting forum
Join thought-provoking conversations, follow other Independent readers and see their replies