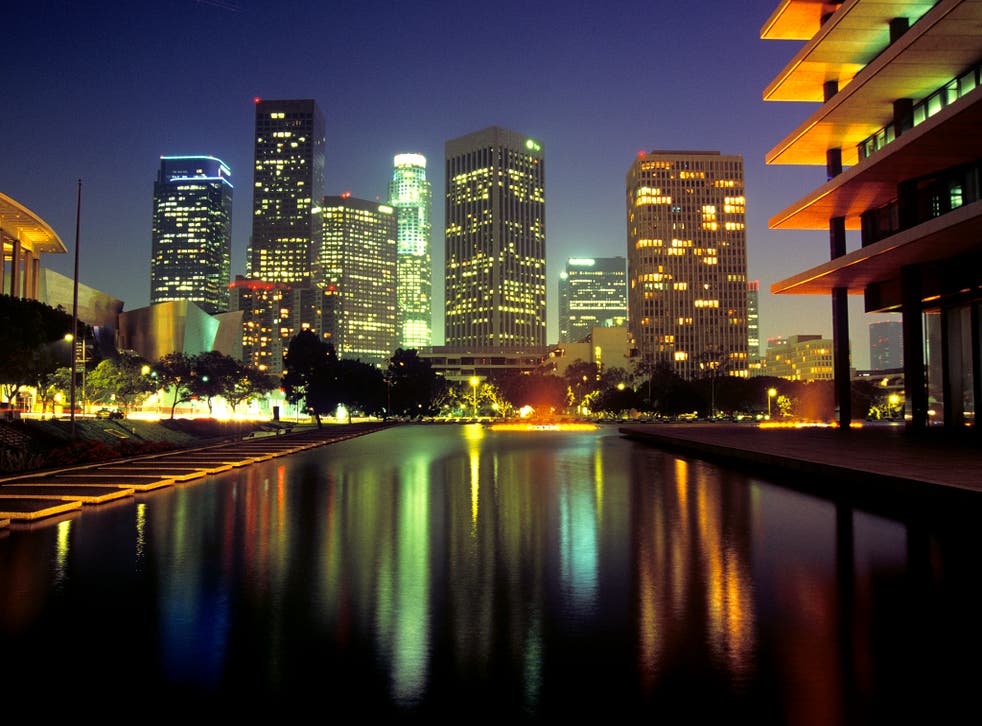 Downtown Los Angeles travel trips: Where to go and what to see in 48 hours
This once down-at-heel area is back on the map as an artsy alternative to Hollywood, says Julia Buckley
Julia Buckley
Friday 20 February 2015 09:00 Comments
Why go now?
The spotlight might be shining on Hollywood for Sunday's Oscars, but away from the cameras, it's Downtown Los Angeles that's making a buzz. The much vaunted revival of the past few years is now a fully fledged renaissance: new openings are taking place nearly every week, while the Arts District is one of the fastest growing areas on the US West Coast. From the founding point of LA in 1781 to the flourishing financial district, decline and now back to boom times, DTLA – as it styles itself – is now a destination in itself.
Touch down
LAX is served direct from Heathrow by Air New Zealand (0800 028 4149; airnewzealand.co.uk), Virgin Atlantic (0344 209 7777; virgin- atlantic.com), British Airways (0844 493 0787; ba.com), United (0845 607 6760; united.com), American Airlines (020 7660 2300; aa.com) and Delta (020 7660 0767; delta.com). Norwegian (0330 828 0854; norwegian.com) flies twice a week from Gatwick.
The FlyAway bus runs from LAX to Downtown's Union Station (1) every half hour and takes around 35 minutes (although that can triple in bad traffic), and costs $8 (£5.20) one way. LAX is near Aviation station on the Metro Green Line; from there, change to the Blue Line at Willowbrook to reach Downtown's 7th St station (2). Tickets cost $1.75 (£1.20) and it takes around an hour. Taxi fares from the airport are fixed at $46.50 (£31).
Get your bearings
Los Angeles is notoriously a driving city, but Downtown is one of its few pedestrian-friendly areas. Downtown – in the middle of this sprawling network of suburbs – has more of a central core than other areas, with Union Station (1), the FlyAway bus drop-off and visitors centre (discoverlosangeles.com), at its northern point. The area between Olympic Boulevard and Temple Street, fanning out along Hill, Broadway, Main and Spring Streets, is where the Downtown renaissance is most noticeable. An extraordinary catwalk of early 20th-century architecture – neo-Gothic alongside Art Deco and Beaux-Arts, with grand old theatres lining Broadway – its once abandoned buildings are now being beautifully restored.
Bordering the historic core, to the west, are the modern skyscrapers of the Financial District and the contemporary entertainment complex at LA Live – restaurants, bars, broadcasting studios, hotels and the Grammy Museum (3). A mile or so east, separated from Broadway by Little Tokyo and, nearby, Skid Row – is the Arts District. A once dilapidated warehouse district, it now houses quirky boutiques by day and packed bars by night.
Check in
Part of LA Live, the modern Ritz Carlton (4), at 900 W Olympic Boulevard (001 213 743 8800; ritzcarlton.com) has a Wolfgang Puck restaurant and a rooftop pool. Doubles start from $480 (£320), room only.
The Ace Hotel (5), at 929 S Broadway (001 213 623 3233; acehotel.com), occupies the neo-Gothic United Artists Building, the theatre built for Charlie Chaplin, Douglas Fairbanks and Mary Pickford's film studio in 1927 – complete with rooftop bar and vast in-house theatre. Trendily spartan rooms start from $229 (£149), room only.
A Downtown icon since 1925, the Figueroa (6), at 939 S Figueroa Street (001 213 627 8971; figueroahotel.com) will get a makeover this summer, losing its deliciously outré Moroccan theme for something more modern. Until then, doubles start at $175 (£114), room only.
Day one
Take a hike
DTLA's theatre district has been dubbed the best preserved stretch of 1920s architecture in the US. Start at the Ace Hotel (5) and head north on Broadway; on the corner, at No 849, is the turquoise-tiled, Art Deco Eastern Columbia Building (7), where Johnny Depp reportedly has an apartment.
Continue past old theatres and turn left on to 7th Street. At the corner with Hill Street is the Theater Jewelry Center (8) – a perfectly preserved theatre from 1920, its elaborate stalls and stage now occupied by jewellery stands. Further up 7th, at No 811, is the Fine Arts Building (9), whose Romanesque revival lobby hosts free art exhibitions.
Head back via 6th Street past Pershing Square (10) to Broadway, where, on your right, you'll find the Spring Arcade (11), a once grand 1920s shopping arcade that's now home to trendy cafés such as Gelateria Ulli (001 213 900 4717; gelateriaulli.com). Leave via the Spring Street exit and head north to The Last Bookstore (12), at 453 S Spring Street (001 213 488 0599; lastbookstorela.com), an extraordinary, grand bank-turned-bookshop, with a sprawling second-hand section upstairs.
Lunch on the run
LA's original food hall, Grand Central Market (13), at 317 S Broadway (001 213 624 2378; grandcentralmarket.com) has been feeding Angelenos since 1917. Bypass the trendy burger bars in favour of the China Café, which dishes up old-school chow mein and dates back to 1959. Mains cost around $4.50 (£3).
Take a view
Take the lift to the 27th floor at LA City Hall (14), at 201 Main Street (001 213 473 3231; lacity.org), and go on to the observation deck – built in 1928. From here, the views sweep from the Hollywood Hills to Catalina Island, 22 miles out to sea. Admission is free and it's open 9am-5pm, Monday to Friday.
Window shopping
The ever-expanding Arts District is wall-to-wall independent shops. Poketo (15), at 820 E 3rd Street (00 1 213 537 0751; poketo.com), stocks everything from toiletries to stationery. Woo (16), which recently opened at 209 Garey Street (001 213 687 4800; ilovewoo.com), is the first retail outlet for LA designer Staci Woo, whose clothes are made on the premises.
An arperitif
Businessmen, hipsters, local workers and the odd Hollywood star all prop up the fairy-lit bar at 75-year-old dive bar La Cita (17), at 336 S Hill Street (001 213 687 7111; lacitabar.com).
Through an unmarked door at the back of another Downtown institution, Coles (18) restaurant, at 118 E 6th Street (001 213 622 9999; 213nightlife.com), lies The Varnish, a speakeasy-style cocktail bar serving traditional drinks such as gimlets and cobblers.
Dining with the locals
Modern California is on the menu at Faith & Flower (19), at 705 W 9th Street (001 213 239 0642; faithandflowerla.com), where dishes made for sharing – such as anchovy-infused broccolini and oxtail agnolotti – cost around $15 (£10).

Click here to see a bigger image of the map
At the wildly popular Bestia (20), at 2121 E 7th Place (001 213 514 5724; bestiala.com) simple Italian pastas and pizzas cost around $20 (£13); book well ahead or ask to eat at the bar.
Day two
Sunday morning: go to church
Unlike the historic buildings surrounding it, the Cathedral of Our Lady of the Angels (21), at 555 W Temple Street (001 213 680 5200; olacathedral.org), is a striking, deconstructivist affair, built in 2002 after the old catholic cathedral, St Vibiana's, was damaged in an earthquake. Side chapels house modern art exhibitions, while the basement mausoleum has stained-glass windows from its predecessor (open 7am-6pm Sundays).
Out to brunch
The horseshoe-shaped counter and scarlet faux-leather stools have been in situ at Nick's Café (22), at 1300 N Spring Street (001 323 222 1450; nickscafe.net) north of Union Station, since 1948. Try the mammoth portions of ham and eggs with fiery homemade sauce – a platter costs $11.50 (£7.60). It's open 6.30am-4pm at weekends, 5.30am-3pm weekdays.
Cultural afternoon
Moca, LA's Museum of Contemporary Art, has three locations. The original and largest is Moca Grand Avenue (23), at 250 S Grand Avenue. Its current exhibition includes works by Jackson Pollock and Mark Rothko and runs until 12 April. Moca's other Downtown site – the Geffen Contemporary (24), at 152 N Central Avenue – has been closed for the past few months but reopens on March 21 with an exhibition of work by William Pope.L. Both locations open Thursday to Monday, 11am-6pm at weekends, other days vary (00 1 213 626 6222; moca.org). Entry $12 (£8), free on Thursday evenings.
Take a ride
Once maligned, but now popular and expanding, the LA Metro has its hub Downtown, where all lines converge. Singles cost $1.75 (£1.20), or it's $7 (£4.70) for a one-day pass. From here, you can go anywhere, from the beach to the San Fernando Valley. Take the Red Line from Civic Center (25) to Hollywood & Highland and you'll emerge on the Hollywood Walk of Fame, opposite the TCL Chinese Theatre (26).
Icing on the cake
From the Chinese Theatre (26), it's a 15-minute walk along Hollywood Boulevard to Fuller Avenue, where you'll find the entrance to Runyon Canyon (27), at 2000 N Fuller Avenue (001 323 666 5046; laparks.org). Stars from Justin Timberlake to Charlize Theron come here to work out. Views from the trails along the canyon ridges – from Downtown's skyline to the Hollywood sign and the Pacific in the distance – are even more breath-taking than the clientele.
Register for free to continue reading
Registration is a free and easy way to support our truly independent journalism
By registering, you will also enjoy limited access to Premium articles, exclusive newsletters, commenting, and virtual events with our leading journalists
Already have an account? sign in
Join our new commenting forum
Join thought-provoking conversations, follow other Independent readers and see their replies