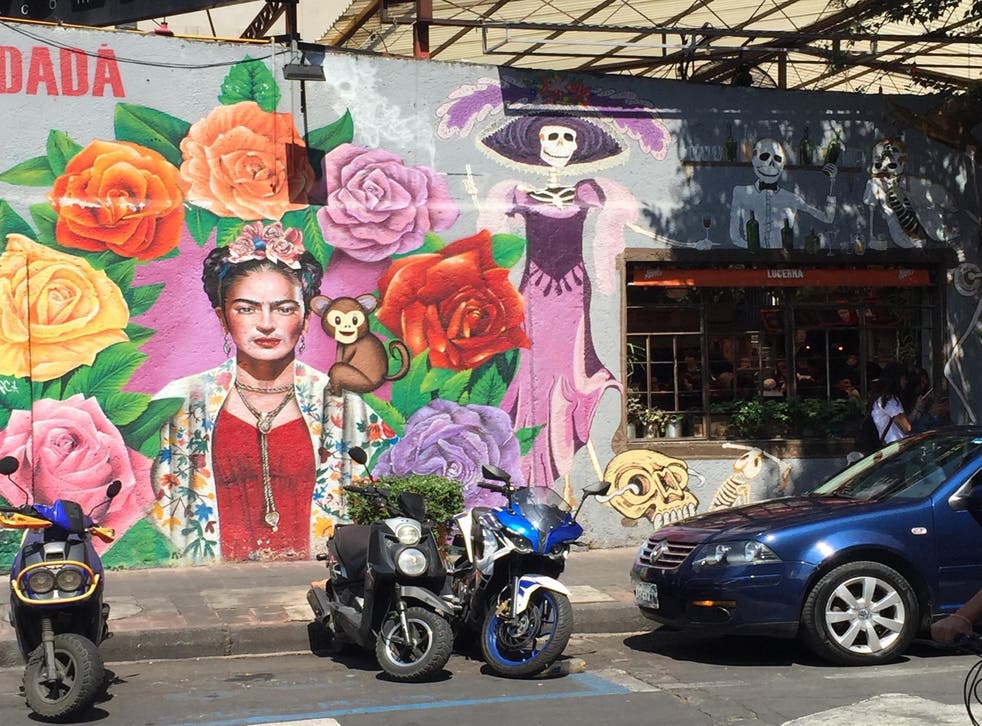 Mexico earthquake: How Day of the Dead is bringing Mexico City back to life
One month on from Mexico's deadly earthquake, resident Susannah Rigg looks at how the capital is recovering
Susannah Rigg
Saturday 21 October 2017 12:42 Comments
There's a chill in the air but the sky is a brilliant blue. The sun is shining. The rain that pelted down on the city during the rainy season has begun to ease and the cool winds that always seem to accompany Day of the Dead can be felt across the mega-metropolis. Today, it is one month since the 7.1 magnitude earthquake that shook central Mexico, killing at least 369 people, 228 of whom died in Mexico City.
The sounds of Mexico's capital, which fell silent in the days following 19 September's deadly quake are back in full force. Honking horns, the tamale guy shouting his wares, the whine of the old-metal collector, the high pitched squeal of the sweet potato seller and the strum of the passing entertainer's guitar, provide a comforting soundtrack of normality to the streets.
The city is functioning close to normal once again, but signs of the earthquake can be seen all around. Certain streets remain hidden behind cordons, some collapsed buildings remain uncleared and others are now empty lots that have become memorial sites where flowers are laid and tributes are left.
Mexico City: How it's rebuilding after the September earthquake

Show all 8
Deconstruction and reconstruction are already beginning. Some buildings need to be repaired while others must be pulled down. Everything happens little by little – explosives cannot be used to demolish buildings which are in such close proximity to others (some as close as 15cm from the next). So engineers chip away slowly. Chip, chip, chip, a new soundtrack for the city.
In the immediate wake of this disaster, solidarity was a saving grace. Young and old, rich and poor, all working together, helping each other. Now, a kind of collective shock remains, though it lessens day by day. Chip, chip, chip. The citizens slowly knock away at the remaining fear, the shock that resides in the body.
Tourists are already making their way back to the city. Some came immediately, trips already booked, ready to see what awaited them – an equally impressive city, seemed to be the verdict, just functioning at a different pace.
Many, however, cancelled. Hotel occupation has dropped to just 30 per cent in the city. It's low season, admittedly, but this is still half the normal level. National arrivals to Mexico City's International Airport fell by 3.8 per cent in the month of September, Mexicans choosing to avoid their own capital city.
The trendy neighbourhoods of Roma and Condesa, two of the hardest hit, remain quieter than normal. Restaurants offer promotions, specials deals to chip, chip, chip their way back from the deficit left after weeks with fewer punters, and days of cooking for free for volunteers and rescue workers.
Is it safe to come to Mexico? Absolutely. Yes this country sits on fault lines, yes Mexico City was built on a lakebed that shakes like jelly when the plates readjust themselves, and no, earthquakes can't be predicted. But, as the Ministry of Tourism is reminding people in a statement, "Of the two million buildings in Mexico City, only 38 fell." This doesn't serve to diminish the tragedy and loss of life, but it does lend perspective.
Tourist attractions and museums are open, transport is fully functioning, cafes and bars on still-pretty plazas are business as usual. The clink, clink, clink of coffee cups and mezcal glasses are another part of a welcome soundtrack of a city resurrecting.
Right now, Mexico City is gearing up for Day of the Dead – celebrations for which run from 31 October to 2 November – an event that is perhaps even more poignant this year. The markets, already replete with skeletons, sugar skulls and cempasúchil (marigold) flowers will continue to fill, the smell of flowers and copal incense spicing the air. Sugary Day of the Dead bread is being baked in panaderías across the city, ready to be dipped into a warming hot chocolate.
In a few days the parades will begin. Colourful displays of gigantic skeletons in every shape and form will dance their way down the city's central Paseo de la Reforma. Then cemeteries will light up with candles and graves will be decorated, ready for the ancestors to visit.
It remains to be seen whether the return of the ancestors will also mark the return of tourism to Mexico City. However, just as the ancestors are encouraged back to visit with flowers, sweet smells, delicious food and beautiful music, it is hoped that these same temptations will help to return a healthy flow of tourists back to Mexico's dynamic capital.
Register for free to continue reading
Registration is a free and easy way to support our truly independent journalism
By registering, you will also enjoy limited access to Premium articles, exclusive newsletters, commenting, and virtual events with our leading journalists
Already have an account? sign in
Join our new commenting forum
Join thought-provoking conversations, follow other Independent readers and see their replies