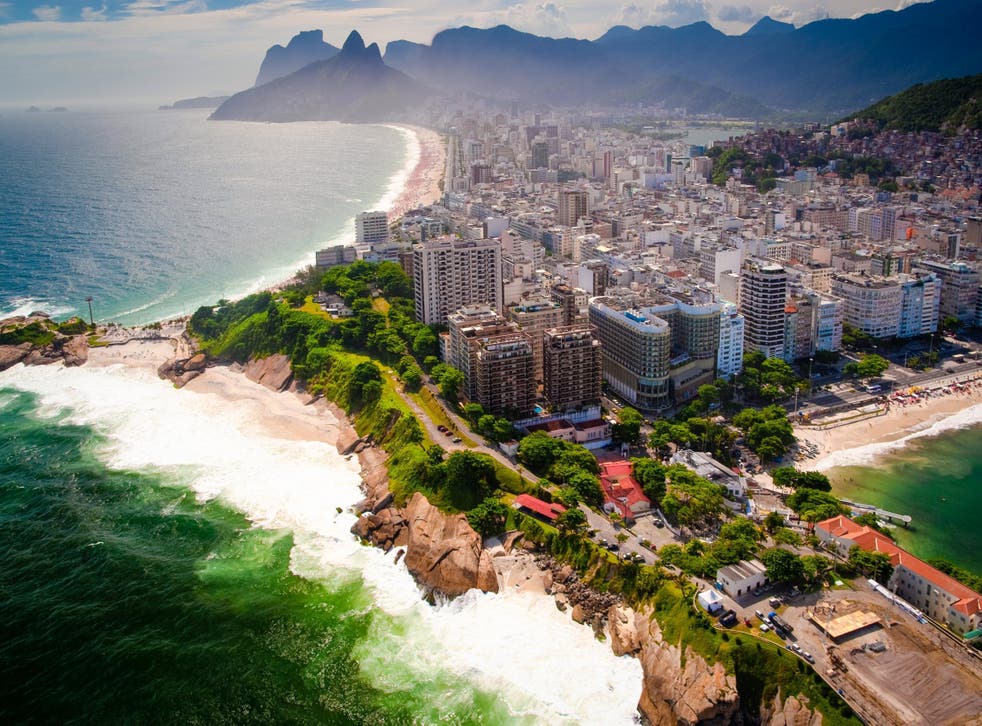 48 Hours in Rio de Janeiro: hotels, restaurants and places to visit in the 2016 Olympics host city
Travel essentials
Why go now?
2016 is the year that the Olympic Games come to the riotous capital of carnival and caipirinhas. Rio de Janeiro, Brazil's second city, underwent intense redevelopment ahead of the 2014 FIFA World Cup and the Games, which open this Friday, and it now boasts a revitalised historical district and waterfront as well as better transport, making this the perfect time to visit the city where people dance samba in the streets.
Touch down
Only British Airways (0344 493 0787; ba.com) flies direct from the UK to Rio, serving Galeao International Airport (1) from Heathrow. Stopover options include KLM (020 7660 0293; klm.com) from Manchester, Edinburgh and Heathrow; and from Gatwick with TAP Portugal (0345 601 0932; flytap.com) and Brazilian airline TAM (0800 026 0728, tam.com.br).
The 2018 bus, operated by REAL (realautoonibus.com.br), runs between the airport (1) and the main bus terminal (2) via Copacabana Beach (3) every 30 minutes between 5.30am and 10pm. A single ticket, which you buy from the driver, costs R$14.50. From the airport to Barra, where the Olympic Park (4) is, should take about an hour, but traffic in Rio is nightmareish during rush hour so allow up to two.
Rio's public transport network includes a metro and a perplexing bus system with more than 1,000 lines. While buses are the cheapest option – at R$3 a go – they can be difficult to navigate and only stop when you hail them, or tell the driver (in Portuguese) you want to get off. The comfortable, air-conditioned metro runs until midnight Monday-Saturday and until 11pm on Sundays. A single ticket costs R$3.70. Its two lines – green and orange – cover the major tourist zones.
Get your bearings
Rio encompasses world-famous beaches, frenetic favelas and a rainforest. The city is split by the hilly Tijuca Forest national park (5) and spreads across four zones – Zona Sul, in the south, is the major tourist destination, home to upscale neighbourhoods like Copacabana and Ipanema. Centro, the business district, splices skyscrapers and historic monuments; Zona Norte boasts the Maracana football stadium (6); and Zona Oueste is where much of the Olympic Games is due to take place.
Currently £1 is worth 4.3 Brazilian reals (R$). US$1 is worth R$3.27.
Check in
Many of the hotels in Rio's most popular districts, like Copacabana, and those close to the Olympic action, are fully booked for the Games. Where there is availability prices have soared, but if you're still on the lookout for a last-minute place to stay, some hostels still have beds; expect to pay around R$180 a night.
If you don't plan to travel until after the Olympics, you have many more options. Overlooking Copacabana Beach and with breathtaking views of the ocean, the five-star Belmond Copacabana Palace (7), at Avenida Atlantica 1702 (00 55 21 2548 7070; belmond.com), is favoured by rock stars and Hollywood starlets for good reason. Doubles from R$1,875, including a poolside breakfast.
A short taxi drive uphill, in boho Santa Teresa, Quinta Azul Boutique Pousada (8) sits in a colourful colonial-style building at Ria Almirante Alexandrino 256 (00 55 21 3253 1021;quintaazul.com), with garden rooms fringed by tropical rainforest. Doubles from R$440, room only.
Centrally located and with great metro links, Discovery Hostel (9) at Rua Benjamin Constant 26 (00 55 21 3449 0672; discoveryhostel.com), is a former baroness's home that has been converted into a bright, colourful hostel with its own pet cat. A dorm bed costs R$54 per person, or you can get a private room for $R180-190 (£30).
Day one
Take a view
Join Christ the Redeemer (10) atop Corcovado hill by catching the funicular from Cosme Velho (11), Rua Cosme Velho 513, for a 20-minute, R$51 return trip. Start early: queues for the funicular can be lengthy, afternoon cloud can obscure the view over Rio and by midday you can hardly move for selfie sticks.
Take a hike
Ramble through Rio's historical district, whose old port was redeveloped for the Olympics. From Central metro station (12), walk east to the Baroque church, Igreja de Nossa Senhora da Candelaria (13) on Praca Pio X (7.30am-4pm, closed weekends; free).
Head right – along the port – on Rua 1 de Marco, to the equally impressive Old Cathedral (14) (8am-6pm, closed weekends; free). Adjacent to the Carmelite convent, it once served as the Royal Chapel.
Cross onto the Largo do Parco and duck left under the Arco do Teles (15) into a labyrinth of multi-coloured streets – some of the oldest in Rio. The buildings were constructed with a gap at the top of the ground floor to help air circulate – an early kind of air conditioning. Stop to pay your respects at the church of Nossa Senhora de Lapa dos Mercadores (16), at the southern end of Rua dos Mercadores, whose miraculous Madonna statue survived a direct shot from a battleship.
Lunch on the run
Lunch is the favourite meal of Rio's locals – the Cariocas – and in the little warren of historic streets you can find plenty of places to join them. The Line Bistro (17) at Travessa do Comercio 20 (theline.com.br) serves a traditional buffet (priced per kilo) with plenty of black beans and rice.
Wash everything down with a craft beer at Al Farabi (18) at Rua do Rosario 30 (00 55 223 30879; alfarabi.com.br), a bar and antique bookshop.
Cultural afternoon
Visit the Museu de Arte do Rio (19) (MAR) at Praca Maua 5 (00 55 21 3031 2741; museudeartedorio.org.br) for rooftop views of the Guabana Bay, and stay for its exhibitions on samba and the women of Rio. Open 12pm-7pm Tuesday-Friday; entry R$10 or free on Tuesdays. Nearby, the Museo de Arte Moderno (20) (MAM) at Avenida Infante Dom Henrique 85 (00 55 21 3883 5600) houses the world's most complete collection of modern Brazilian art. Open Tuesday-Friday 12pm-6pm and 11am-7pm weekends; R$14.
An aperitif
Rio Scenarium (21) at Rua do Lavradio 20, in the trendy Lapa district, would not be amiss amid east London's nightlife scene. The three-storey bar and nightclub (00 55 21 3147 9000; rioscenarium.art.br) is bursting with weird antiques and taxidermy. Hang over the first-floor balcony to watch locals dance samba to the live band, or have a go yourself – after enough caipirinhas, Brazil's lethal local cocktail.
Dine with the locals
Perched amid the trees like an ewok encampment, Aprazivel (22) at Rua Aprazível 62 (00 55 21 2508 9174; aprazivel.com.br) has lovely views down onto the city, and rainforest-inspired food.
For fine dining, try Olympe (23) at Rua Custódio Serrao 62 (00 55 21 2537 8582; olympe.com.br), which serves French food with a Brazilian twist. Or fill up on street food: grilled cheese sticks, popcorn and deep fried pasties are sold at stalls on most street corners.
Day two
Window shopping
Take a walk down the pristine, 5km stretch of beach at Copacabana (3) – past the beach volleyball matches, surfers and football games – into upmarket Ipanema (24). A haven for beachware, many of the best-known brands are based at the Forum Ipanema shopping centre (25) on Rua Visconde de Pirajá. Visit BumBum (00 55 21 2227 4080; bumbum.com.br) or chic Lenny (00 55 2523 3796; lennyniemeyer.com) for luxury bikinis. On Sunday stock up on sarongs at the Feria Hippie De Ipanema (26) (Hippie Fair) in the Praca General Osorio.
Out to brunch
New Natural (27) at Rua Barão Torre 173 (00 55 21 2287 0301) is great for vegetarians – who might otherwise struggle with meat-heavy Brazilian cuisine – and sells organic salads by the kilo at its buffet.
Or indulge in Copacabana glamour and book ahead for a treat meal at the Hotel Cipriani restaurant at the Belmond Copacabana Palace (7) for northern Italian dining with local ingredients and a Brazilian twist.
A walk in the park
Overlooked by Christ the Redeemer (10) and in the shade of the Corcovado hill, the botanical gardens (28) at Rua Jardim Botanico 1008 (00 55 21 3874 1808; open 6am-8pm; R$9) are a fine place to escape the heat beneath tall Brazil nut trees. Keep an eye out for toucans.
Take a ride
Channel Jurassic Park with a jeep tour of Tijuaca national park (5), the rainforest that carpets the city's hills. A ride through lush forest accompanied by noisy monkeys takes you to the Vista Chinese, a hilltop pagoda with views of Copacabana beach and Guanabara Bay. A number of operators offer "safaris" through the park, of which Jeep Tour has a particular focus on sustainability (00 55 21 3486 6379; jeeptour.com.br; R$142 per person).
Icing on the cake
A backstage tour of the Maracana Stadium (6), where the Olympics opening and closing ceremonies will be held, is fascinating even for non-football fans. It's at Avenida Presidente Castelo Branco and has its own Metro station (00 55 800 062 7222; maracana.com; tours R$36). Visit the changing rooms, lounge in the press seats and jog through the tunnel onto the pitch where Brazil's collective heart was broken during the 2014 World Cup semi-final against Germany. The home team lost 7-1 – but it's best not to bring that up.
Register for free to continue reading
Registration is a free and easy way to support our truly independent journalism
By registering, you will also enjoy limited access to Premium articles, exclusive newsletters, commenting, and virtual events with our leading journalists
Already have an account? sign in
Join our new commenting forum
Join thought-provoking conversations, follow other Independent readers and see their replies