Revealed: The 50 best beaches in the world, according to experts
The votes are in for the best shorelines across the globe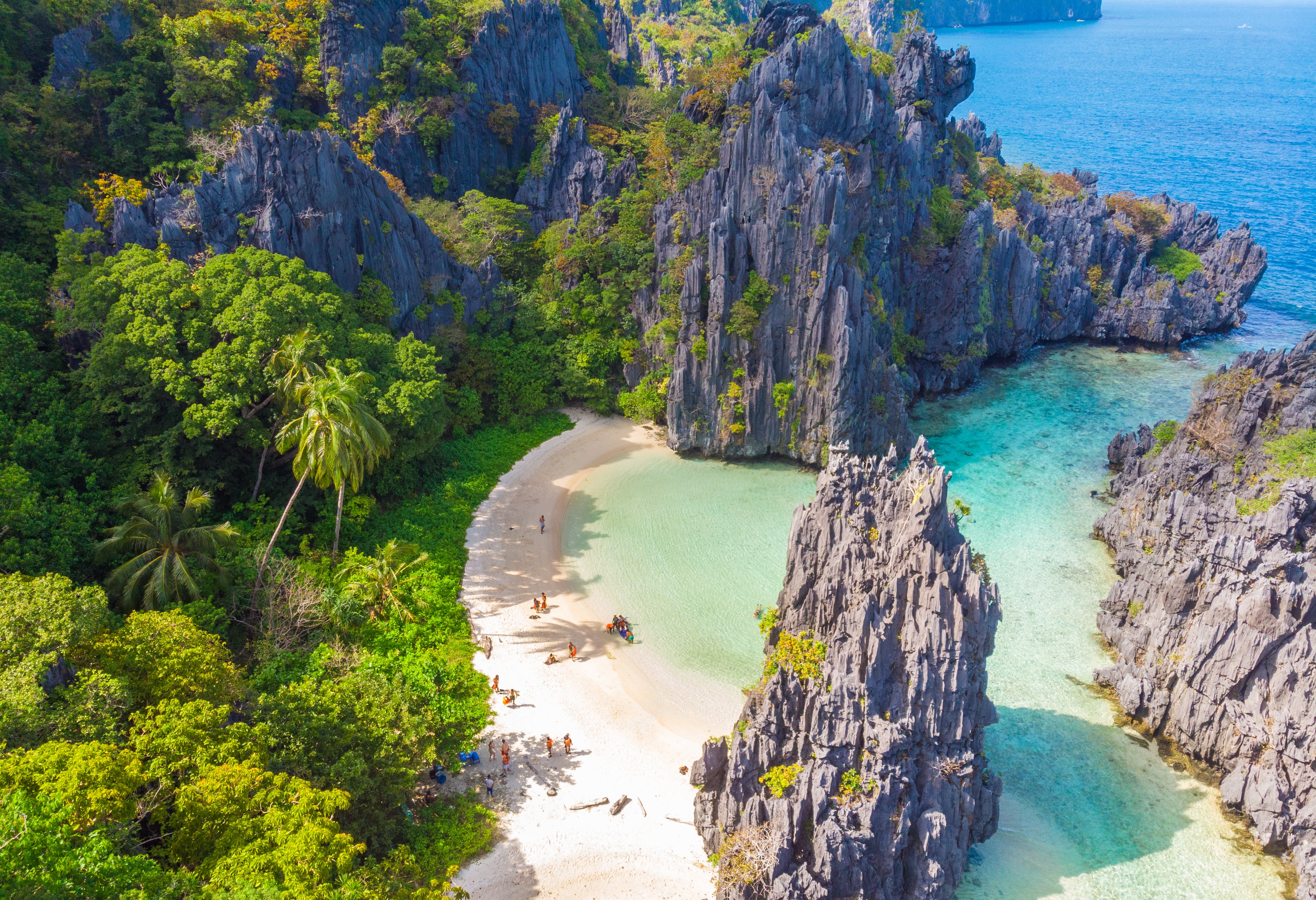 This one's for the beach bums looking for their next coastal adventure. From relaxing under the palms on enchanting, exotic shores to soaking in the turquoise waters of captivating coves, there's a dreamy stretch of sand in every corner of the globe.
This extensive list, compiled by The World's 50 Best Beaches, used votes from over 1,200 travel experts, journalists and designated Best Beaches ambassadors to decide the sandy destinations deserving of the title of the best beaches in the world. Each beach was rated on its density of untouched nature, swimming conditions, the annual number of sunny days and the average annual temperature. Those active in sharing and nominating their favourite places to sink their feet in the sand have experienced first-hand the wonderous waters and pristine environments of the shorelines, from Hawaii to Scotland and around the world again.
From the globetrotters who know best, here is the comprehensive guide to bucket list beaches for 2023, including when to go and how to get there. Keep reading to discover how they earned a spot on the list and get inspired for your next seaside holiday.
Lucky Bay, Australia
Taking the title of Best Beach in the World for 2023 is Western Australia's kangaroo haven, Lucky Bay. With a five-kilometre stretch of white sand, diving, canoeing and bush trails, this beach not only scores highly with experts and tourists but boasts 303 annual sunny days.
Best time to go
Australian summers are warm and dry, from around mid-December to late March. The average temperature in Lucky Bay in February is 25C and camping can be a great way to secure a spot before the crowds arrive.
Anse Source D'Argent, Seychelles
Already one of the most famous beaches in the world, Anse Source D'Argent on La Digue island in Seychelles comes in at number two. Think granite boulders on shallow turquoise waters perfect for a family swim.
Best time to go
Consider visiting during June, July and August for the driest weather conditions and an average climate of 29C. Alternatively, ditch the summer crowds and enjoy the calmer waters during April and October.
Hidden Beach, Philippines
This one-of-a-kind cove in the El Nido region of Palawan, Philippines, can only be accessed by boat, but the secluded shore of untouched natural features and lush greenery is beyond worth it. It's around a 45 minutes on the water from Bacuit Bay to the limestone cliffs, so keep an eye out for Nemo – the seaweed havens are home to hundreds of endangered clownfish.
Best time to go
Hidden Beach is best visited in the dry season from late December to early April but the beach is accessible year-round with warm temperatures for swimming and beach activities during every month of the year.
Whitehaven Beach, Australia
The iconic white shores of the Whitsundays are at their purest on Whitehaven Beach. With sands consisting of 98.9 per cent silica and an average annual temperature of 24C, Whitehaven is a paradise you won't want to miss.
Best time to go
The Australian spring, from September through November, is the peak for comfortable weather conditions and sailing excursions to spot marine life in the Whitsundays.
One Foot Island, Cook Islands
One Foot Island is a tropical paradise of coconut palms and turquoise waters in the South Pacific. There's plenty to do on and offshore, be it snorkelling with turtles or sunbathing on the white sand.
Best time to go
Visit from September to December for great weather and off-peak crowds.
Trunk Bay, US Virgin Islands
Voters loved Trunk Bay, St Johns, for its natural feel, clear waters and hot climate – the average annual temperature in the US Virgin Islands is 27.3C.
Best time to go
To optimise your visit, travel between April and June to avoid hurricane season and masses of tourists.
Honopu Beach, Hawaii
Coming in at number seven, Honopu Beach is the epitome of an unspoiled natural coastline. Awarded a 10/10 rating for its density of untouched nature, the only way to access Honopu is via boat – or a challenging swim from a neighbouring beach.
Best time to go
If you plan on making the swim over to Honopu visit during the dry season from April to November for calm oceans and low tides. Average temperature highs peak at 30C in the summer months.
Reynisfjara Beach, Iceland
Iceland's south coast is home to the dramatic black sands, glaciers and staggered cliffs of Reynisfjara Beach. Temperatures rarely exceed 15C so wrap up warm and explore every corner of the impressive landscape.
Best time to go
For a more mild climate, visit Reynisfjara from mid-July to August. Arrive early to beat crowds and make the most of Iceland's Midnight Sun – 24 hours of natural daylight – in June.
Navagio Beach, Greece
Navagio Beach or 'Shipwreck' Beach, as it is more commonly known among tourists, is famous for its iconic 1983 shipwreck. Ironically, the only way to reach the blue coves of Navagio is by boat. But fear not: the beach secured a swimmable rating of 8/10 from The World's Best Beaches travel experts.
Best time to go
For the warmest swimming temperatures, head to Greece from June through August. After a more serene experience of Navagio? Holiday in spring and jump on an afternoon boat trip or take a clifftop walk to escape hoards of tourists.
Balandra Beach, Mexico
Concluding the top 10, Balandra Beach in Mexico has waters as clear as a swimming pool and a huge 325 annual sunny days. Balandra has been part of a protected area since 2018, so visitors must visit within designated time slots to avoid overcrowding.
Best time to go
The beach is open in time slots from 8am–12pm and 1pm–5pm, so make sure you arrive early June–October to guarantee a spot in the Mexican sunshine.
Cala Goloritze, Italy
Cala Goloritze takes the crown of the best beach in Sardinia for its unique limestone cliffs and turquoise waters. It's a four-kilometre hike on foot, or swim to shore (from a boat) during the summer months from June to August.
Best time to go
Italy maintains its pleasant temperatures in May and October, so make the trip then to experience a calm Cala Goloritze with average temperatures of 21C.
Pipe Creek Sandbar, Bahamas
You'll have to be quick for this one – the pristine waters of Pipe Creek Sandbar only appear during low tide for a few hours each day. Accessibility can be unpredictable so consult the locals to lose yourself in this Bahamian paradise.
Best time to go
Avoid hurricane season and visit the Bahamas from November to late April to enjoy Pipe Creek Sandbar.
Pink Beach, Indonesia
It might have come in at unlucky number 13, but the unique pink sands of Komodo Island are well worth adding to your bucket list. With an average annual temperature of 27.1C, pack a bag and travel to the tropical shore.
Best time to go
In April, May and June, Komodo Island blooms with greenery, temperatures are mild and the seas are calm.
Grace Bay, Turks and Caicos
Glistening waters, white sands and a lively reef make Grace Bay a must-visit destination for families looking for sheltered swimming and snorkelling in colourful corals.
Best time to go
Visit the Turks and Caicos between April and June for the lowest chance of rainfall and strong winds.
Gardner Bay, Ecuador
For lovers of beaches and their creatures, Gardener Bay on Española Island is home not only to white sands and crystal waters but an abundance of sleepy sea lions. With 304 sunny days annually, there is plenty of opportunity to sunbathe and snorkel with some marine friends.
Best time to go
The Galapagos' warm and wet season, from December to June, offers minimal rainfall, clear oceans and ample swimming opportunities.
McWay Beach, California
A breathtaking 80ft waterfall cascades onto McWay Beach in Big Sur, and the magical spot is well worth a visit even though you cannot touch the beach. There's a reason California was coined the Golden Coast, and with 281 annual sunny days, a visit to the view of McWay's stunning shore can be planned all year round.
Best time to go
The most popular time to holiday in California is from April to October. Visit McWay at high or low tide for epic sights of the golden sand at sunrise and sunset from the comfort of the trails and picnic spots above.
Turquoise Bay, Australia
Turquoise Bay in Exmouth, in Western Australia, is true to its name, with vivid deep blue waters home to turtles and spectacular snorkelling reefs. The remote shore in Cape Range National Park can be reached by seasonal shuttle buses from Exmouth town 40 miles away – tag the journey on to a hike in Yardie Creek for the ultimate Aussie adventure.
Best time to go
For warm swimming and optimum temperatures, take a trip to the bay from April to October.
Le Morne Beach, Mauritius
The tropical beach of Le Morne in south Mauritius sits at the foot of Le Morne Brabant mountain, a Unesco World Heritage Site. A stark contrast between the dramatic rock and azure blue ocean makes the beach a coastal destination unlike any other.
Best time to go
From April to June and September to December, you will find warm temperatures, quiet shores and great wind for watersports off of Le Morne beach.
Baia do Sancho, Brazil
This remote cove is a descent down steep stairs and a tunnel before you reach the golden sands of the Fernando de Noronha National Park beach, Baia do Sancho. Adventurers must pay a fee to visit the crystal blue waters of this nature lovers' paradise.
Best time to go
Fernando de Noronha experiences its driest months between August and December. The island enforces a cap on tourist numbers in high season, so be prepared to book your stay in advance and allow enough time to explore.
Seven Mile Beach, Cayman Islands
Think Caribbean palm trees, white sand and gentle blue water all the way down this heavenly seven-mile-long seafront in the Cayman Islands. Restaurants and beach bars are plenty on the extensive Cayman coast – head to Tortuga Beach Grill and Bar for a casual alfresco dining experience and sunset views.
Best time to go
Avoid the risk of hurricanes and tropical storms by visiting the Caymans between March and June, with average highs of 29C.
Lanikai Beach, Hawaii
The crystal waters of Lanikai Beach sparkle under water sports enthusiasts on kayaks and paddleboards. If they're lucky, a Hawaiian green sea turtle may pop its head out to say hello – the locals have dubbed Lanikai "Turtle Beach".
Best time to go
With 300 annual sunny days, consider visiting the popular beach early in the morning during the shoulder season months of April, May, September and October.
Maya Bay, Thailand
Maya Bay is back open after a four-year closure to restore the damage caused to the natural landscape by tourists who flocked there to see the set of The Beach. The area's spectacular cliffs and rich jungle are still under protection, so expect restrictions on swimming and visiting times in the remarkable cove.
Best time to go
New regulations require tourists to arrive by boat on the backside of the island – for the calmest ocean conditions visit from late January to March. Tours include an hour on the famous beach (swimming is currently prohibited).
Calo des Moro, Spain
Calo des Moro on the Spanish island of Mallorca is small but spectacular. Climb down the cliffs for a dip in the turquoise waters and stay till late to catch an iconic Spanish sunset.
Best time to go
Visit the island in summer from June to September for warm ocean temperatures, and anchor on a hired boat to beat the crowds to the shore.
Kelingking Beach, Indonesia
Bali's Kelingking Beach is not a journey for the faint-hearted. The secluded beach situated in Nusa Penida is reachable only by a 400m descent down jungle mountains to the white sand beach and bright blue waters.
Best time to go
Average temperature highs in the dry season from May to September reach 31C. Make the day trip from Bali in off-peak times to experience spectacular scenes at sunrise and sunset with a smaller crowd.
Meads Bay, Anguilla
Anguilla's hidden gem Meads Bay, boasts calm waters, powdery sand, quiet shores and 25th place in this list. Spoil yourself and pair a visit to the bucket-list beach with the luxuries of an all-inclusive Caribbean, a speciality of this destination.
Best time to go
For a trip full of sunny skies and warm nights, visit Anguilla from December to May and secure the ideal holiday spot on Meads Bay
Flamenco Beach, Puerto Rico
Culebra Island, Puerto Rico, is home to the idyllic paradise Flamenco Beach. Rich in history, coral and adventures on glass-bottom boat rides, there's something for the whole family to enjoy.
Best time to go
Puerto Rico's shoulder season, from April to June, creates the perfect conditions for exploring Flamenco from the mainland in average temperatures of 30C.
Cayo Arena, Dominican Republic
This sandbar is a slice of heaven in the Dominican Republic, surrounded by beautiful blues, colourful corals and picturesque Caribbean landscapes. The snorkelling paradise almost guarantees a sighting of vibrant schools of fish.
Best time to go
To avoid the rain, holidays are recommended between November and April but the shallow sea makes for warm swimming temperatures year-round. Cayo Arena island is accessible by boat from Punta Rucia – leave early for a more private paddle in the waters.
Little Hellfire Bay, Australia
Just a short walk away from Hellfire Bay in Cape Le Grand National Park, Western Australia, is its smaller and more secluded younger sister, Little Hellfire Bay. The crowd-free cove makes for a relaxing reading spot with serene swimming in crystal-clear waters.
Best time to go
Esperance is best visited in Australia's summer from December to March – try to avoid the Christmas holidays for the most peaceful beach days.
Anse Lazio, Seychelles
Anse Lazio in Praslin Island, Seychelles, is an oasis for swimming, snorkelling and diving flanked by coconut palms and granite boulders – somewhere for the ultimate tropical experience.
Best time to go
It's best to skip the winter months to avoid rain, but April is a great time to visit Seychelles for calm water conditions, fewer tourists and very little seaweed – good news for all those squeamish in the sea.
Vaeroy Beach, Norway
Head to Lofoten in Norway for emerald waters, remote sands and towering mountains. Vaeroy Beach has plenty to offer including a proximity to cosy Norwegian cuisine for the brave who take on a refreshing dip in the still Nordic Sea.
Best time to go
With temperatures reaching an average annual high of 14C in July, the best time to go to Lofoten depends on the experience you are after. Winter visits to Vaeroy Beach host glimpses of the Northern Lights, spring means orca spotting, and in summer, its hiking and biking trails. It is not recommended to visit in December and January due to limited daylight hours for activities.
Horseshoe Bay, Bermuda
Horseshoe Bay is easily accessible with lush natural surroundings crystal clear water and pale pink sand. It's no surprise the protected coves and unique rock formations in Bermuda made the top 50.
Best time to go
Bermuda's tropical climate boasts mild to hot beach weather all year round, with average highs of 29C in July. Visit from December to March to experience the calmer off-season.
Myrtos Beach, Greece
This curved cove in Kefalonia is considered one of the best in Greece. Think inviting turquoise water, white pebbled coves and towering cliffs as a dramatic backdrop to the bucket list landscape.
Best time to go
Avoid the summer holidays and take a trip to Greece in spring for idyllic isolation on Myrtos Beach and a slow-paced holiday free from crowds – May temperatures peak at around 22C.
Hidden Beach, Mexico
In Jalisco, Mexico, Hidden Beach – otherwise known as Lovers' Beach – can be reached via a water tunnel from the Pacific Ocean. Situated on the uninhabited Islas Marietas, a large hole of green shrubbery above the golden sand looks down into the serene cave of blue waters, sun and shade.
Best time to go
New preservation regulations limit the number of daily visitors to the beach, and diving is no longer facilitated. Winter visits from November to May accommodate water sports, pleasant weather and the opportunity for whale watching on the hour-long boat trip to Hidden Beach from Puerto Vallarta.
Grand Anse, Grenada
Grenada is a hub of Caribbean culture, bazaars and cuisine with all the components of a tropical paradise. Swimming and snorkelling in the crystal sea is encouraged, and Grand Anse is well-equipped for both action-packed and relaxing beach days.
Best time to go
The hot climate is at its best between January and May and Grand Anse is easily accessible from St. George.
Xpu Ha Beach, Mexico
Mexico's best-kept secret is sandwiched between the tourist hotspots of Playa del Carmen and Tulum. The inlet of Xpu Ha Beach provides a more secluded day out, calm reading spots and personal snorkelling experiences with the friendly marine life.
Best time to go
Holidays in the Riviera Maya from December to May are considered ideal, as cooler weather with average highs of 29C pushes seaweed away from the shore. Xpu Ha Beach has an entrance fee per person; arrive before 9am to avoid queuing.
San Josef Bay, Canada
Take a 45-minute hike in Cape Scott Provincial Park on Vancouver Island and you will reach the rugged wilderness of San Josef Bay. Going for a swim and enjoying the bay's unspoiled white sands is a must before exploring the caves and coast of this bucket-list beach.
Best time to go
For the best chance of a dry day, visit Vancouver Island between mid-May and early October.
Matira Beach, French Polynesia
Matira Beach in Bora Bora is one of the best beaches in the world for good reason. Azure waters are filled with thousands of colourful species of fish and blinding white sand is shaded only by leaning palm trees in this French Polynesian paradise.
Best time to go
April offers fewer tourists and great weather with highs of 30C, stay all day to tick a Bora Bora sunset off your wish list.
Capriccioli Beach, Italy
Another Sardinian favourite of voters was Capriccioli Beach. The cobalt Mediterranean water and rocky surroundings have a view of some of the smallest islands on the Costa Smeralda. It's no wonder the Sardinian haven is such a hit.
Best time to go
If you prefer to take your swims in warm, calm oceans, visit Capriccioli in peak season from June to August. Bring an umbrella, cooler and snacks for the ultimate beach set up that unprepared visitors are bound to be jealous of.
Pasjaca Beach, Croatia
Croatia's lesser-known pebble beaches can involve complicated rambles to access but are well worth the hike. Pasjaca Beach in southern Croatia's Konavle region is no different, inviting emerald waters and rock formations have cemented its high standings with the locals.
Best time to go
August brings the best sea temperatures to Croatia with average highs of 29C and little chance of rain.
Boulders Beach, South Africa
The iconic home of the friendly black and white penguins is just an hour's drive from Cape Town and the perfect space for a relaxing swim while admiring the South African wildlife.
Best time to go
From October to March the minimal rainfall increases the chance of getting up close to the full penguin colony. Take the trip to Boulders Beach between 9am and 11am for low tides and space to safely sunbathe with the aquatic birds.
Salines Beach, Martinique
Find solitude and serenity in the shores and shallow waters of Salines, perfect for a family holiday. Littered with local restaurants, picnic benches and coconut palm trees, Playa Des Salines is a picture-perfect stretch of the Martinique coast you won't want to miss.
Best time to go
Work around hurricane season by visiting Martinique's milder climate between December and April.
Champagne Beach, Vanuatu
Volcanic bubbles rising to the surface from activity below the water earned this serene coastline on Espiritu Santo Island the name Champagne Beach. White sand and vibrant water make it the ideal shore for popping open a bottle of its namesake on a special occasion (or any occasion).
Best time to go
The year-round equatorial climate offers an average annual temperature of 26.1C. Low winds and waves grace the beach and Vanuatu experiences more comfortable temperatures between April and October.
Praia de Marinha, Portugal
The Praia de Marinha is beach heaven in Portugal's Algarve, with hidden orange caves, sheltered swimming and breathtaking clear waters – perfect for swimming and kayaking.
Best time to go
Hot summers grace the busy Algarve beaches between June and August, avoid the crowds on the sand and enjoy the view on warm nights from the limestone cliffs above.
Balos Beach, Greece
Crete's finest lagoon sits under the Platiskinos mountain range, with panoramic ocean scenery and a salt-white shore. This European slice of paradise can also be experienced from above, for an aerial view of Balos you're bound to remember forever.
Best time to go
Greek summers do not disappoint but they do attract large crowds. Visit in autumn for comfortable temperatures of 24C and a quieter ferries to this jaw-dropping beach (departing from Kissamos).
Achmelvich Beach, Scotland
Achmelvich Beach has been voted the 45th best in the world, and is perhaps the most surprising beach to make the list – though not to those who know about the beauty of the Scottish coast. Tropical green waters and a white sand beach more closely resemble the Caribbean than the Highlands, making Achmelvich a seriously popular spot on the UK coastline.
Best time to go
Scotland is stunning in the summer, with sunny days from June to August presenting the perfect opportunity for a trip to Achmelvich for a windsurfing, kayak or water skiing adventure.
Kaputas Beach, Turkey
Between Kas and Kalkan in Turkey, you'll find the gradient blues and unspoiled natural beauty of Kaputas Beach. Get lost in the refreshing waters and small pebbled shore for a dream day out that's sure to make your Turkish holiday.
Best time to go
Visit from March to May for warm weather and only a limited number of tourists competing for the best spot.
Radhanagar Beach, India
Asia is not short of impressive beaches, but India's Radhanagar Beach, with its rainforest border and tranquil water, holds a truly unique wow factor. Situated in Havelock Island, one of the Andaman and Nicobar Islands, the diving destination is not one to miss.
Best time to go
Dodge the monsoon season and head there from October to May, especially if you want optimum conditions to scuba dive and snorkel off of the idyllic Radhanagar shore.
Varadero Beach, Cuba
This Cuban paradise is rich in culture, waves and natural beauty. Embrace the unique blend of tradition and tourism as you soak up the sun and explore the white sands of the Varadero coast.
Best time to go
The best time to visit Varadero Beach is from March to April for average temperature highs of 27.5C.
Piha Beach, New Zealand
Surfs up on Piha Beach in Auckland, famous for its rugged landscape and unmissable Lion Rock. Channel your inner Kiwi by taking to the rough waves or staying on shore to read the indigenous carvings on the iconic centrepiece that tells the history of the Maori people.
Best time to go
Piha Beach is generally accessible from 8am to 9pm depending on the season, and New Zealand's warmest summer months stretch from December to March.
Pink Sand Beach, Bahamas
Rounding off the list, Pink Sand Beach in the Bahamas is the 50th-best beach in the world. The peach sands on Harbour Island are stained by the microscopic red shells of the coral insects that inhabit the shoreline and meet the crystal clear sea in a captivating fusion of vibrant colour. Snorkelling is a must to experience the lively reefs of the Bahamas and float on the gentle waves.
Best time to go
The Bahamas from late April to June see fewer crowds and clouds, making this the perfect time to pitch up for a day of relaxation on the unique Pink Sand Beach.
Join our commenting forum
Join thought-provoking conversations, follow other Independent readers and see their replies